I'm private
The black widows on my skin, they plague my body, crawling and itching and biting......They can smell my blood, running from the crease of my arms, and they suck, and they feed and infest.....Every drop makes them stronger as they rush to the source of my crimson fuel.....and they breach my bruised skin and race into my veins.....I feel them scattering to my extremities, draining me from the inside out, like vultures tearing hot flesh on dry desert sand, striping their prey to the bone......Instinctively they travel to my heart, blood thirsty wanting more and more, the pulsing of my heart gets stronger as they get closer and closer, until finally the widows reach the walls of my heart, and simultaneously dash through my arteries to the center of my heart.....and they stop. Dead in their tracks. They freeze. Their much anticipated haven of warmth and comfort betrays them.....They find themselves Immersed in fridged coldness and infinite nothingness. Their frostbitten legs shatter, being forced away by the cold dead heart that continues to pump lifelessly in my chest. My toxic body absorbs the remains of these widow soldiers, and my soul-less shell aimlessly trudges on...



-Bobby13
Update for the ones out there who have shown me love and extended kind, supportive words...You know who you are...

For those of you who read my last blog, you know i have been having a hard time staying sober. It was a rapid downward spiral, and I'm hoping today is a new day for me. Yesterday I OD'd shooting cocaine....I got out of the hospital early this morning and have been okay so far with all the benzos they gave me to slow my heart. They gave me antibiotics for what looks like the begining of an infection in my arm. I don't want to do this anymore. I want to stop. I'm done with it, i know i can get back on track.

Not sure why i felt the need to tell everyone the details of my issues. I guess i just feel comfortable that i will not be judged.

Bobby
Battle begins in the minds of tormented men. The only true victory is defeating the enemies of one's own psyche. All war resides between the ears.

-anonymous

Back all finished!
There is a wolf in me . . . fangs pointed for tearing gashes . . .
a red tongue for raw meat . . . and the hot lapping of blood—
I keep this wolf because the wilderness gave it to me
and the wilderness will not let it go.





CS
Ok, still waiting to move...driving me nuts. The main contractor working on my new place had to get emergency surgery so the project is delayed. But the other workers still think they will finish it by mid April or so. Also, did another 3 hours of color on my back. Its pretty much done except for some background splashes and minor details.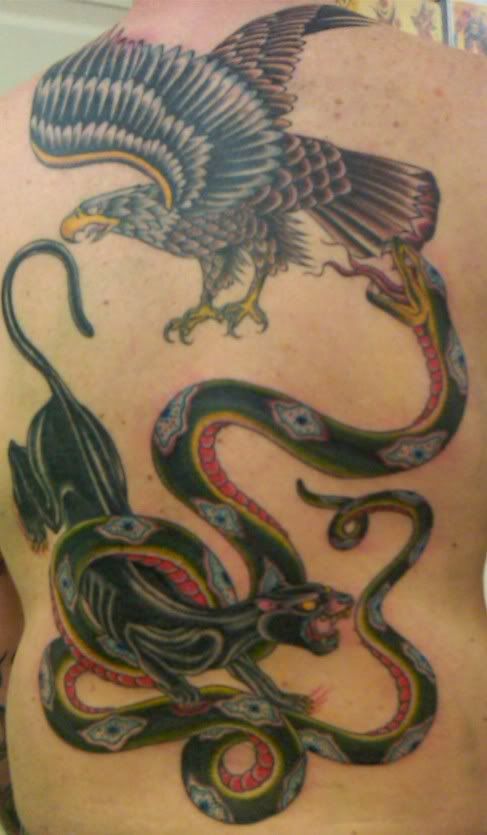 Thats it.
Today is my Birthday, but i'm thinking less about that, and more about random stuff. I think that happens to me more the older I get. I start thinking about how different things are now, little things. I think it's interesting how much cell phones have changed everything, making our lives totally weird. The main weird thing is that nobody has a home answering machine anymore. You never have to come home and stand around by the kitchen, or next to the couch, or inside the couch, and listen to the messages from today. Future generations will actually never have that experience. 


Historically speaking, the answering machine had a pretty short life, lasting only about 25 years. Being a man of almost three decades, I remember what it was like in the 80s before anyone had an answering machine. It was basically the same. But I have to say, in my household, when we got ours, it was a real kick. An exciting new art form was developing – an entirely new medium unlike anything seen before – and we were riding its crest. 

Outgoing Messages!

 People did all kinds of outgoing messages. There were rapping ones, foreign accent ones, robot ones. They even had tapes you could order off TV that had professionally-recorded wacky messages. But most people just made their own copied versions because the company didn't accept CODs. That was their first mistake. The second was that they never should've played the whole thing on TV. They should've just given us a teaser.

 People got amazing with their messages. Subgenres and trends began to develop. Family message. Mean message. Self-reflexive, or Brechtian, message. Animal message. Jeff Goldbloom message. And more. Copycat messages spread out across the vast telephone networks from one household to the next. One of the most classic ones that really took off was this one:

"Hello?…………..Oh hey, what's up?………………I'm just kidding, you're an idiot. I'm not home right now, so leave a message after the beep."

(and then BEEP)

Or another one that was really popular for a while was this jerk-off one:

"Hey, I'm not home. You know what to do."

(and then BEEP)

That one, still to this day, makes me mad. It's like, fuck you, you dickhead. You ever hear of manners? Now I can't even remember why I was calling.

Sometimes we would recieve messages from my Dad, who didn't realize he was leaving a message, and he would just be saying "hello?" "helloooooooo?" HELLLLOOOOOO?

Another thing about those first answering machines is that they were gigantic. They could actually be considered furniture items if you were filling out an insurance form that listed which stuff got burned to smithereens in your house after the neighborhood kids were playing with matches on the grass hillside behind. Some of them had wood paneling on the sides. Some of them were made of solid diamonds, or ice cream. Ok that part isn't true. But they looked a lot like old drum machines. Some people got so confused, they actually had a drum machine for an answering machine. And when someone called up it just went "brrrrrrrrrrr-bap-bap-bap-bap-bap-bap-boom-tsss-boom-boom-tsss-brrrrrrrrrrr-bap-bap-bap-bap-bap-bap…" But you had to somehow get the drum machine to beep at some point, because people don't know that the message is over until that beep goes off. They were truly trained that way. It's the same today, but in different ways.

(and then BEEP)


Color done on eagle. Its weird how sometimes i sit just fine for these sessions and other times it fuckin kills me. Its like, shouldn't someones pain tolerance be consistant? Anyways, heres a pic.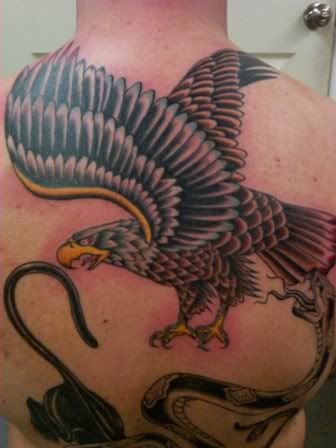 Officially moving to my new spot End of March. So stoked. Also just finished all the shading on my back piece...starting color this weekend. I'm trying to get it done as quick as i can, i don't want it to drag on forever. Here's a pic.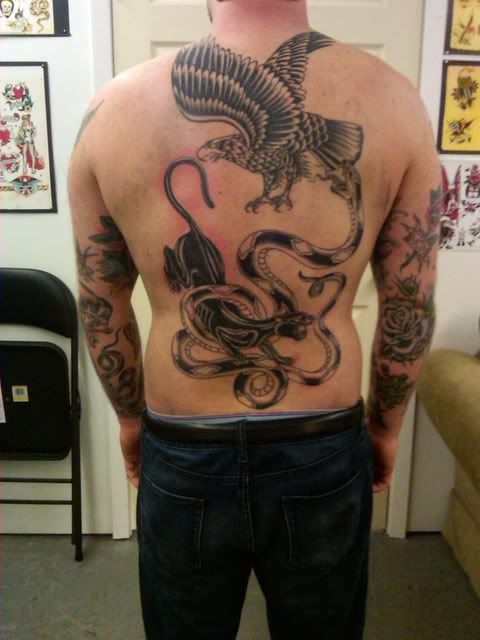 I hate Mondays. But things are good. Really can't complain too much. Last Friday i got another 3 hours of tattooing done on my back. Its really starting to come together. I fucking love traditional American tattoos.



Still waiting to move into my new place. Getting pretty impatient. Thats it for nowww.
JANUARY 2012
1
2
3
4
5
6
7
8
9
10
11
12
13
14
15
16
17
18
19
20
21
22
23
24
25
26
27
28
29
30
31
DECEMBER 2011
1
2
3
4
5
6
7
8
9
10
11
12
13
14
15
16
17
18
19
20
21
22
23
24
25
26
27
28
29
30
31
NOVEMBER 2011
1
2
3
4
5
6
7
8
9
10
11
12
13
14
15
16
17
18
19
20
21
22
23
24
25
26
27
28
29
30
OCTOBER 2011
1
2
3
4
5
6
7
8
9
10
11
13
14
15
16
17
18
19
20
21
22
23
24
25
26
27
28
29
30
31