I'm private
Umm yeah, I may update later? Or not?
If I could go back in time and change ANY point in history I would...
There are days you just don't want to leave the house and others where you wish you had never moved to this state. Oh well, some things can't be undone.
This Day In History
1944 U.S. troops land on Eniwetok atoll
Operation Catchpole is launched as American troops devastate the Japanese defenders of Eniwetok and take control of the atoll in the northwestern part of the Marshall Islands.
The U.S. Central Pacific Campaign was formulated during the August 1943 Quebec Conference. President Franklin D. Roosevelt and Prime Minister Winston Churchill agreed on, among other things, a new blueprint for fighting in the Pacific: an island-hopping strategy; the establishment of bases from which to launch B-29s for a final assault on Japan; and a new Southeast Asia command for British Adm. Louis Mountbatten.
The success of the island-hopping strategy brought Guadalcanal and New Guinea under Allied control. Though those areas were important, the Allies also still needed to capture the Mariana Islands, the Marshall Islands, and the Gilbert Islands, which had comprised an inner defensive perimeter for the Japanese. Each was a group of atolls, with between 20 to 50 islets, islands, and coral reefs surrounding a lagoon. The Allies planned an amphibious landing on the islands--all the more difficult because of this unusual terrain.
On February 17, a combined U.S. Marine and Army force under Adm. Richmond Kelly Turner made its move against Eniwetok. Air strikes, artillery and naval gunfire, and battleship fire 1,500 yards from the beach gave cover to the troops moving ashore and did serious damage to the Japanese defenses. Six days after the American landing, the atoll was secured. The loss for the Japanese was significant: only 64 of the 2,677 defenders who met the Marine and Army force survived the fighting. The Americans lost only 195.
The position on Eniwetok gave U.S. forces a base of operations to finally capture the entirety of the Marianas. Eniwetok was also useful to the United States after the war--in 1952 it became the testing ground for the first hydrogen bomb.
A string of misfortune struck me last week and hopefully later today I will be able to at least remedy one of the ill-fated ventures. I just have to remind myself to think optimistically which is difficult for me since I do not even have a definition for the word in my lexicon. Oh well, we shall see.
Kng James
Herman Could Be 'Biggest Bunny'
A man has been showing off his gigantic rabbit named Herman.
The mighty bunny weighs a massive 7.7kg, and his ears are a lengthy 21cm - almost as long as most pet rabbits are tall. And he is almost 1m tall.
The German Giant is even big for his breed, which usually tip the scales at around 6kg.
Herman lives in a specially built solid oak hutch and chomps his way through just over 2kg of food a day. His owner says his favourite snack is lettuce.
The giant bunny also takes a vitamin supplement to keep him healthy, and munches through a bale of hay a week.
Bred Big
Herman could be the world's biggest rabbit, but Guinness World Records have stopped accepting entries because of fears people were over-feeding their pets.
German Giants do not exist in the wild, and have been developed by breeders.
The can live for as long as 12 years.
Last night was amusing, the CD exchange that is, but not drinking in over two months has its disadvantages. Namely being that I am hungover to shit today.
Now it's off to Chinatown to celebrate the
Year of the Dog
!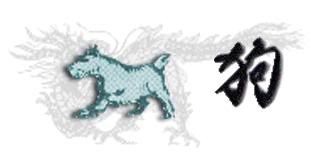 My head feels like it got kicked by a mule, that's how much it hurts right now.
No Work!!! The Above Instead.
*edit*
The movie kicked so much ass that I had to go out and get bitten by a wolf and a bat in a vain hope that I could be that cool. All hail maiming and killing on a supernatural scale.