BDeyeD is an old broad. GET OFF MY LAWN!
I'm private
Welp, 3 months today until I get hitched. I'm trippin balls about being able to afford it, though. Anyone wanna buy my underwear? It's getting quite hot out, now, so I can send you them extra stanky in no-time flat. <3
Two has two thumbs and got the best surprise in the history of the world ever last night?
Who's got two thumbs and is quitting her job in IT tomorrow to focus on piercing?
If you know me at all, you know I love politics and elections. But, goddamn, I'm nervous about tonight!!!!
And I'm not even an American!
Good luck my Yankee darlings.
I've been informed my birthday post was up for too long and that I must immediately LEAVE THE BRONX


It's my birthday!
If you loved me, you'd give me a cake with a handless torso-dude chillin beside some jeans.
Another post from my blog. Since I'm still getting a lot of random hits from my
"10 Ugly Mistakes Women Make that Ruin Any Chance For a Relationship"
post, I'm hoping to catch random assholes with this one, too.
How to get her to suck *content warning*
This little charmer of a headline was waiting in my Spam mailbox this morning. Rather than see what glorious (read: gross/rapey/triggering) wisdom and/or product they have to offer, I thought I'd take the opportunity to offer my own sage advice.
How to get her to suck:
1. When in her presence, or posting anywhere online where the intended female may view your comments, reinforce gender stereotypes and laud women who do the same, whilst simultaneously complimenting and slut-shaming women you find sexually attractive. Make sure that you put out as many messages as possible, post them all over your Facebook wall, tweet them, blog about them, etc. Make sure she cannot escape reading them.
2, Compliment her on "not being like other girls" any time she does something misogynistic. Use it as a compliment of the highest order. Encourage her to prove how much better she is than other women, especially if that means degrading other women in the process.
3. Sexually harass her. If she reacts badly, tell her it was a joke. Get other female friends to tell her to lighten up. Keep this up until she accepts the sexual harassment as complimentary, ordinary, and something to look forward to. Encourage her to brow-beat other women who speak out against sexual harassment.
4. Tell rape jokes around her. Commend her if she laughs at them. Encourage her to tell some herself. Applaud her for being so "edgy" and "not like typical girls" and "just one of the guys".
5. If she has a grudge or grievance with another woman or girl, encourage her to slut-shame them. The other person's sexuality doesn't even need to be remotely connected to the issue. The more acrimonious her slut-shaming, the more you should laugh and cheer her on.
6. Have movie nights where you watch sexually violent and degrading movies and make fun of the female characters who are brutalized in these films. If she acts uncomfortable or tries to leave the room, make fun of her, saying "it's only a movie." Make sure she knows her feelings of discomfort are both unwelcome and completely unwarranted.
7. Any time she is mildly unhappy or not enthusiastic, accuse her of being on her period. Use her objections as proof of her being visited by her Aunt Flo. If she admits to being on her period, say "I knew it", and make a generalized statements about how menstruation makes women inferior to men. Make sure she laughs at the joke, otherwise it's further evidence of her menstrual moodiness.
8. Don't let her do anything for herself. Whether it be changing a tire, changing the channel, updating her computer operating system, or anything other than shopping, cooking, and child-rearing. If she doesn't let you do things for her, accuse her of being an uppity feminist. If she does let you, use it as proof that women can't do these things.
9. Always use her as an example of her entire gender when she's doing something wrong/ bad/ weird, etc, and as an exception to the rule any time she does something good/ right/ cool, etc. Make sure she agrees when you point these out. If she doesn't agree, go back to #7.
10. Make exaggerated and sexually-charged comments about women in the media who benefit from personal trainers, plastic surgery, and air-brushing. Point out all the flaws in women you see at the grocery store, on the news, online, etc. Make sure to add a few digs here and there about her complexion, figure, hair, and how they don't match Angelina Jolie or Megan Fox. If she remarks on the personal trainers, etc, go back to #7, and/or any of the other tactics.
11. Ensure she's never confident in her own opinion. Even if she's 100% right. If she has evidence, say she's misunderstanding your original point, or that her evidence doesn't quite apply exactly to the particular way you've phrased the issue. Correct her at every opportunity. And when she looks to you for validation, point out that she's not confident.
There. Now, if you go through all of the above steps with the intended woman or girl you were originally posing the question about, she will be one sucky human being. Or, she'll stop returning your calls and completely block you out of her life and devote the rest of her days to feminism and challenging schmucks like you. Really could go either way.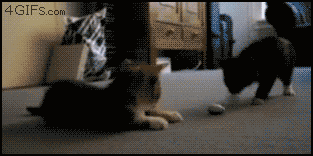 I made the following blog post as a larf, but it turns out it's been attracting the most accidental hits to my blog. HAH! Suckers!
"10 Ugly Mistakes Women Make that Ruin Any Chance For a Relationship"
Apparently that's the title of an ad that came up on Dictionary.com. I missed the ad itself and couldn't track it down and now feel like I'm missing out on some vital and life-changing information.
To correct this injustice, I'm going to take a crack at that list:

10. Menstruating - ick! Lock that shit up, ladies

9. Farting - sttoooooppppp!!!! BLARGHUGHJKH!!!!!

8. Belching - what is this, a frat house? COME AWN!!!

7. Drinking beer - leads to the above (although not sure about menstruating, but I'm sure it doesn't help)

6. Wearing grannie panties - amirite, ladies? No man will ever love you if you dont' spend your days being sliced in two by ass floss

5. Cellulite - if you truly loved your body and the mens, you wouldn't let this happen. It's just downright disrespectful.

4. Pooping - this can be easily resolved by not consuming solids. Come on, ladies. Priorities!

3. Getting fat - icky! See above

2. Being hairy - shave everything below the hairline, including eyebrows. They can be pencilled back on, so what's the biggie? And don't let anyone touch you when you have stubble anywhere. That's just mean.

1. Getting old - this is the most dastardly trick of all. No more luring men in when you're 20 and having the audacity to turn 30, ladies. It doesn't just make your face and body ugly, it makes your soul ugly.

There. I hope I've improve your lives by dropping this knowledge on y'all.


So, I decided to try my hand at blogging again. Last year's attempt was a dismal failure because I was relying on my gf and our roommate to contribute. Big mistake. But, this time it's just me and I figure I'll be more successful since it doesn't rely on my cooking for every entry
(which would mean I'd have to keep the kitchen clean - THE HORROR!!!!)
Here it is.
It might be lame, but it keeps me entertained and it's gotten me to keep focus on stuff I keep pushing off to the backburner (HAH! Food pun!). Let me know whatcha think.
As an extra incentive, there's furbabies. Lots and lots of furbabies.