Autrix didn't like what Suicidegirls was putting for my sentence up here.
I'm private
I just wanted to update you all and say I still pretty much have nothing to write here.

I've been drinking a lot of coffee.
Oh, hey there. Long time no see. Have you lost weight?
Ok, which one of you went and reactivated my account?
Saying goodbye is never easy.

This site has been a large part of my life for the past 4 years, and it's not easy for me to leave. Unfortunately, staying here isn't really worth it these days and I'm just prolonging the inevitable.

I'll be leaving Film Club with someone who knows what he is doing, as he has been basically running it from the shadows for several months already.

To those of you want to keep in touch but don't know my information, shoot me a message and I'll check this place every so often until my membership expires.

I really miss what this place used to be.

Signing off,
Autrix
Hi SG. How are you?
Yes yes, I realize that it's been months and month and hours and months.
Long story short: Life ate my face off and made me all sleepy.
Few things to cover here and its time for me to watch the Ghost Hunters season premier. (Not ghost hunters international, thank god)
First things first. I'm working on a concert at Slims here in San Francisco this month (in ten days actually.)
Heres the poster I did (at sexy low-res)for it in case you're interested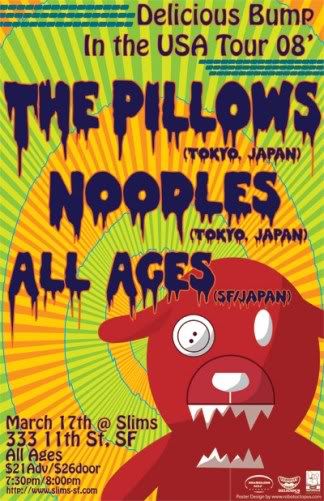 And, for the record I hate that poster-- This version is a revamp after some last minute alterations. It was fairly low budget so I couldn't really finance the way I would have preferred to do it (paints and inks). As far as it goes. Initially it had four bands, and it filled the page much better. then we had to go back and make things bigger, remove a band, shift stuff around and now its.... just... awful, and difficult for me to look at. You should come to the show if you can, and buy your tickets soon since we're getting close to selling out I'm told! I love being able to see presale numbers, seriously. Damn that feels good. I hate working on shows when you have no idea if anyone is going to show up. Maybe I wont spend the day eating tums and dry heaving from the stress like I did before "From Japan With Love".
Next up: school.
School workload at near epic proportions. It's funny. get it? Art student? proportions?
If you don't get it than you aren't part of my target demographic.
Thats all I gotta say on the matter. After fall 2009 I'm done and going back to LA where I belong.
Also, I've been slowly starting to get ready for my new art website to launch. theres a temporary page for now, but no art other than the opening page( Any bets on weather I actually finish it?)
Robot Octopus
I just ate a bunch of sushi and I feel awesome and squishy.
Lastly, Guitar. They seem to be breeding in my apartment. I'm up to seven and it's terrifying. Seriously folks. there was a point in time where I had 1. Two was ok, three I think was ideal. then it just started multiplying. I'm afraid future Autrix is going to come back in time and kick my ass for putting him in all this debt (but the jokes on him-- I dont think he can afford a time machine ride thanks to present time Autrix)
So, please, keep in touch with me, I miss you guys (well, those of you who are still active on here and maybe its time for me to actually.. like... meet new friends on here ffs)
Next time: Pictures
--Its just such a hassle to upload them, and then copy urls for posting. That and I'm lazy.
Sincerely,
Captain nopants.
HAPPY BIRTHDAY TO ME!!!

Now, what to do what to do.

I suppose I should write something here since it's been a few months.

School is busy, and it's eating my face off. although, it's over in a couple weeks and then its off to snowy Wisconsin for a few weeks of family attention.

After that? More school. followed by more school.

It never seems to end.

I owe you a proper update with photos in the coming weeks. Consider that your Xmas gift.

I love you all
-Tk
School is starting again.

That is all.

What a summer.
Daniel Robert Epstein passed away, I am extremely shocked and saddened by this news.

He was a damn great writer. I'm really going to miss seeing his words.