I'm private
I hate appliances.

It seems that every time I try and do laundry when I'm home alone the washing machine decides to leak all over the floor, through the ceiling and towards my room.

Thanks washing machine...I can only think of 700 better ways to procrastinate than cleaning up a giant puddle.

In other news I had another very strange dream last night. It involved me telling aliens to kill George Bush and then befriending them, going to Japan for lunch with the aliens and happening to see my boyfriend there, my mother and sister accidentally eating shrooms, Peewee Herman driving a very strange little car, and a falcon with the face of a baboon mating with my dog who was a bluejay.
I had a strange dream last night in which Stephen Harper, leader of the Conservative party, told me that he believed homosexuality was "weird....like eating a cheese and canteloupe sandwich"
Gah I can't believe its already December. December is always so crazy with exams and Christmas shopping. I started working on my sewing projects. I have about... 9 to do before Christmastime. Everyone in my house is too broke to spend money on people so we have decided to make most of the things.

....except for the cat. Thania and I are getting Sarah a kitten.

My first exam is on Saturday and I'm NOT looking forward to it....but after that it will only be 10 days before I can go home and relax, completely stress-free....can you imagine?

On another note, I've decided to get my other nipple pierced as a birthday present to myself. Pain is my favourite holiday treat.
I came back from Guelph today. It turned out my weekend ended up to be not so bad....in fact it was pretty damn good. My crappy Saturday had a fantastic ending with beer and naked girls, and then on Sunday and Monday were shopping sprees and lots of nintendo. Did you know there is an NES game for the movie Labyrinth?? Yeah... I didn't.... best thing in the world! I have no idea how to play really, and its all in Japanese, but still best.thing.ever
I'm in Guelph for the weekend and so fucking bored.
I'm pretty much over being sick, and last night I only slept 1.5 hours so I could get back to my normal sleeping schedule.... and now I have all this energy that I don't know how to deal with. Hopefully I will find some way to entertain myself before I destroy this place.
Time to listen to me complain!
I'm sick
and I have an exam on Wednesday.... so I get to spend my days in bed learning French grammar.
And then this weekend, vegan Anna has to go to American Thanksgiving... mmm...big fat turkey corpse....
I guess it could be worse....sick girls just like to complain
......my hair is blue
Bands to See Live Before I Die:
-The Cure (saw them last August)
-The Pixies (saw them last November)
and left on my list are:
-Bauhaus
-Depeche Mode
The saddest thing in the world is that both of these bands are coming to Toronto before next year, and I can't go to either of them. I tried every way possible I could think of to find a way to go, but it just can't happen.
Both of these shows are on either a Wednesday or a Thursday night....now WHO though of that??? I have classes/labs that I CANNOT miss.
It makes me cry cry cry my eyes out.
Its Monday again....
I always hate going back to classes after having an AMAZING weekend. We had so many adventures.
Friday night I went to see the Corpse Bride. The animation just BLEW MY MIND! Gah! Tim Burton is my god.
The highlights of saturday included hanging out with kevin dressed whorishly and getting our picture take under a "pay here" parking sign.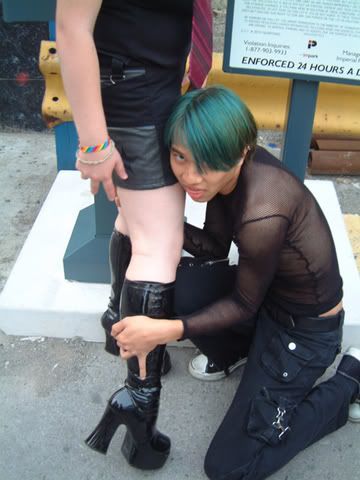 Later that day we also made a trip to Hardcore. Alex got his nipple pierced and we photo-documented the whole procedure.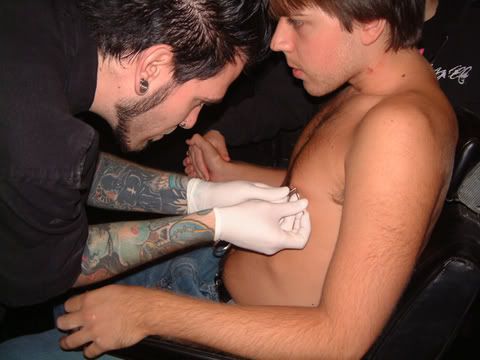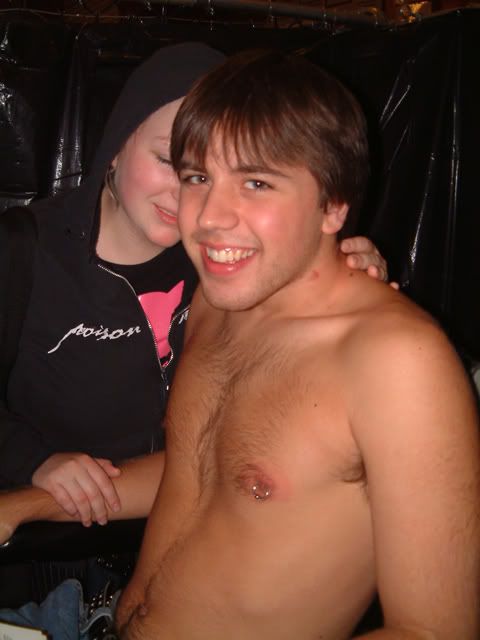 Poor boy. He was hurting.
And then of course, no Saturday is complete without buying cigars and renting bad 80's porn.
Sweet Jesus it was terrible.....and terribly entertaining...
GAH! I hate computers....
Seriously....reformatted TWICE in a month....Is that not the most ridiculous thing you've ever heard?
arrrr!
enough ranting for me.
123 finished.