Alyeska the gods wait to delight in you
I'm private
I leave in just a few days. Please cross your fingers that I don't get pulled over haha. I still need to wash my clothes, pack, and put away all of the clothes that I won't be using. My cubby area is still a huge fucking mess. Hopefully I can get most of it done today. Doubtful, though.
I bought a little 1D doll last night for my friend since her xmas card never got sent out. I was judged SO hard. Like to the point where I felt defensive but kept my mouth shut. I guess I look old enough that I'm not supposed to like 1D but not old enough to have a daughter or neice....
In good news, I've been crying a lot lately. The Bruins twitter posted a picture of Chara yesterday at informal practice. Nathan Horton was there today. The Coyotes keep tweeting pictures of the ice being laid and I just cry. I'm so happy the lockout is over. We should have a schedule out this weekend and I'm so fucking PUMPED.
I need some new Yotes gear though haha. My Sully jersey barely fits and my only Yotes shirt I have here is stained. I was dumb and cooked with oil while wearing it. Woops. I HOPE I GET LUCKY AND THE YOTES ARE IN TOWN WHILE REEKIE IS HERE I WOULD DIIIIIEEEEEE.
I still need a Rapid City Rush shirt too but their online store SUCKSSSS. The only decent online store in the CHL is the Cutthroats. Gross lol.
Some people make me facepalm so hard that it hurts.
Anyways, time to try and motivate myself to start packing and cleaning. If I can get the cleaning done, I get to start AC3 again while the laundry is being washed.
I'll try to blog one last time before I leave. Still freaking out over my tags and my debit card but fuck it.
xoxox Aly
Yesterday a friend of mine begged me to watch a newly released music video. I gave in and am now hopelessly addicted to this song. By the end of the day I found myself listening to One Direction while trying to budget for the upcoming Every Time I Die concert.
I am only a little ashamed that I love this song so much. It's catchy as hell and totally adorable. I used to be madly in love with Nsync and still know all the words so I'm not totally surprised. Most of all, I only bothered in the first place because Harry Styles reminds me of a young little Tuukka Rask.
Judge me if you like, it won't bother me.
I beat the Spirit Temple last night. This is the first time I've gotten this far in OoT without someone else fighting the bosses for me. So in my mind, this will be the first time I've officially beaten the game. Its SO much easier on a 3DS than an N64. That fucking controller sucked nuts. I don't have the 3D turned on when I play though. It's too harsh, unlike Super Mario 3D Land which was MADE for 3D.
Having some financial issues lately. Not so much that I don't have money. But living in CO with an AE APO billing address and TX license plates for a car in HIS name.... a fucking major headache. My plates expired and I never received the renewal paperwork but I don't receive mail here in CO, but the car is in his name and my POA expired. The problem is that the harder I work on it, the more busy he happens to be. The toll roads here in Denver sent our bill to him overseas which was then delayed so they tack on $25 a month that we don't pay it. I'm trying to call them to ask if they will be understanding but I'm getting sent round in circles. Just stupid red tape shit is making my life hell. I broke down in tears earlier because it seems like when I try to be an adult and fix the problems, everything doubles in problems.
I still need to clean out my car and wash all of my clothes. Gotta pack for Iowa soon as well as clean up my look nook where my belongings hang out so Reekie has room for her stuff. I just do not have the energy or motivation with all the other problems I'm facing. Maybe its just the lack of sleep from these past few nights.
Well, I guess I'm gonna go shower. Nothing much else to say without writing a novel.
Later.
Aly
HOCKEY BLOG
Hopefully this is the last time I am pushed to say this....
But you bitter, angry little former NHL fans can stop. Just stop. I do NOT care that you won't be spending money on the league this year. I don't. None of us happy, rejoicing fans give a flying fuck. ZERO. FUCKS.
As far as I can see, there are two reasons that you wouldn't return to this league and work to fix the damage they caused.
1) You're bitter. You're upset. You need to listen to "Never, Ever Getting Back Together" by Taylor Swift on repeat for a few hours, cry until your eyes hurt, AND MOVE ON. Obviously you're still thinking about the league if you feel the need to go in the
Ice Hockey
group and tell people that you won't be spending money. You sound like a butthurt ex boyfriend. Stop. You look pathetic.


2) You think that even 5% of the fans not returning will bring positive change unto the league. Half of this is right. The less fans that return, the less likely the league is to survive and grow aka change. Bettman and Fehr can't live forever. They will not be around for the rest of eternity. You need to HELP this league grow NOW. The top tier league grows in popularity and profit, the more likely this wonderful sport is to grow around the rest of the country. Sure, it seems like we're telling the NHL "Buttfuck us without lube and we'll ask for more." but what us fans are REALLY saying is "We will not let you ruin this for us. We will help our league for the generations that follow us." You not buying a couple tickets and a shirt here or there isn't gonna change shit. All of my valid points aside, I will wrap up this point with.... IF YOUR MONEY TRULY MATTERED TO THE LEAGUE, THE LOCKOUT WOULDN'T HAVE HAPPENED.

Why deny yourself the sport and teams you love(d)? Why? Why spend so much time complaining and whining instead of returning to the bliss that is an NHL game? Sure, you can STILL continue to support your local minor-pro leagues. Just because I attend an Avs game doesn't mean I've left the Cutthroats behind. You can bet your sweet ass I'll still be there to see them play Arizona and Wichita and Rapid City.

But in the end, when you comment in a celebratory thread about how YOU won't spend a penny, you look like a party pooper and a cunt. Yup, you're being a cunt. If you don't care about the NHL anymore, stay out of the thread and comment on the WJC thread or the CHL/AHL/ECHL/EIHL/KHL ETC ETC ETC ETC.
If you think your negative opinion matters to the rest of us who are so happy we cried (at least, I cried) then you are a selfish little cunty cunt.

Have a nice day and go fuck yourself.




To those of you who either are a) excited, b) are respectful of those who choose to be excited, or c) don't care.... I love you all and hope you're all doing well. I just needed to get that rant out. I feel much better now. Better blog coming soon, especially with a week left until I see Reekie!

xoxo Aly
THE LOCKOUT IS OVER!
USA!
I party way too hard for WJC games. Woke up at 2pm
No hangover.....yet. I'm sure itll be a big one. Someone bring me a vitamin water please.
And some sushi.
Also, it was a moment of weakness when I thought I liked someone. Thank you for your replies, but I don't like anyone. I don't have those kinds of emotions.
9 days until I leave for Reekie. That's all I can think about today.... other than USA winning gold in the WJC13.
xoxox Aly
Welcome, 2013!
The new year started out uneventful yet unique. I spent New Year's Eve watching the Doctor Who marathon on BBCA. I started just before 10:30 and watched it ALLLL DAY and ALLLL NIGHT until BBC World News came on at 4am. That's 15 and a half hours of Doctor Who. It was all of season 4 and then Planet of the Dead, Waters of Mars, and The End of Time. Then they replayed the last three special episodes and then Journey's End for the finale. I still don't know what happens in Planet of the Dead. Totally uninteresting.
Anyways. Midnight hit and I started the new year with The End of TIme. I quite enjoyed it that way. I wasn't drunk but I was drinking. Spent a few hours talking to a friend on twitter via Dalek gifs and then fell asleep for a few hours. No hangover the next day.
Today started out kinda shitty. But it's only day 2.
12 days until I pick up Reekie. Our tickets to the Lincoln vs Omaha games are reserved. She's more excited than I am about the trip, but I'm just trying to ignore it until it gets closer. I have a bad habit of leaving earlier than planned because I get WAY too hyped.
I have nothing else for you right now and I need to beat Volvagia in the Fire Temple so.... here's some Dalek gifs.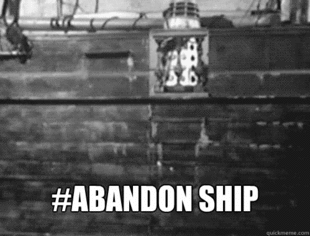 ok bye
xox
P.S. getting REALLY fucking sick of the slut shaming going on in social media. Everything was fine for a while but then.... out of nowhere, it all popped up again. Oddly enough it was soon after the Jenna Marbles video where she just sat there and slut shamed for the entire video. Until you know that person well, keep your mouth shut. What someone does with their OWN body does not define them.
2012: A LOOK BACK
Words:


I think my favorite part of 2012 was every single time that Bryzly would willingly sleep next to me. Her snout tucked under my chin. I could hear every breath. Every inhale, every exhale. Her breath was warm and she just melted as she sleep. I could kiss the top of her soft, furry little head while she slept and she didn't mind. There was no moment that made me feel so loved, so needed. Each cuddle was better than the last.

Pictures:



There you have it. My 2012 in review, reflection, a look back.
I'm ready for 2013 and I'm ready to make this year better than the last. But no matter what, I still have my memories, my accomplishments, my mistakes, my lessons.

Have a fun and safe night, SG, and I wish nothing but the best for you in the brand new year.

xoxox Aly
In regards to Olivia Black getting fired "for being a nude model."
There are three sides to every story.... her story, their story, and the truth.
t's the fucking History channel. Pawn Stars is way too popular for them to take chances on her and she obviously wasn't a big deal on the show. How many of you knew that was her BEFORE she got fired? I'm sick of seeing this shit all over here and facebook. Not to mention the wonderful
Delia
had her set on the front page for only 10 hours. Not even the usual 12 for Two-Set Days. Entirely unfair to her just because Olivia Black has a new set.
Anyways. I leave the 14th to pick up Reekie! YAYAYAYAY!
We have a few days in the Quad Cities and then a couple nights in Lincoln to see the best hockey rivalry ever. Lincoln hosts Omaha two nights in a row!
I even get to see my baby brother. Then my bestie heads to Denver with me until Feb 17th. Doctor Who, Secret Diary of a Call Girl, Jersey Shore, and Torchwood marathons will happen. Drinking, of course. And visits to all of our favorite eateries, and some new ones. I can't wait to take her to The Rock. Best pizza in the continental US I've ever had. Matching Dalek shirts and lots of hockey games after Feb 1st. (Cutthroats don't have any home games in Jan)
I'm so excited. Bryzly doesn't know it yet, but she's excited too. I am just so happy. It feels like forever since I've seen her and its the first time I'll see her since she OFFICIALLY graduated from university.
@NHLdalek
exists. It is wonderful and if you're on twitter you should follow him.
I'm gonna go and order a fuck ton of hot wings while my dad is at his work party.... complete with open bar.
See you bitches later.
xoxox Alyeska
Things that are awesome.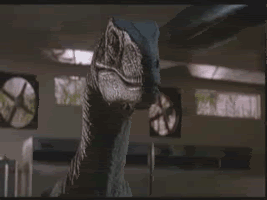 this becomes
because of
and then i do this
FANGIRLING RAPTOR.
ok I'm done
bye now xoxox
- Cyberman