I'm private
I have a fucking headache, and its been forever since I've even been on here. My fucking internet keeps fucking up, its pissing me off .. Well anyways, I put up a cut down version of my first set in my pictures and I'm getting ready to put it up in the hopefuls, so check it out!!!

Anyways, I'll probably post something later, I'm at my boyfriends band practice and its really loud ..

Just checking in

xo
The roads are fucking horrible outside right now, the weather is so fucking shitty I hate it .. ugh.
So some shit came up and I couldn't do the practice set and I don't when I will be able to now. I'm just going to wait to shoot with Alissa, I know my chances of going pink will be amazing with her, so I'm super siked about that, besides its only a month away, plenty of time to get my theme and everything all ready to go ..
Ugh, well I'm really fucking bored so I'm probably going to lurk around the message boards a little more ..
(p.s. the white death is definately in ohio)
Oh and by the way I'll be in Tenessee the 4th, 5th and 6th of July, for a 3 day fest Andrew's band will be playing, they will be getting payed 1500 dollars for playing it .. you should check them out,
Tear It Down
Going to shoot my practice set today!! Woohoo, haha. I'm siked I love shooting sets, its so much damn fun. Today I'm definately going to get my poses and facial expressions down, that way when it comes to my shoot in either March or April with Alissa, I'll be suuuper ready!
Anyways, so as far as my zombie killing has been going, at the point in the game where you start firguring shit out, I still have to stop the girl on the motorcycle though .. but its soo sad how addicted I am to that game now, Ah, oh well its fun .. but I shoot in a few hours, so I gotta go get all prettied up!
Daaamn!!
I'm awake its 7:30 and I have to work at 11. Oh well, so Andrew's band is getting booked by alot of venues and I'm super excited for him. The bands name is Tear It Down. Go to www.myspace.com/FuckingTearItDown, they've got some videos up on youtube as well. So I slept until 4 pm yesterday because I'm feeling a little under the weather and then, Andrew got home at 4:30 and we both laid down at 5 and fell back asleep until 8 and then went back to bed at 11 .. needless to say, I'm not very tired now.
So I've come to find out I'm completely addicted to the game Dead Rising, I love zombies and that game is so fucking rad, I've been playing it non stop ..
Sooo, I'm shooting a set with Alissa Brunelli in late March or early April, I just got an email from her and the lovely miss Sunshine, so I'm pretty stoked, but just to have myself ready I'm shooting a practice set on Monday so I can get all the kinks out, such as facial expressions, posing, angles, etc. I know my flaws in the last one, but I want to be more than ready to shoot with Alissa, considering her pictures are stunning!!
I'm probably going to go kill some zombies for now though!!
I'm typing this one because I'm pissed ..
I'm very proud of myself for posing for SG, I feel that this is a very positive experience and I'm glad to help represent a mass of women who are beautiful just the way they body mods or not. On this thought, my family is very disappointed in me for posing nude, but I don't live at home, I'm 18 years old, I pay for my own bills, and everything else I have, so if I want to go take my fucking clothes off as my form of self expression and art, than I very well will. Its not fair that they can sit there and say that what I'm doing is wrong, perverted, and just disgusting, I feel this site is a very positive take on classic pin ups. Its only skin and you only live once, I will not hold back on doing something I want because people don't think its right for me .. who are they to say what is right for me?? I can speak for myself, and this is something I am doing and will continue to do until I decide otherwise. Like I said I am grown and on my own and this is MY life and I want to live it, because life is shor and I don't want to regret holding back because its not what others want for me. So with that if my family cannot except who I am, and my goals and dreams, then so be it, I have plenty of support for what I am doing. It just sucks to see my friends who have families that back them up, because its their life and they know they have to let go, parents can't have control forever, you have to let go sometime .. And now is the perfect time .. so just let me live my life and quit nosing into and checking in on me, I'm not 3 anymore, thanks.
Anyways sorry about the rant guys .. I'm just irritated ..
I'm dead tired today, its been a super shitty today as well .. ugh anyway I'm super siked for Summer, it couldn't be coming any slower though, I'm ready to go outside in flip flops, and no coat, being all bundeled up irritates me so much, its hard to move, then when you go somewhere and you get inside you take your coat, and scarf and whatever else off, yet in order to go back outside you have to put it all back on!! Ugh, haha needless to say I hate the winter ..

I'll be getting my tattoo soon I've decided, its going to go down my spine and its bleeding through lyrics, they say "I'll rip out your spine" I'm so excited, I just don't know when I'm getting it exactly .. I'll post pictures when I get it though, so be watching ..

Uuuuummmm .. haha I think thats all for now, I'm probably going to crash for a few hours ..

(P.S. Life Long Tragedy CD has still not come in the mail yet .. ugh!)
I'm shooting a new set soon .. wish me luck. Its not with the photographer, I want but I need to get some more experience on shooting sets, so this is more like a tester set, but who knows I may like it. Anyway I've got alot of comments on my rejected set, but it still has alot less than others .. ugh it needs more if it is going to have a chance for SCS .. Oh well, as much as I would loooove to see that set go up, I can always just try again.
I like Zombelle, but when I do go pink, I'm thinking it will probably be Zombie, because that is my ideal name right now .. I don't know. We will have to see. I'm running off to bed now though .. I worked third shift last night (grave yard shift .. hehe) so I'm fucking dead .. be up in a few hours.
Crazy fucking Ohio weather, yet again. Its fucking raining which is shitty! Ugh, summer needs to hurry up and get here.
Its only 8:30 pm, but I'm tired as fuck and I've decided I spend waaay too much time on the internet, especially since I'm so consumed with going PINK!! I want to be a SG so damn bad, but I'll get there. I'm so random right now and I'm very impatiant, I want my Life Long Tragedy CD to hurry up and come in, Death Wish only takes a few days though, so I guess I can wait .. So I have a little Jack Russel and she is crazy as fuck, but she is so damn cute, thats because she is mine
, haha.
I know, not a flattering picture of me.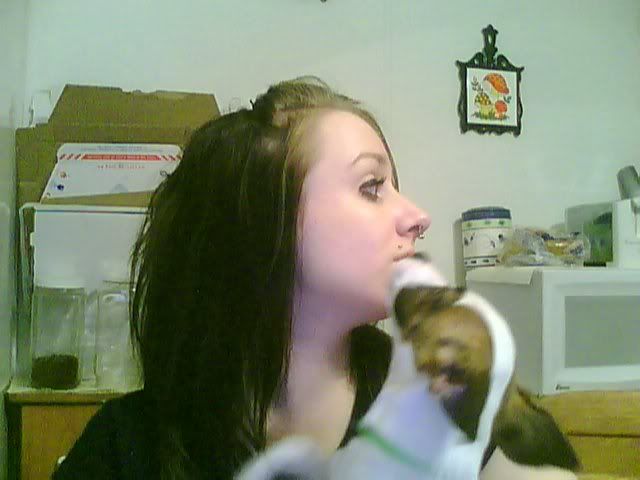 So, I have finally decided my SG name .. but I'm not telling, wouldn't want to lose it!. Anyway, I'm trying to schedule a set with the wonderful Alissa Brunelli, I absolutely looove her work, and I would love to have her shoot my next set.
I'm going to go pink, damn it!!!
Thats all thats new for now anyways, its like 11, and its half way trying to rain outside .. blegh, Ohio weather for you, can't wait for summer and to finally become a SG!!!
So, the re-organization is taking too long, bc my photog, put up too many pictures. I'm probably just going to re shoot soon, and make sure they are organized better and a hell of a lot shorter ..

Sorry everyone, either way hopefully they can pick and choose from my pictures to make a shorter set for SCS .. Hope I get it!!!