ZoeSara is a bluesy/gothic/country/alt rock kinda gal...
I'm private
YAY!!! Two new photo sets of yours truly (me) are up now on Zivity.com- add me as a friend, take a look at the two sets, and feel free to vote on my sets!
oxXxo,
ZS
http://www.zivity.com/models/zoesara
"Getting Clean" photo set
"Into the red" photo set
Thank you everyone for the Happy Birthday shoutouts this week... I ate cake! Tons of cake. I started celebrating way too early and now the partying is wearing me down. It has been fun though- it always is.
I cut bangs too this last week- I don't know how I feel about it- tell me what you think- grow them out again or keep the bangs? Silly questions... Lol.
I have a new set!!!
I can't wait for everyone to see it- Taye Suicide shot the set and it was already submitted to the site. I hope everyone enjoys it as much as I do!
oxXxo,
ZS
PHOTOGRAPHER WANTED....
So I'm thinking it's time for a new set. What do you think? It's been a while since I took some photos- I've been so busy getting my life together, and now things are running pretty smoothly. I'm much more together and happy than I used to be.
I'd like to celebrate with some new pics for SG, but I need a photographer- Napalm shot all my previous sets, but she no longer shoots for SG so I'm looking for someone to shoot me. If you know of someone or you are someone who shoots for SG let me know please.
Besas,
ZS
(PS- if you're wondering what I even look like these days, see a pic from this afternoon below- I just took it with my phone.)
I'm back... More to come soon!
oxXxo,
ZS
SUCH A BUSY LITTLE BEE, I BE!!!
Yes, my apologies for not posting a little sooner. I've been very busy working lately and haven't had much free time to do much of anything- I had a fabulous birthday- thanks for asking! Wish you were there...lol. I 've just ben having as much fun as possible lately, from road trips to the OC to late night skating in Hollywood... Spunk suicide is my partner in crime these days and we've just been out having a blast together!
Talk to you soon!
oxXxo,
ZS
I won a kick ass picture at this art gallery silent auction the other night!!
It was a benefit for CompoundRadio.org and there were some amazing pieces of art there- but I thought I would bid on this one bad ass picture by Dan Monick and to my surprise, the next day I received a call that I had won!
I was thrilled...and when I went to pick it up from the gallery last night, the owner Iiad gave me another pic free, as an early birthday gift! It was a good day I must say.
Here are a couple samples of Dan Monick's work in case you aren't familiar:
oxXxo,
ZS
Happy Saturday!!!!!
I am about to make pancakes for breakfast and head to the beach- Today is a good day...I'm also going to the piercing shop to get a new lip ring in and dying my hair yet another color. Geesh!
For those of you who haven't seen my new set, "Get Clean" show it some love if you can so Missy will post it- right now it's in rejected status, and oddly enough, a ton of comments from all my sets are disappearing?!
I don't know what's up with the site, but my published set that had over 6,000 comments went down to 3,100 comments in the last two days!!! I hope they fix these bugs with the site soon. ;(
Anyways- I'll leave you all with this- I saw this picture on the page of an SG member and thought it was hilarious...
oxXxo,
ZS
CHECK OUT MY NEW SET!!!!
It's called "Getting Clean"- they rejected it, but what do you think???
Do you think it should have been rejected? If not, EMAIL MISSY!!!
Don't forget to comment please!!!
oxXxo,
ZS
I Must have my mind in the gutter...
Everything I see these days has a funny sexual connotation. It's like I have the mind of a 13 year old boy with the body of a twenty-something chick.
Even this sign cracked me up: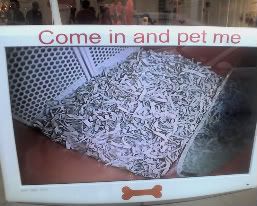 I saw it at a puppy store on Melrose today...funny thing is that the box was empty- much like my sex life these days.
...So, realizing I might need something to fill that void, I did what any responsible and safe girl would do- I went to the porn store and bought myself a new friend to pet me.
oxXxo,
ZS