Velvet likes Bullet for my Valentine, ALEX KID, and Gummo.
I'm private
My current crush.
I've started to see the beauty into japanese faces...it's a disease!
This guy rocks!!
Tomorrow I'm gonna take the shinkansen the coolest train ever to get to TOKYO!!
3 days of shopping in HARAJUKU, GINZA and SHINBUYA!
On Sunday me and my TOMODACHI decided to go to DISNEYRANDO..that is one of the biggest of the world..plus it is the only Disneyland that has a water park!We'll see how it will be in comparison with the LA one!
I'm goingo to pack all my stuff and study a bit..
KISU-KISU
I'm updating from the 'compiutaa sentaa' of my university in Kyoto!!YAY!
Here it is awesome..
It's like to live inside a page of FRUITS!!
Gothic lolita, Gangoru ghiaru, and characters from the most famous manga comics..The center of Kyoto is full of great shops..and I can't imagine what can be TOKYO!!!
Next tuesday I'm gonna catch the train SHINKANSEN and run to THE city..I'm scare to have an heartattack!
For sure will be a suicide for my wallet
News from these days are uncountable..here some notes..
-Probably, I'm gonna get my first tattoo here in japan.If I find the right artist and place I'll be inked!
A secret sentence in latin somewhere secret..
-haircuts here are amazing and hairdresser shop close by my university are really fashion!I think I'm gonna change color into fucsia or something like that..
-I'm practising my japanese a lot, and it is getting better and better day by day..In september I hope I'll be able to give the f*****g exam in Italy and I wish I'll be graduated for March.
-I've known a bunch of japanese guys.The next person who will tell me phrases like "japan is expensive" or "Japanese people are unkind"..I swear..I'll kick his ass!
I'm living in HEAVEN..and every day my SENSEI or a school mate of mine gift me something cute and kawaiii..
I think I would be able to move here..it's a wonderful country to live in..
-I miss my friends at home, but I know...they're alright..so..
I just wanna come back to tell them EVERYTHING!!I wish they were here with me..DAMN IT..I feel a bit lonely because the most important people in my life are not experiencing what I'm living..and, I'm sure they would go crazy for this shit!
-HARAJUKU GIRLS RULEZ!
Love
Here I am.
Almost to leave.AGAIN!
Sorry..I haven't answer yet to ppl has contacted me. I love you all.I promise I'll answer asap.
Some good news in Velvet's world:
Today I found on my car's back window a cute surprise from my grind king..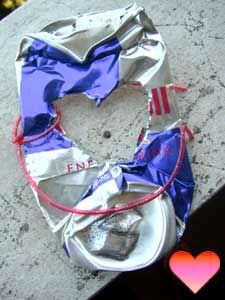 Again..When I came back from Holland at the end of the last month..I found a package from Spain..
I received THE MOST cute sweet and lovely thought ever. I think I'm in love for
darth_vegan
!
So..here's a pic..thanksthanksthanks...!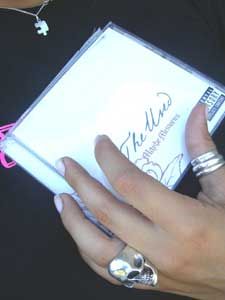 The last two weeks have been AMAZING..I spent wonderful time with my partner-in-crime Ms.Claire..and experience Milano, my native city, with her, it's like live in a brand new metropoli!!Funny jokes, new cool people, delicate breakfasts, sushi and a lot of confessions..
I can't wait to go visit her in Florida to see New College, Jacksonville and "The Castle"..Too bad I'm not american.
Here some pics of these crazy days..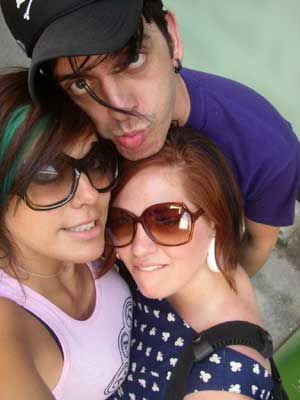 She felt in love for that dress..it wasn't the right size as you can see...Hihihihih...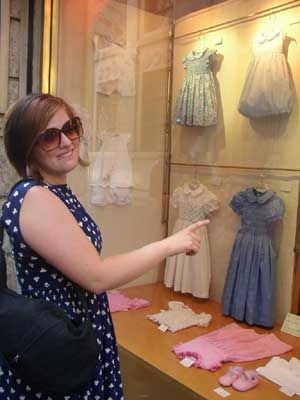 Me an my girlfriend@Japanese resturant eating tons of raw fish!!Yeahhh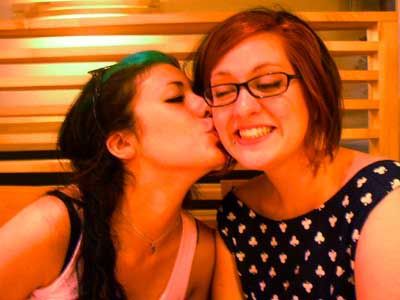 Boooooobsss!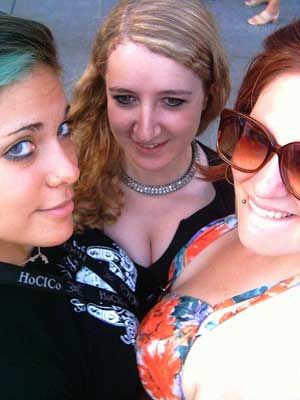 Here we were at Surfer's den..check the website with other pics
nastyfirenights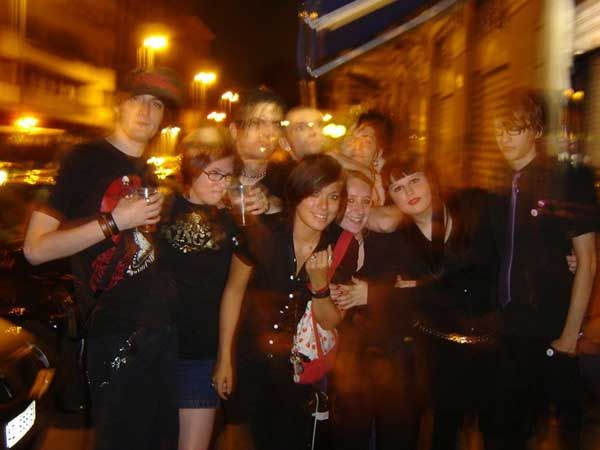 Now it's time to pack everything in my tiny little luggage that must be only 20Kilos for A MONTH in Japan!Are you crazy???!!!
Well..I'll try to do my best and leave at home at least the half of shoes I wanted to bring there..
The bnext month will be A MESS..I dunno how often I'll be able to update this journal..so HAVE A NICE BURNING HORNY SUMMER..exploit it as much as you can..see ya soon guys!!
I realize that dirty feet are very sexy to me.
I think they are hot, don't you?
Trying to keep myself as much busy as possible, and trying to think as less as impossible..
-Me and Anarcha have done the set..I really liked her and the way we did it.The previews are awesome..we'll see the definitive pics
-Today was an awful day, I had to decide if I had to come back earlier or stay til the end of my erasmus time.I was almost going to catch a flight to Milano. After, speaking with my parents I relized that my place is here now even if something very bad happens. It's hard but i can't change the flow of time. I have 8 fuckin days left in here, then will be the time to go back to my affections and my duties
-I'm travelling a lot here in Holland and I'm exploiting my time even if I'm broke and tired. Next saturday I'm gonna go to RockinPArk, with very cool australian guys.Will be a lot of fun.
-I was wondering why it happens to meet wonderful people just nearly the end of something.It's terrible and absolutely not right.
-I have had troubles with the reservation of my flight to Japan, but against every conjectures, magical mum found out a cheap flight to go to Osaka.Great!this means that now it's official..I'm going to KYOTO for an entire month!WOW!
A new set is coming up (I hope).I would like to pick the name but I don't think it is possible.CRAP.
Anyway.."Lazy afternoon" was my choice, just to let you know.
The past days have been hysterical!I ended my week end this evening at 8, waking up with a terrible hung over mixed to fever and sickness.This is just the typical erasmus students's life, right?
Maybe not.Maybe I'm too old to see the dawn three nights in a row.
Whatever..
+Thursday I went to TIVOLI with my flatmates and the night ended in a fight at 10 o'clock in the morning with Aubin, my french neighbor, running all around the yard dressed only with socks.At that point I realized that it's true: everyboby's weird and with many problems to solve.
+Friday I met in Amstedam an italian girl friend of mine.She's so sweet and funny. We talked about SG and I hope she will be soon on this site!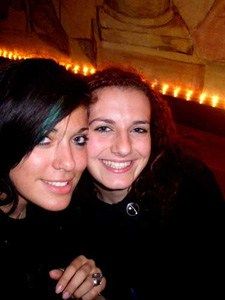 Me, Claire and Tim went to KILLSWITCH ENGAGE gig.
WAS GREAT!!!They put on a potent and energetic show.
Tommi was playing there as DJ at "QuePasa?" so we decided to dance some healthy latin music. It was hilarious, we were absolutely out of place but we had fun as never before.
+Saturday in my FLAT there was a big party for the end of the semester.I wasn't really in the party mood, but it was good.But now I know that it isn't a good idea drink vodka and beer together.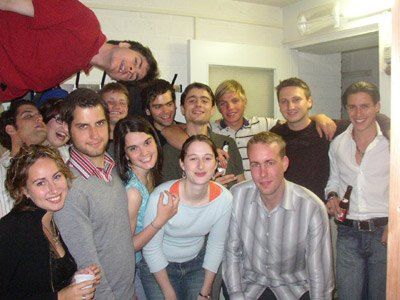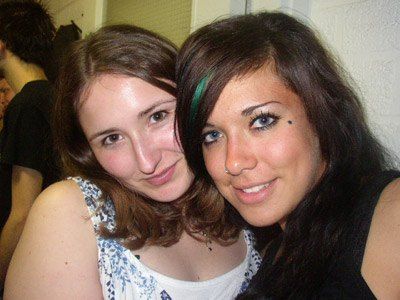 In a couple of weeks I'll be home and these days will be only beautiful memories. I'm a kind of scared by come back to the stagnant life I had in Italy.I have to make up something for the next year or I'll be very booooored!
Some good news:
+Claire, my crazy partner in crime and soulmate, is coming to visit me in Milano for a couple of days in July.WOOOOW!
I can't wait to drive her around the city and bring her to my fav clubs ad vintage shops!
+My application form for Japan is apparently been accepted.I'm coming there.AMAZING!I try to realize that in a month I'll be in KYOTO, but it's impossible.I'm overwhelmed.
+Next week I'll be quite free, my professor is actually@MIT for a seminar so I'll have time to organize and plan the new set with
Anarcha
.
+My friends are coming here.Saturday there will be
Fields of Rock
. The next week will be packed out!
+I've met a sweet dutch guy.He's a singer of a sort of emo/HC local band called
Patch of narrative
and I thought it's cool promote them here.SO check the site guys!!
+I'm gonna book the ticket to Italy.It's official, I'm coming back.I'm shaking!
Next month will be intense.Here's a pic of the 3 tickets for the next gigs..
- AVENGED SEVENFOLD@MELKWEG
- FIELDS OF ROCK@Nijmegen:
After Forever
Arch Enemy
Bullet for my Valentine
Chimaira
Dreadlock Pussy
Flogging Molly
Helmet
Machine Head
Mastodon
Soulfly
Team Sleep
The Dillinger Escape Plan
The*Ga*Ga*s
Towers of London
Alter Bridge
Motörhead
Velvet Revolver
Black Sabbath
Papa Roach
Slayer
Audioslave
Rammstein
-ROCK in PARK@Nijmegen:
Racoon
Simple Plan
Jamie Cullum
Lenny Kravitz
Krezip
Queens Of The Stone Age
Keane
R.E.M.
Eagles Of Death Metal
Ozark Henry
The Tears
Interpol
Nine Inch Nails
Feeder
The Departure
The Mars Volta
Admiral Freebee
Other important event will be the new set multiple
Anarcha
+Velvet shot by a good photographer, friend of mine from Italy..Will be interesting seeing an italian girl+a strong american woman, shooting a set, by chance, in the Netherlands!I can't wait!!
We're planning all the details..location, outfits etc..
Have you got suggestion about the theme?Advices are welcome!
Nice afternoon spent on the canaal eating dutch cheese and smoking pot with two wonderful chicks.I love you girls
V
I've just realized that one of my pics is added on the free tour!I think this is supposed to be an honour,isn't it?
At least you can see only my ass and my mum can't undersatand it's me!
Listening to Social Distortion