Twwly .com -- Twwly.com -- Twwly.com
I'm private
Limone did not recover from her most recent sugery. I am very sad to report that she has passed away.
1. All! New! Twwly! .Com!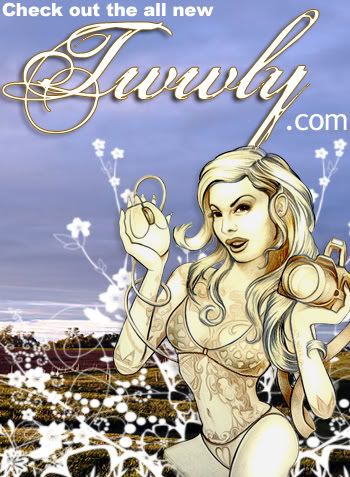 2. Tee shirt time.
3. I can't wait for spring. While we didn't get snow here until after New Years (scary), we've gotten absolutely hammered by high winds. It's not been a pleasant winter. The roads have been closed for a record # of days and our surly plow truck keeps dying. It's currently non-functional. Which makes it not so surly. This time it's having an electrical malfunction instead of mechanical. JOY.
Yup. Ordered our chickens (Special Dual Purpose, Rhode Island Reds, Barred Plymouth Rock) and our seeds (too many to list). Can't wait to be gardening and laying in the feild.
The prospect of spring visitors is a lovely thought too. Been quite isolated this winter. And we've got our first family vacation to plan - a fly fishing trip out west. Very exciting stuff!
4. On Sunday our local theatre will be showing An Inconvenient Truth. Our local theatre closes over winter (and fall and spring) and is available for rent, so a bunch of friends and family of mine paid our distribution fees and will be showing the film (for free ) and having a local panel discussion after too.
I hope you all know what I'm talking about!
5. Been thinking more about keeping goats or sheep for milk. I don't think I could send those fuzzy pals to slaughter. Well, maybe I could. We'll see. Our barn is really tiny so we wouldn't be able to just keep breeding... Sheep or goats? Vote. Especially if you have personal experience. I hear goats hop fences but sheep are great Houdinis.
Anyone?
6. Children are awesome, sensitive little beings, who,
ps
, take a lot of work, selflessness and endless patience. People seem to forget that. Regularly. If your #1 priority isn't going to be raising your baby, don't have it. If you can't support it, don't have it. And frankly, don't get knocked up in the first place! It's not rocket science how babies are made.
Kapeesh?
**And by don't have it, I mean personally. Adoption = A+.
7. There was a mousey Battle Royale in our shed last week. 4 mice hopped into a garbage can and couldn't get out. Mouse wars ensued, limbs and faces were lost and there were no survivors. Too gross to photograph.
8. I've made my last and final installment in the
Diary of Tattoo Changes During Pregnancy
thread. My tattoos (and body) have sustained ZERO damage. I worked out rabidly pre-pregnancy, drank litres and litres (and litres and litres) of water a day, slathered myself gratuitously in Clarins Tonic Oil and prayed to the little dear baby infant Jesus.
Commence the hate mail.
So yeah. Clearly, I'm pleased. I'm far more thrilled with my gorgeous little son of course, and if my tits wind up to my knees after breastfeeding, so be it. Every mark, every sleepless night... is worth it.
9. I had meant to post this on Friday but we had a fierce ice storm that knocked out the power. We got to use our generator for the first time (runs the heat, fridge and freezer) and it worked great. I was all excited to get online this morning, and then discovered that we had no phone or internet. But it's back. And I'm a happy camper.
Twwly Tidbit: My coffee grinder doesn't have coffee beans in it anymore. It has flax seeds.
1. World, meet Frankenstein. He's our first official farm vehicle. Brand new (to us) and ever so beautiful, I bring to you our new plow truck. If we ever get snow that is. It's now January, a balmy 50'F (instead of -32'F or less) and frankly that's just wrong. At least now if it does snow again, we'll be able to get out of our driveway.
Herrrrre's Franky!
This stunning beast is a symphony of combined parts: a '78 Dodge Ramcharger chassis, an early 80s Dodge cab and fender, a 1975 318 motor and a mid 90s Mazda pickup box. And of course, hydraulic plow. Two words for this = Hell. Yeah.
2. I've got a bee in my bonnet about car seats. If you could please do me a huge favour,
please
call the car seat company
Britax
at 1-888-427-4829 and ask them to test and carry the
Boulevard
and the
Regent
in Canada.
Click the spoiler to find out why:


3. I've been really enjoying Carl Hiassen's books. I've read Sick Puppy, Skinny Dip, Strip Tease, Basket Case and Native Tongue. If anyone else out there loves them and has any of his other books that they would like to lend me, I would happily PayPal you the shipping and return them when I'm done. Quite entertaining stuff.

4. December 8th was my 26th birthday. And it was good.

5. Bob had a lovely 1st Hannukah and Christmas.



6. I love this little hat:



7. My crockpot is currently full of turkey, swiss chard, carrots from the garden (from the freezer), cute little potatos.... smells. SO. good. Question to any kitchen masters: I made chowder last night and it went all curdy looking. I didn't boil it (as accordine to the directions) I just gently simmered. Is this a heat thing? An old cheddar issue? I used old ched and evap milk.... Anyone have any ideas?

8. Swiss chard is an awesome green.

9. Things You Can Do To Help Reverse Global Warming:

*****************SWITCH MOTORS!***************
Riding a bicycle, walking, carpooling, combining trips, telecommuting or buying a more efficient car remain some of the most direct ways almost anyone can cut their fossil fuel use and greenhouse emissions. The Environmental Protection Agency (EPA) estimates that by leaving a car at home just two days each week, the average commuter can reduce their annual carbon emissions by 1,590 pounds. Switching from a gas guzzler to a car that gets 32 miles per gallon can reduce carbon emissions by 5,600 pounds per year, according to the EPA.

***************EAT GREENER!***************
A less obvious lifestyle change that has a big effect on carbon emissions is diet. According to a recently published study by Eshel and his colleague Pamela Martin, the carbon emission difference between an all vegetable-based diet vs. a typical American diet - which includes ample meat and dairy products - is about the same as the difference between driving an SUV vs. a small sedan.

"Of the total U.S. greenhouse gas footprint, agriculture is one of the top five players," said Eshel.

The fossil fuels and carbon emissions involved in farming, transporting, processing and distributing food is enormous, said Eshel. Also, because it takes 10 times as much energy to grow a pound of beef than to grow a pound of corn, it's a lot more efficient for humans to eat the vegetables directly, when possible.
It's not necessary to become a vegetarian to make a difference. Just reducing the amount of meat or animal products eaten every week can chip away at your personal carbon emissions.
"If you scale it up, it's actually a big thing," says climate researcher David Battisti of the University of Washington, of the effect of millions of people making small dietary changes. "There is a real issue here."
Plus, of course, there are ample well-documented health benefits of diets rich in fruits and vegetables.

*****************SMARTER HOMES!!!******************
Then, of course, there is that pernicious monthly energy bill: heating and cooling your home. What to do about that? Tons, according to the EPA. Aside from just turning down the thermostat in winter and up in summer, homeowners can invest in renewable energy systems, like solar hot water that can be connected to your existing hot water heater to cut that large portion of your energy bill. There is even a new federal tax credit for installing such systems.

Aside from renewable energy, almost any house can be made more efficient by replacing old appliances with energy efficient models and thoseincandescent light bulbs with new fluorescent bulbs that use a fraction of the electricity and last many times longer. There are also "hidden loads" in your house - appliances that gobble up electricity even when they are not in use. Televisions and computers, for instance, can be unplugged or otherwise cut off from electricity to save power and money.

*******************GET ACTIVE!!!!********************
Finally, people can push for changes at all levels of government. That's where the greatest strides are needed the most and where changes can have the greatest global effect. Already many towns, cities, counties and states across the U.S. are taking matters into their own hands and tackling initiatives on which they feel the federal government has been too slow to act.

10. I just realized I was a big dummy and unplugged my crockpot while cleaning up the counter top. Which means dinner will be ready at about 3am. Sigh.

Twwly Tidbit: We're still looking for another tattooer. Small town shop, custom only, long line up. 'The One' must be out there. Please step forward and send an email.

HAHA!
1. Little noises really irritate me. The quiet sound of mice in the walls, or my cat softly chewing a plastic bag will wake me up from any state of sleep. And yup, it's mouse trap season.
2. We don't have cable, but we do have a DVD player. And a friend of ours lent us his DVD collection of Strangers with Candy. Has anyone else seen this stuff? Holy moley. Noblett? Jellynut? ....!!! We're convinced our son makes Principal Blackman eyebrows regularly. It's true.
"Iiiii want to sit at the welcome taaaay-bul...." (refrain).
3. So. It's November 30th and there's no snow on the ground here. In case you've forgotten where I live, I live in Canada. You know... igloos and Celine Dion. We set up our holiday lights with the ladder sinking into the muddy GRASS. It's a travesty.
Here's a picture of how things normally look here. Go-go Gadget global warming.
4. Speaking of Canada, I just finished Douglas Coupland's coffee table book "Souvenir of Canada". I loved it. It would make a great holiday present for anyone with a wry sense of humor. An excerpt:
"Canada's fourth largest city is Los Angeles. More Canadians live there than in Ottawa or Calgary or Winnipeg or Quebec City. For a hundred years it was push button simple for Canadians to work illegally in the United States, and vice versa. It wasn't even an issue. These days, if you're a Canadian over the age of twenty who looks even remotely middle class, you'll be fiercely grilled when entering the US, more for labor issues than potential terrorism of anything else. Canadians can obviously "pass for American" as long as we don't accidently use metric measurements or apologize when hit by a car...."
5. Speaking of LA, it's been a while since I've been there. The last time I was there (Dec. 04), I saw
Annie
. And Rambo.
6. My hair rests on my shoulders now. I miss the white blond, but I don't miss the upkeep. Yup, that was some white hair.
7.
Things I don't love:
-Mice in the house.
-Cat barf on the floor.
-Mastitis.
8. And when I say Scott cut Trucky in half... I mean it. (New framerails have been welded and bashed into place since this snap was taken).
9. Whoa oh oh oh....sweeeet child of my-eee-ine.
10. The house smells so good. I stuck one of our chickens in the crockpot early this afternoon. Crockpots are awesome. If you have any crockpot recipes, feel free to pass them along.
TwwlyTidbit: I was in 4H as a tween. Were you? And if so, was it 4H sheep, cattle, horse or vet...?
Link of the day:
FuzziBunz!
1. Thank you everyone for your congratulations on the birth of little Bob. And your generosity too; we've received some lovely presents and wonderful knitted woolies in the mail and it has all been VERY much appreciated.
2. All of the chickens are in the freezer and the snow has started to accumulate. We're bracing ourselves for the harsh master of winter. (I think perhaps winter is a masculine season?) We've got a generator this year and an electrician booked to wire it properly to a little jockey panel in the house, which I am REALLY excited about. I plan on leaving the house just as soon as I can see the first flowers of spring.
3.
VonScotch
has been busy tearing the bed off of Trucky the Toyota, as his winter project is rebuilding the back 2/3 of the frame. And I mean a total rebuild, no patching - the frame is crumbling like crackers. I think all of our "please let the baby drop" offroading adventures were the final nail in the coffin for Trucky. He's going to bob the bed as well. When in Rome, right? If anyone has any Toyota tips or a pre-Tacoma truck kicking around that they want to part ways with, do drop me a line.
4. I was very pleased with my latest set by the terrific
tmronin
. I was also quite amused that someone at HQ photoshopped in the end of my amputated finger in my set preview to cover my nipple. (The end of my ring finger is no longer with me).
Thank you Steve for breaking new photographic ground, by shooting both a pregnant woman and livestock in one swoop. Steve has shot some very important events in my life and I am very grateful.
5. How many phone messages does it take for a SuicideGirl to return your call? That's the question I've been asking myself lately. And what kind of life altering feats does a person have to pull to get a SuicideGirl to return ones call? Like have a baby or something? Not naming any names here
(Miss Amina SchMunster!)
but I mean... really. One call? Two calls? Three calls? Place your bets, ladies and germs.
6. So this month I've been hanging out in bed with my husband and my son and it's been great. I don't have much to say really, but I feel like I should update. What else, what else.... Let's see if I can answer some FAQs.....
Tattoos: Still look great. They've all returned to their natural shape. And I never did get any stretchmarks. I'll update that tattoo thread at some point with a final preg shot and some post partum pics.
Weight: I've lost 25lbs already and really weight loss is the farthest thing from my mind at this point. I'll definitely start working out again, but I won't be driving myself barmy with gazillions of crunches or squats any time soon. And we bought a fish scale from Cdn Tire the other day to weigh the little guy from (in a sling of course, not from a hook in his lip) and he's up to 10lbs already. A+!
Boobs: I really should have taken a picture the night the boob fairy came. Engorgement, FYI, is truly wild. Now things are more manageable. Leaky, but thankfully not boulder-like. Breastfeeding has been going smoothly from the very beginning. Right after his birth he latched on and has been a champion feeder ever since.
Dogs: In all honesty, while they are clearly aware that something has changed, and Puppers clearly understands he's not the baby anymore, they don't really care about the bairn. They're not interested, not jealous. They're pretty much completely ambivalent. Dealing with the handful that Limone is on a daily basis I have to say is not quite as tolerable as it used to be.
Sleep: We got our first 5 hour stretch recently and it was luxury. He's definitely fussiest at night, and we're certainly not in a groove yet, but we're happy. The sleep deprivation is pretty intense! But we've really been enjoying co-sleeping. So much easier for night feedings and so sweet for all involved.
Cloth diapers: We decided to not clog the local landfill with two tonnes of plastic, chemical filled diapers and go with cloth. And it's been a great choice. We've been using Fuzzi Buns and KissaLuvs (if you're curious, just Google it) and it's totally easy, cheaper in the long run than disposable, and the diapers are also really soft and really cute. We're using cloth wipes too and that's also not nearly the amount of work we were anticipating. I figure if we can handle it all for a newborn who poops everytime he eats (every 2 hours roughly) and pees twice that much...then we're good to go.
Well. I've just nursed the little guy into a milk coma and I see it's almost ten o'clock so I am going to go to bed too. I hope everyone reading this is happy, healthy and having a good day. I'll leave you all with some pictures.
Good night, eh.
xx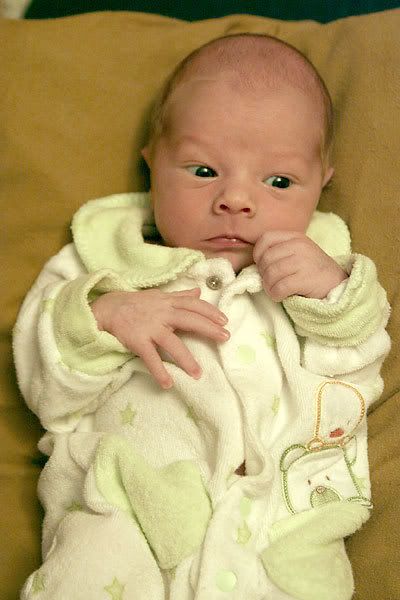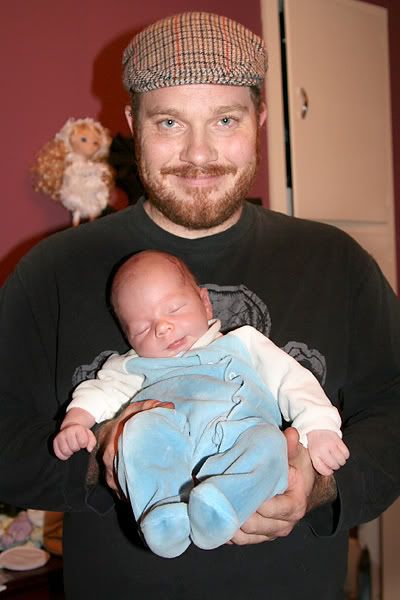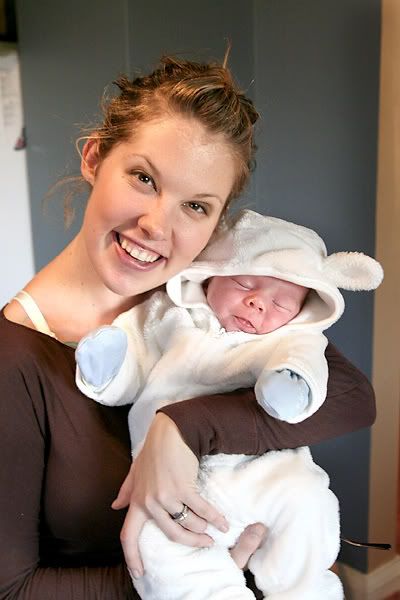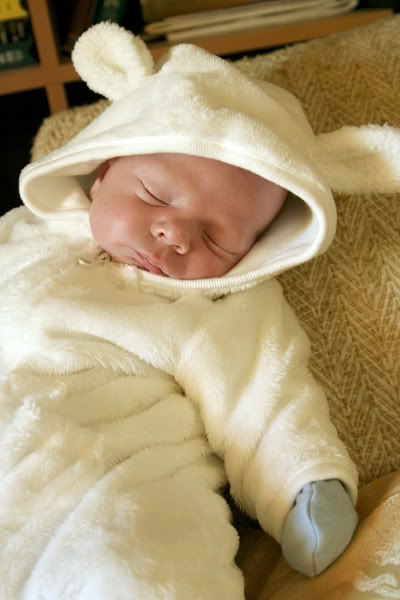 Ta da!
See pictures of him in utero in my latest set, eh.
T.xx
1. For any of you thinking about butting out, there's a
Quit Smoking Group
. SG sure does have everything, eh?
2.
Ymonster
recently came to visit. The day he arrived, we killed and ate another Ethel.
Vonscotch
tattooed him with a memorial/commemorative tattoo of said bird.
3. Updated the
Diary of Tattoo Changes During Pregnancy
thread again!
4. Question for all of you Juxtapoz type artsies: I have forgotten the name of the artist who does these wild little sculptures. He does these crazy little COOP body style babes, using roughly the same body style for each one, but each one has a different theme. He did a bunch of hula girls of different ethnicities, some are devil girls, some are lounge singers, etc. Can anyone name that artist or better yet, link me to his website?
**alexj wins the prize: The artist is Spencer Davis!**
5. Chickens, chickens, chickens.
6. Oh wait, one more picture with chickens. (The picture is of Scott & Tim with two Ethels. Only the Ethels have no heads, so I'm putting it in a spoiler out of respect for my vegan friends).


7. SG member rosielee painted a beautiful painting of me.



8. Since I could be giving birth any day now, we've been getting a little bit beyond excited. Here's a little snap of Scott and Puppers testing out the Snugli.



9. tmronin (aka Steve Prue the Great) came to visit a few days after Tim did. (Two visitors from NYC in one week sure gave everyone something to talk about!) He took lots of pictures, including the requisite cheesy pregnant shots.



10. So yeah! Life out here on the farm has been great. Fall is definitely here. It even SMELLS cold out now. We really need to process our remaining few Ethels. Had a lovely surprise baby shower a couple nights ago. Getting geared up for our homebirth.

11. Still looking for another tattooer for ol' SugarShack. Scott's booking into January now, so we could really use another set of hands on deck. Busy custom shop, one of a kind location. Step out of rockstar city stardom and come tattoo in the country, eh.


Twwly Tidbit: The next time I update it should be with pictures of our brand new bairn!
**Warning: this journal update contains an image montage titled "From day old to dinner". Just lettin' ya know ahead of time.
1.
I create my own reality.
A year ago last friday I moved back to Canada. I had some goals. I wanted to be happy, sober, and focused. I wanted to be healthy. I wanted a life partner and a baby. So I changed my attitude. I worked the program. I worked out. I found God, and I don't mean some dude with nappy hair; I found positive energy in my rural environment, a renewable natural resource. I opened myself to love.
So last Saturday Scott and I marched with
massed pipeband
. Pipebands from all over Ontario and some from the US came, and I believe there were about 300 marching. With the whole town following. This is were I add: defiantly in the RAIN. We did the march and then settled under the tents set up in the park. One kid starts piping in amongst the benches and the beer. Slowly other pipers join in. And then a drummer. And then in a blink there were drummers standing on the picnic tables, pipes throughout the entire tent and the the most glorious music was made. So loud, so moving. Everyone was smiling and socializing and energy was primeval... And there I sat; healthy, happy, sober. With my husband at my side and our baby in my belly bouncing away to the hearty drum beats. It was magic.
2. Puppers keeps trying to lay in my lap while I type and work. Only he keeps getting squished by my massive stomach.
3.
tmronin
and
ymonster
are visiting me this month. I am a very lucky lady.
4. From James:
5. Picture from one of the monthly Drifters car shows. Last night was the last of the season and tonight is the last pipeband of the season. We find this (the picture) hilarious. If you do too, we'd probably make great friends.
6. There is still no conclusion on what the manky creature I found in the barn is. Nobody knows! It shall remain an unsolved mystery for now.
7. My dogs are still the cutest:
8. We've picked the last of our green beans from the garden. Zuchinis are currently making their move. Onions are almost done, as is garlic.
9. It's getting cooler now, so I'm actually starting to wear clothes again. (Could see my breath in the air 2 nights ago!) I have spent the last few months wearing only those rubber boots (complete with duct tape covering a split) and my undies. Yup. S'not hot. Hehe.
10. Self portrait time:
11. Added new pictures to the
Diary of Tattoo Changes During Pregnancy Thread
. Click the spoiler to read the update.


12. And now for the grand finale. The following photo montage includes the beheading and gutting of a chicken. If you don't want to see it, don't scroll down. I will say that the first to the chopping block was treated with all the respect and care you could possibly give a chicken. She ate fresh foods, had lots of room to run, and was calm in the moments preceeding her death (likely thanks to regular handling).

If chicken is a part of your regular diet and you find the process documented below appalling, I would personally challenge you to take a tour of your local intensive chicken farm, visit a processing plant, or at the very least, download a video online. From start to finish the process is inhumane for both chicken and consumer.

Food for thought: If you couldn't kill it, you shouldn't eat it.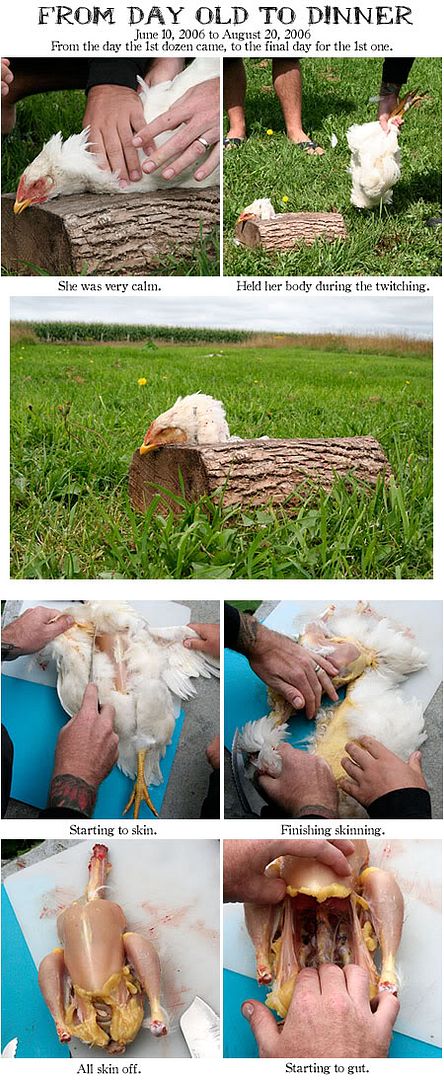 Big thanks to our friends Steve, Shipley and Adam who were all an integral part of the process. We're now prepared to toddle off into the world of processing on our own!
As you can see, we decided to decapitate and not bleed out. Steve pointed out to us that the chopping block was a definite end, where as none of us were entirely sure where a chickens jugular is.

Twwly Tidbit: I get to type a big long list today. I love lists.

1. Ladies and gentlemen, boys and girls, children of all ages! Wait a minute...maybe forget the children on second thought. Either way, step right up and bear witness to the mysterious mummified mammal I found in the barn a couple of weeks ago. I was in the middle of chasing a chicken out from the other side of her pen when I nearly stepped down on a massive piece of barn schmegma that had been rotting there since day one. I looked down as I avoided planting my foot on it and thought "Oh look! A baby monkey!" That thought was quickly followed by "Wait a minute, this is SW Ontario, people don't farm monkies here". Ears on the side of it's large round head, no tail, thumbs....after that quick 2 second glance over I grabbed ChickyPoo, tossed her back with the others and decided to head into town, hoping to find someone to convince my pregnant self that I was merely hallucinating what looked like a dead baby in our barn.
After scooping it out of the barn (thanks dad!) and taking closer look in daylight, it became evident that while definitely a mammal, it's thankfully not human. However. Weeks have passed, email polls have been taken, friends have come to gawk and gander (it's now living in the shed waiting for daddy
ymonster
to come and collect it) and nobody has been able to decide what exactly this beastie was.
Please toss in your opinion! The head it approximately the size of a large grapefruit, if you are wondering about its size. It does have thumbs as I mentioned.
Top votes are: groundhog, opposum, raccoon, very ugly pug, chupacabra. Its also been concluded to be the wrong proportion to be a cat.
2. And to balance that manky mug, here are some beautiful ladies who I miss dearly.
3.
VonScotch
and I have made about 80 jars of jam since I last updated. Peach, plum, plum/cherry, mulberry, strawberry, blueberry, apricot, blue/rasp/blackberry, rasp/blackberry, strawberry/peach. It's become our newest passion. I think we're "nesting".
4. The cover/article/poster coverage of me in Nordic Tattoo (all shot by the talented
tmronin
of course) was splashier and far more fun than I anticipated. Here's a small version of the article and little images of the rest are in my pics section if you're curious.
5. The chickens are growing steadily. They turn into pirhana over cobs of corn. We're waiting for the first girl to tip the scales on a frosty morning for our first adventure in chicken culling. We're likely going to go for the bleeding out method (as opposed to the head chop) as we've read it's less traumatic for the bird. I know killing it is not obviously the most humane option, but we want to eat chicken and we want to know that it has lived and died as best as possible. We could just ship them off to the butcher, but the thought of them scared and confused (well, they're always kind of confused, they are chickens after all) seems counterproductive to our whole operation. We're betting happy chickens fed actual FOOD that die peacefully taste better.
If you have any personal experience culling and processing birds, please leave your tips. (We're also waiting for the frosty morning so we can skin them easier, as we've read warm skinning makes the meat come off in strips. Avoiding the plucking process is preferred).
6. I've added new pictures to the
thread I started in the tattoo group documenting my tattoo changes during pregnancy.
7. And now for some photos of people who I love. (Yes, I love ME too, ya smartarse!)
8. Lovely farm pictures:
9. Hope you all commented on my most recent set, eh! It features a massive alien replica, pulse rifle and face hugger. Not to be missed.
10. Self portrait time.
Twwly Tidbit: I currently sleep in 1-2 hour stretches.
If you live in the Toronto Area, please click the spoiler
: