Squeak [insert world domination monologue here]
I'm private
I like these random topic updates I've been doing. Rather than having to find a way to slip seamlessly from one completely unrelated topic to another...dividing my blog entry up into parts allows me to be as erratic as I want.
. . . . . . . . . . . . . . . . . . . . . . . . . . . . . . . . . . . . . . . . . . . . . . . . . . . . .
First topic.....
Thank you all!!!
Hmmm....that was an okay thank you "shout out". But I think I can do better:


That's better. After all, if you have something important to say, say it naked.
But seriously folks, I can't thank you all enough for all the kinds words and comments you guys left on my new set. I tried to read through all of them and some of you really had the most amazing things to say. *sniff* Made me tear up a bit. (See?? I wasn't kidding about that "I cry easily" bit.)


. . . . . . . . . . . . . . . . . . . . . . . . . . . . . . . . . . . . . . . . . . . . . . . . . . . . .

There are new updates up on my website this month:




Actually, from now on we'll be adding new stuff to the site every single month on the 1st of each month. So check back often for new tutorials, pics, and essays!
Because of these new frequent updates I am desperately in need of submissions. Some of my fellow SGs have already been kind enough to submit images and tutorials for the site. But I know there are more of you out there with keen fashion sense and make-up skills. So please check out the site and consider sending in some tutorials and pics. And thank you to those of you who already have!!!

. . . . . . . . . . . . . . . . . . . . . . . . . . . . . . . . . . . . . . . . . . . . . . . . . . . . .

Oh yeah....as I mentioned in my previous blog entry, I changed my hair color to something a bit brighter and more colorful.
Ta da!--->




One without flash, one with. I did that because my hair seems oddly brighter and more vibrant in dim lighting. It's almost as if it radiates color. Of course....this could also be due to my close proximity to the Nuclear Power Plant....



. . . . . . . . . . . . . . . . . . . . . . . . . . . . . . . . . . . . . . . . . . . . . . . . . . . . .

In other news....
I found out that Woot has decided to merge with Amazon. This angered/scared/confused me. Until I read this:
Woot's Blog

I realize that very few people actually click on links in people's blog....and even fewer continue to read said link upon discovering that it is not A.) porn B.) a funny video or C.) a funny porn video.
But seriously, read the letter. Besides being incredibly funny, it is very well written.

. . . . . . . . . . . . . . . . . . . . . . . . . . . . . . . . . . . . . . . . . . . . . . . . . . . . .

I must end this blog entry now. You see, Comic Con is approaching and rather than read my comic books these past few months, I've been just picking up my pull, complaining about the cost ("back when I was a kid comics only cost blah blah blah"), and stacking them up in a pile on my bookshelf because I know that the only thing that lies within those glossy covers is sheer disappointment.
So now I have two weeks to sort them, file them away, and, oh yeah...READ them.
Because panels are much more fun when you actually know what the writers are trying to apologize for.


Back to work....

Random update time!
. . . . . . . . . . . . . . . . . . . . . . . . . . . . . . . . . . . . . . . . . . . . .
So I've been playing a lot of Magic the Gathering lately. After trying to kick the habit for about 7 years now, I am back into the game. What happened? Some evil person from Wizards of the Coast came over to me at a convention with a handful of Starter Decks and said "Here, take these."
Damn, they're good.
Before I knew it....I was bidding for cards off Ebay, searching through singles, brushing up on new rules, and assembling decks.
And I thought my comic books were expensive!
. . . . . . . . . . . . . . . . . . . . . . . . . . . . . . . . . . . . . . . . . . . . .
Now for those of you who hate text blogs and just scan for pictures.....enjoy!
Here is a new image from an old series I did with Robert Szatmari:
And these are my newest shots taken by J Isobel De Lisle:
. . . . . . . . . . . . . . . . . . . . . . . . . . . . . . . . . . . . . . . . . . . . .
As you can plainly see from my most recent photographs....my hair is currently pink. I loved doing blonde but I've been craving more vibrant and colorful combinations as of late. Today I am actually having my extentions redone and I am switching out a lot of my pink for teal and blue.
The downside to doing the more unusual colors is that it becomes very difficult for me to just "blend in" and escape attention. It is one thing to have a head full of blonde dreads....it is quite another to have a head full of rainbow colored ones. And no matter where I go....I have to be "Squeak".
Don't get me wrong, I love fans and I really don't mind being approached by those who recognize me. What I hate are those who recognize me and don't approach me.
Let me explain. If I had a nickel for every time I have caught someone trying to sneak pics with their phones, pointing and whispering "Squeak" under their breath (I can hear you!), or just plain following me around....erg!....well, I'd have a heck of a lot of nickels.
Seriously, come up and say "hi". I don't mind. It is better than having people whisper and point and stare. Cause even if their intentions are good (and they are actually a fan and not just some jerk staring at a "freak")...it comes off like they're being a jerk no matter what!
Sorry to rant about that. I suppose the bright, crazy hair always comes with a pang of anxiety and fear that I will lose my ability to just "lay low". My hair vastly contradicts my introverted personality.
. . . . . . . . . . . . . . . . . . . . . . . . . . . . . . . . . . . . . . . . . . . . .
Oh! Just got some beautiful....and completely historically accurate!...saris in the mail. (I do 14th-16th century Southern Indian persona in the SCA.) Pennsic is just around the corner! And I have a TON of garb to make now that my sister and her husband are going too.
Anyone here on SG attending Pennsic this year??
Many of you have asked me about the Comic Con situation and why SG has been banned. I am going to point you all to Missy's journal entry:
Missy's journal - June 25th
We do not yet know the outcome of all of this. I guess it is still up in the air as to how much of a presence SG will be making this year at SDCC. I am saddened by all of this because I so often promote and argue for Comic Con Conventions over all other companies.
In any case, it seems that SG needs to revise how we sell and promote at our booths. It would have been nice if ComicCon would have given us warning and then perhaps spoken with us about what changes need to be made in the future so that the Suicide Girls booth could remain there. I think they will find that our staff is very open-minded and more than happy to work out an agreement.
If not, then maybe SG will start doing DragonCon instead! (hahah...I can hope!) I love DragonCon and would love to have an excuse to go there each year. A workaholic through and through; I feel guilty taking "vacations" when there is no work involved.
Anyway....I just want to let you all know that I will still be attending SDCC this year. I actually buy my own pass and hotel room every year so that I have the freedom to come and go as I please. In fact, I was attending that convention for several years before I even started helping out at the SG booth (mostly due to shyness). But I am a sucker for panels and previews so I spend many hours a day in line for those. (especially last year....*grumble* stupid lines)
Soooo....I will still be there walking around and, I suspect, standing in lines. So feel free to come up and say "hi". I will sign things and take pics for anyone who asks.
Hopefully, there will be other SGs there as well. I will try to make up a list of who is still going as an attendee so you guys can keep an eye out for them!
Random news and whatnots:
. . . . . . . . . . . . . . . . . . . . . . . . . . . . . . . . . . . . . . . . . . . . . . . .
My Kombucha tea was recently pulled from grocery store shelves due to questionable levels of alcohol content. This angers me.
I am somewhat of a Kombucha junkie and I am convinced that I will never be able to shake that "tired" feeling in the morning without it. I hope that it comes back very soon lest I be forced to start brewing my own. However, if I start brewing it myself, there will be no one around to keep me in check and I may end up creating some of the most dangerously potent brews in all of Kombucha creation. If superheroes (or villains) can be made in this fashion, I will be sure to find out.
. . . . . . . . . . . . . . . . . . . . . . . . . . . . . . . . . . . . . . . . . . . . . . . .
Went to Disney World this month for the first time EVER. (We only went on "educational" vacations when we were kids.) It was hot and there was a lot of walking involved. Other than that, it was fun. Disney is clean and the workers are friendly and I enjoyed many of the restaurants.....oh, but did I mention there was a lot of walking??? hahaha...no seriously....you walk a lot. It is like being on the set of Lord of the Rings. Not fun.
Obligatory vacation shot: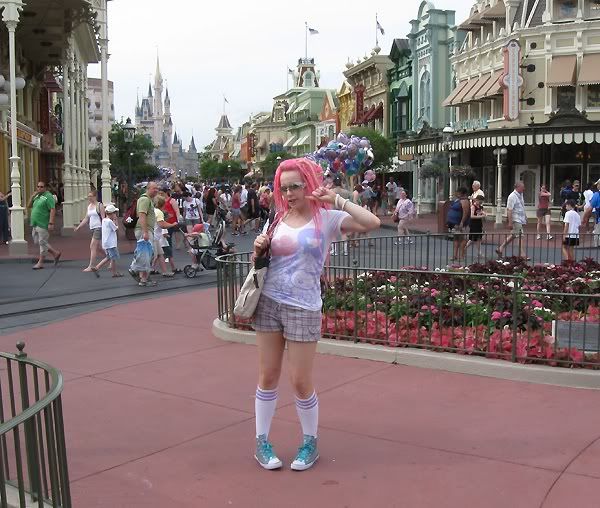 Oh!! But I did get stuck on a ride!
Apparently some idiots thought they saw lightning and felt unsafe continuing to ride Splash Mountain. So of course, they did the safe thing and jumped out while the ride was still moving. (Note my sarcasm there?)
Well, Disney protocol for a situation like that is to stop the ride and evacuate EVERYONE currently en route throughout the ride. We sat there staring at the same silent animatronic figures for about 45 minutes before anyone came to get us. They then had to help everyone off the boats and walk them out through secret passageways.
Here are some people being evacuated: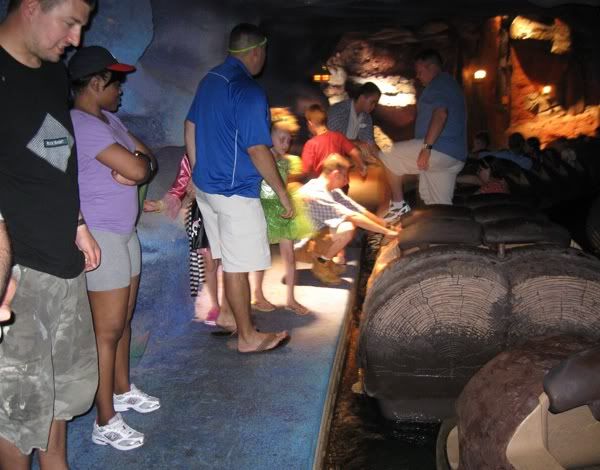 And here I am next to some of the animatronics on the ledge: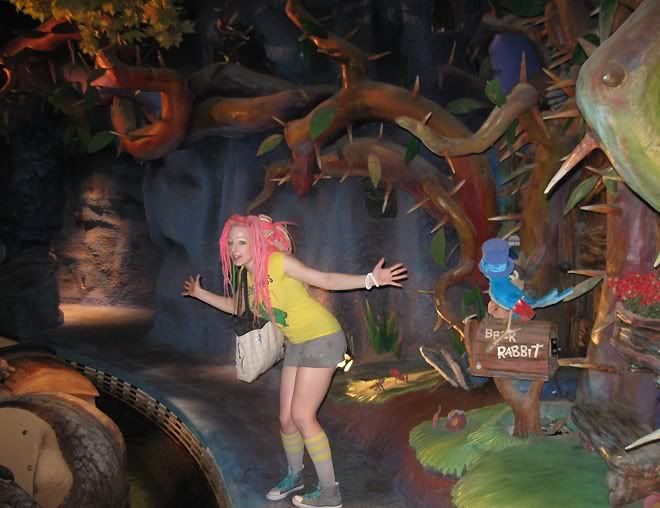 I have to admit, it was kind of cool being able to get out of the boat and walk along the edge like that. I can check it off my list of "random things to do".
. . . . . . . . . . . . . . . . . . . . . . . . . . . . . . . . . . . . . . . . . . . . . . . .
My newest set is still sitting pretty in Member Review:
Squeak - I Am
Sorry for the shameless promotion. But I am sitting on a new set that
Bob
shot for me and well, it is friggin awesome and Bob needs to have a certain number of accepted sets before she can be considered for Staff Photographer. I heard sets can sit in there for like 6 months or more. Soooo...if that happens...are you allowed to have two sets at a time in MR??? (It has been about 2 years since I had a set in MR and so I don't know how much has changed.)
. . . . . . . . . . . . . . . . . . . . . . . . . . . . . . . . . . . . . . . . . . . . . . . .
Over the past few months I have been repeatedly questioned as to whether or not I have a Facebook account. This Facebook phenomena seems to be of great importance to so many people. I can't understand why.
The answer is NO. I do not do Facebook....I will never do Facebook. In fact, I believe I owe a great deal of my personal success to not having a Facebook. Why?...
The hours that many spend chatting, posting, and errrr....poking on Facebook, I spend working my butt off. While they cover people's walls with terrible grammar, net slang, and poorly constructed acronyms....I am prepping site updates, writing articles, scheduling modeling gigs, doing volunteer work, and learning new skills and hobbies.
But! My site does have a Facebook:
SqueakMachine.com FB
I don't run it though...my second assistant and two of my friends keep an eye on it and post updates and pics.
The only online profiles that I run all by myself (sans assistants!) is my SG account and my Twitter. Anyways...SG is where it's at and has so far out-lasted Live Journal, Myspace, and yes, I'm sure even Facebook in the coming years.
. . . . . . . . . . . . . . . . . . . . . . . . . . . . . . . . . . . . . . . . . . . . . . . .
Okay...I actually have a bunch of errands to run now and then I have to meet up with my Dad for Father's Day!
Hmmmm....I may also get some tacos. I've been hungry for tacos for like 4 days now. Luckily there is a California Tortilla right down the street.....errrr....okay, enough writing about what I'm going to do, time to actually do it. Time for tacos!!
So Wizard World Philly was a smashing success!
You know, I actually live on the East Coast but have really only done West Coast Conventions with SG. Wizard World Philly is sort of on the smaller side as Cons go and it was very laid-back and easy compared to the hustle and bustle of some of the big West Coast Cons.
But! We sold almost all our merch and still had plenty of time for fun!!
I worked the Con with
Succor
,
Radeo
,
Sharyn
,
Porphyria
,
Apple
, and
Alexis
. So we really had an awesome group of girls and Radeo did a wonderful job of making things run smoothly.
Here we are playing around on the Batmobile:
Succor looks super cute, don't you think?
And here is me and Porphyria sitting on the hood of the Batmobile again:
Taking a silly pic with my friend Rachie:
My buddy Tom grew his 'stache back! hahaha! I friggin love it!
And I ended up spending a lot of time with Jake Busey.
He is a really cool, laid-back kind of guy and I enjoyed talking with him. We ended up visiting each other's booths whenever we got bored and plan to keep in touch. I'm hoping we can figure out which Cons we'll both be attending in the coming months since he was seriously one of the first actors I've met that is incredibly easy to talk to.
I didn't take a whole lot of pics cause my camera's batteries were low. But I'm sure Sharyn and some of the other girls will be posting some soon. I'll try to direct you guys to their journals when they do or snatch the pics and post them here.
Doing the Con with some of the East Coast girls really inspired me to want to put together more SG outings and get-togethers over here. I really loved the girls I worked with and it would be so nice to see them more often. Although I do miss my West Coast buddies as well.
But I shall see them soon enough! San Diego Comic Con is only a little more than a month away!!
Okay...well, I just got some new Magic cards that I want to sort into my decks soooooo....I'll catch you kids later!!
Thank you thank you thank you all for saying such nice things about my new set!!!
It has been a year since my last (very controversial) set went up on the site. A lot can happen in a year...old members leave, new members come along…tastes change...trends fluctuate. As an SG, you never know how a set will be received. Heck, you never know how
you
will be received.
I've been an SG for almost 7 years now and although I have made some slight changes to my appearance over that time, I basically still look very much the same. I am not exactly what people would call a "classic beauty"....my looks appeal to a much smaller demographic. The fact that my new MR set seems to be doing so well is surprising, refreshing, and exhilarating!
Thank you guys so much for all of the lovely comments.
I tried to go through and read all of them. Some of them are so touching and supportive...most of them made me laugh to myself and smile. I wish I had the time to go through and thank you individually but, alas, I lead a busy life and so this one entry will have to suffice.
Thank you thank you thank you. I can't say it enough!
If you haven't seen my set and have no idea what I am talking about....it is here:
Squeak - I Am
There are a bunch of other awesome sets in MR right now!! I shall list a few of my favorites.
My friend
Bob
's new set went up just shortly before mine did. She is an amazing person and we are so alike in so many ways...I friggin adore her. Be sure to say nice things about her new set!
Bob - Yoshimi
My buddy
Tita
has a set from last year still in MR. Tita really does have the sweet, bubbly personality that she projects in her images. She also has an amazing body!
Tita - Aqua Bar
Pssss....Tita also makes a guest appearance in this set:
lookies!
I don't really know this girl in real life...I believe she is a Hopeful...but I have a nerd-crush on her. There is just something about her that I love. Plus, she has the solar system on her bedroom wall! That is like the geek version of a "swingin' bachelor pad'....check her out:
Eddward - Solar Flare
Also!
Antigone
had a set hit member review recently. I only get to see Antigone once a year at Comic Con in San Diego but we keep in touch throughout the rest of the year. I love her new set:
Antigone - Here Kitty Kitty
Then there is
Vivid
. Holy crap, have you met this girl in person?? She makes me laugh until I tear up! It seems like all of my SG pals are the quiet, shy, introverted type....not Vivid though! Due to my social anxieties and all around ineptitude at conversing...I can not keep up with her. I do however, LOVE to just sit there and listen to her talk and joke. She is what an aspiring extrovert hopes to be like.
She actually has two fabulous sets in MR right now:
Vivid - Volatile
+
Vivid - Pink AM
Erg....there are more too but I'll have to list them later! I didn't realize what time it was and I must get off the computer for now.
Hugs for all!
So now you guys know where the new profile pic came from!
My new set is up in Member Review:
Squeak - I Am
Some previews....
This is my first set with a different photographer. I had only shot with Steve Prue for years and was heartbroken to see him go....it was difficult moving on to another photographer. But then Cherry came along....and she is just the sweetest person you could ever meet. I see so much of myself in her and being able to relate to her so well....well, it makes it very easy to shoot with her. Her and
Bob
will be doing my sets from here on out.
Speaking of
Bob
! This set was actually shot in her living room! Neat, huh?? Don't worry....you'll be seeing a lot more of Bob in my sets aside from just her living room....but I am jumping ahead!
Oh! Also, this is my first complete set with my new boobs!
See that? I am full of fun facts today.
Hope you guys like the new set!!
I haven't posted a recent full-length pole dance video in quite some time. I don't have time right now to upload it to the video section here on SG....but! I already have it uploaded here:
Squeak - Pole Dance May 2010
Oh yeah...before I go....
*pssssss* I have a set going into Member Review at the end of this month.
<3O~
Time to talk about sets!! I promised you guys that I would tell you a bit about my upcoming sets and now I finally have a few minutes to sit down and do it.
First of all,, I would like to say that I am thrilled to see
Dino
's set
Bubbles
go up! I was actually in the room while this set was being shot and asked for Dino to pay a little tribute to me and my pal Fred the Flamingo. And guess what?? She did!!
Meet my pal Fred. Dino let me name him and out of all the flamingos...he is my favorite.
-----------------------------------------------------------
Okies...now about my sets....
I shot a lot of them while I was out in California. Which means I'll be submitting more than one this year!
For the past 6 or 7 years that I have been on this site I have only released a set at the rate of about one per year. Well, now I'm going to try something new. They say "absence makes the heart grow fonder"...in this case, I hope they are wrong. Otherwise you are all apt to get sick of me.
I had the pleasure of being shot by
Bob
, shooting
with
Bob
, being shot by
Cherry
, and even shooting
with
Cherry
(errr...sort of. You'll see! She makes a special guest appearance).
For those of you who don't know, my old photographer and long-time friend Steve Prue is no longer shooting sets for SG. We still do fun, for-the-hell-of-it shoots together...but no more SG sets.
This was hard for me because I've been doing sets with him since 2006!
The good news is,
Cherry
and
Bob
have offered to shoot me from here on out...which is wonderful because aside from them being awesome photogs....they are also my friends. So it makes for comfortable shooting.
Some of you might be thinking..."Wait, Bob is a photographer?"
Yup, she is! She is working her way up to being a staff photog and once you see the set she did for me, you will see why she totally deserves to be one!
Ahhh...what the heck, here are a few previews:
While we are on the subject of previews....
Cherry
shot a bunch of sets for me while I was out there. Although I don't have any official, finished set previews to show you...I can show you a sneak peek of some of the images she was playing around with on her new Ipad.
These images are from the first set we shot together, they are unedited and in a monotone format in these previews:
Don't know if any of them are even in her final cut...but it is still cool to see.
Okies...well, as usual I've managed to spend waaaaay too much time blogging and need to get back to doing work. Keep checking back to the site! I will have sets popping up soon!!!
Got back from San Francisco a few days ago. As many of you may remember from my prior blog entries I was out there helping out at the SG booth at WonderCon and also spending time with my good friend
Bob
! Bob was kind enough to let me stay at her place the whole time and I had such a wonderful time with her...and
Cherry
and
Tita
as well! We all get along so well and I miss them all so much. I hate living so far away from some of the coolest, sweetest people I know.
My only comfort is that I will see them all again in a few months at ComicCon and then maybe, shortly after,
Bob
and I can plan a trip up to Canada to stay with Cherry and Tita.
Anyways....enough moping about. I'm sure some of you would love to see some pics from our recent California adventure.
Me at the Con: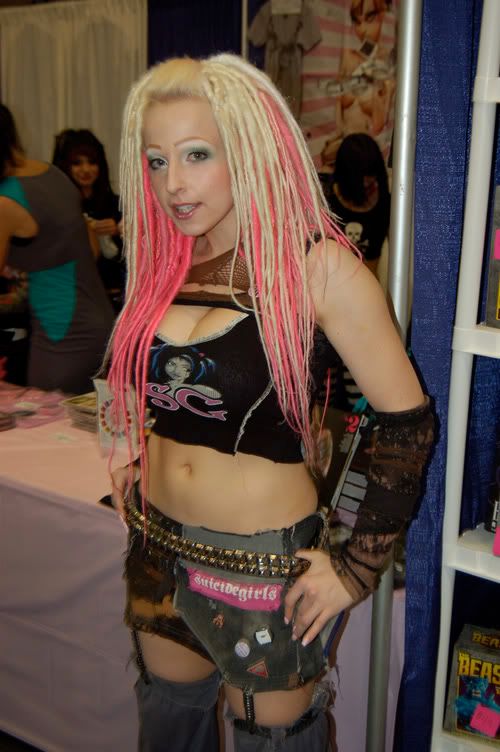 Group shot with R2D2: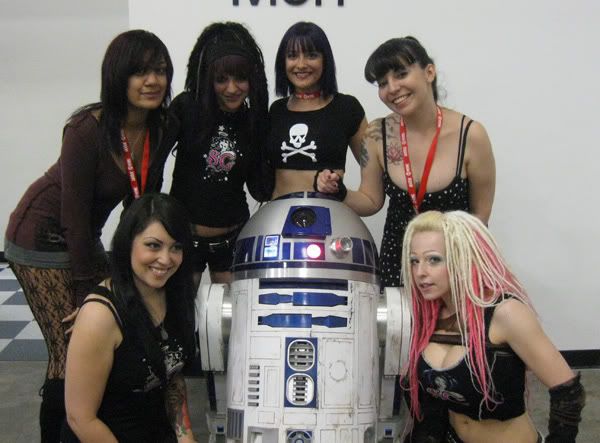 Bob
challeges him bot to bot::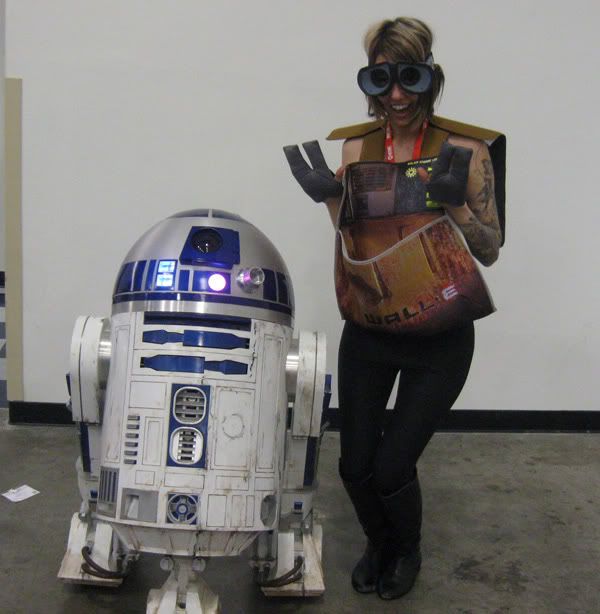 Bob
and
Tita
and me: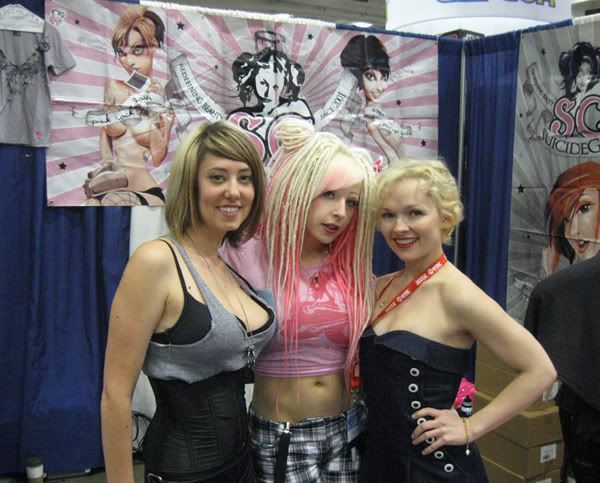 Bob
and
Timmy
show off their appearance in the Browncoats' Jayne hat book: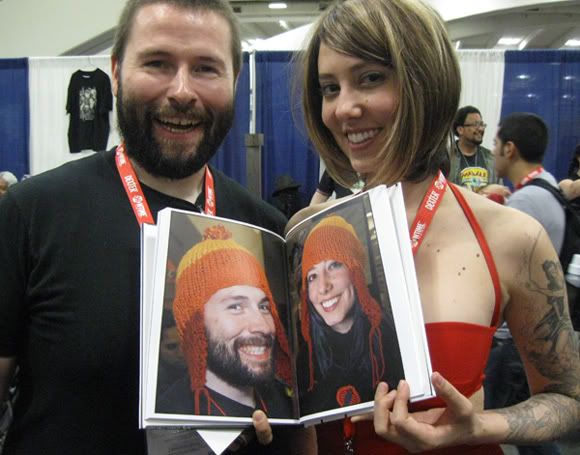 Our buddies in the booth next door were keeping count...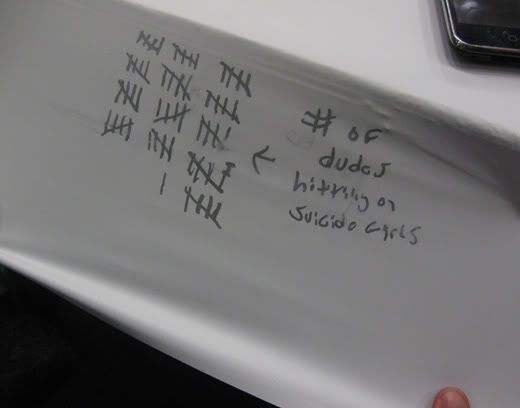 Me,
Bob
(hidden a bit by my huge hair),
Cate
,
Dino
, Fred! (the flamingo),
Maddigan
, and
Mandalay
Bendy down group shot!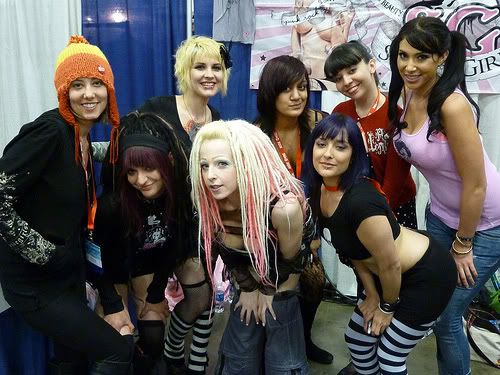 Cate
,
Serial
,
Tita
,
Bob
, me,
Quinne
, and
Cherry
->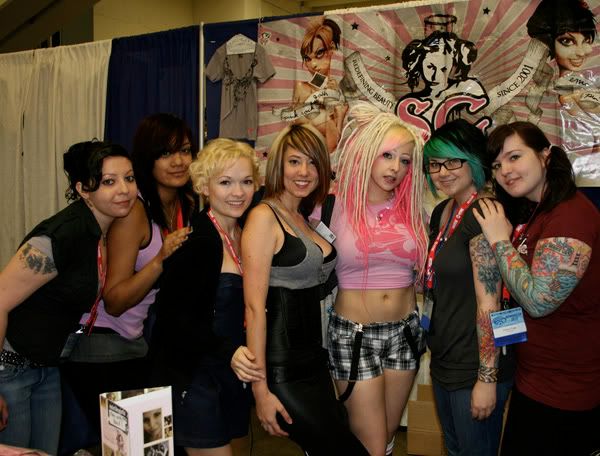 This is my pal Fred. True, he is a flamingo tattooed to
Dino
's arm. But I love him just the same.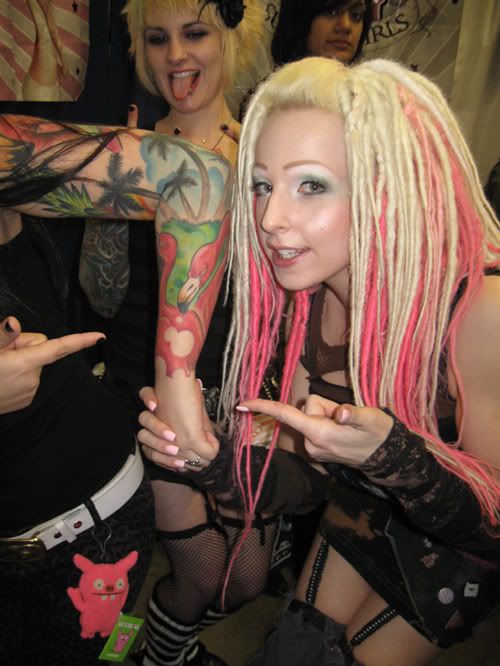 Getting food at this awesome place near the Con. My sandwich was so good, I ordered another!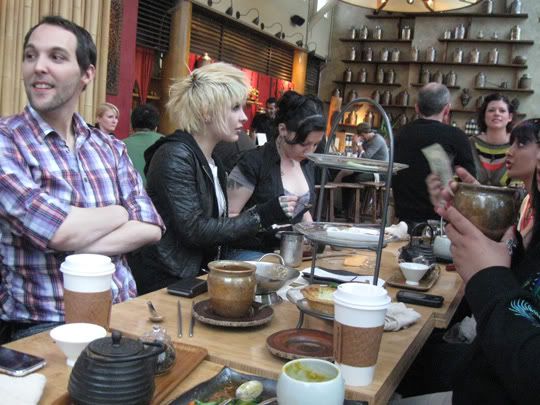 Random pic someone took while I was walking around: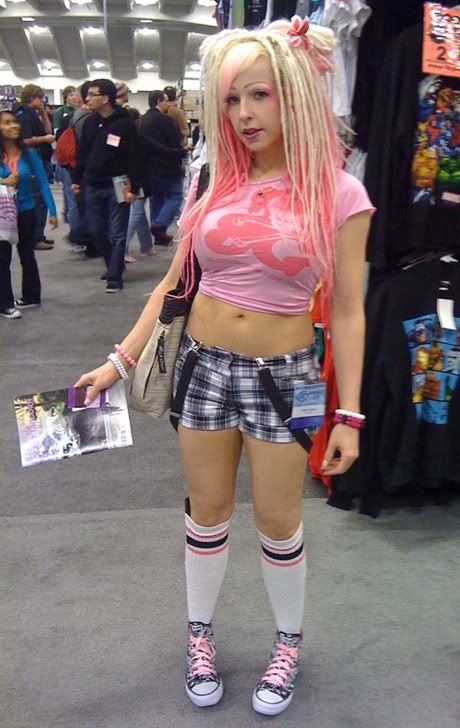 RockBand Party!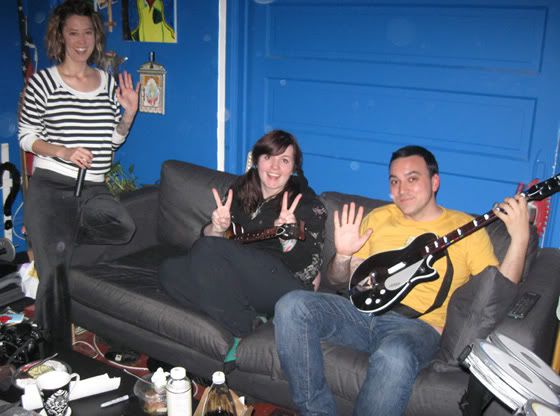 Yup, I'm a Flying Squirrel.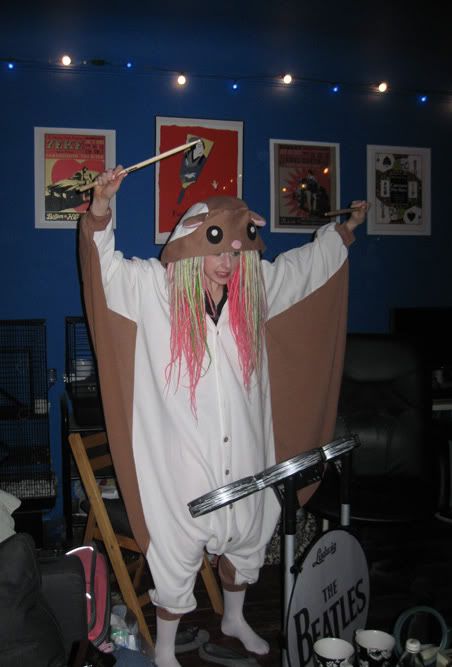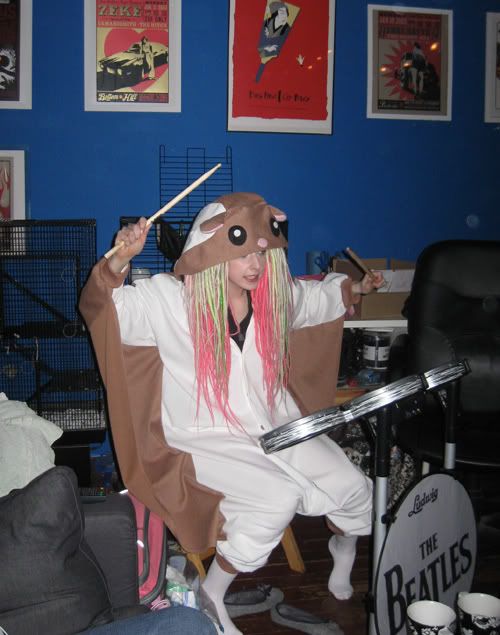 So that was my week! I am so sad that it went so fast. I am really looking forward to seeing everyone again in July. (Including the awesome
Antigone
who wasn't at WonderCon and I owe her like 26 hugs by now.)
xoxoxox
PS. I shot a whole bunch of sets for SG while I was out there! I will tell you guys all about the shoots and such in my next blog.