Sita Curiouser and curiouser....
I'm private
blood roses
blood roses
back on the street now
can't forget the things you never said
on days like these
starts me thinking

when chickens get a taste of your meat
chickens get a taste of your meat

you gave him your blood
and your warm little diamond
he likes killing you after your dead

you think i'm a queer
i think you're a queer
i think you're a queer
said, i think you're a queer

i shaved every place where you been
said, i shaved every place where you been

god knows i've thrown away those graces

the belle of new orleans tried to show me
once how to tango
wrapped around your feet
wrapped around like good little roses

blood roses
blood roses
back on the street now
now you've cut out the flute
from the throat of the loon

at least when you cry now
he can't even hear you

when chickens get a taste of your meat
when he sucks you deep

sometimes you're nothing but meat
~ Tori Amos,
Blood Roses
I've noticed that I've been smoking
a lot
lately. I'm going through around a pack and a half a day. This is getting ridiculous. And expensive.
I was having the most incredible cramps earlier today. I thought for sure it was
, but nope. Nothing. Hmph.
I fucked up and developed a crush. Dammit. I hate these things and I hope I can make it go away. I mean, it's fun and new and exciting, but I can't stand the thoughts that invade my mind to linger during downtime.
I don't work until Saturday. Party tomorrow night. Photo shoot on Friday.
Life is good.
I got lit on fire by a Domina.
I'd been flirting with her about it for a couple weeks. I'd previously let her tie me up in an intricate harness and prance me around. Then she mentioned fire play and I got curious about it. But, I was scared. I mean, fuck. It's fire!!
Finally, she grabs me, pins my arms behind my back, throws me down and flames my back.
It was quite nice, actually. What a fucking rush.
I never should've mentioned that damned bull whip. I know next time I see her, I'm gonna get cracked with it.
A sneaky peek of the commentary track for
Eon_McKai
's upcoming
Kill Girl Kill 2
is up, if anyone is interested in hearing me get drunk and talk about making fuck.
I'm hungry and I have a headache.
Rock and Roll Never Forgets
But, honestly. I'm sick of eating at home alone. I don't want to cook because it takes all this effort and clean up, just for myself?? I don't even want to boil water for pasta.
I would like a boy to take me out to dinner all the time. Or at the very least invite over and cook for me.
I've been eating take out a lot, lately. I'm planning right now what takeout I want to order tomorrow.
update///
Here is a link to
The Amazing Kristopher
. I'm in it naked, for a second.
Now at least I can say I was in a failed pilot!
Tiger. Grrrr....
I stayed out last night. Each time I leave my baby for extended periods I come home to a mess. Upon walking in the door I found a roll of paper towels shredded and scattered about the kitchen(ette) and living room. He has also taken to standing in the corner of my bedroom and mewing as if he's injured or dying. What a drama queen! I show him love that encourages him to plop himself directly on top of my keyboard. He's taught me a lot of great keyboard shortcuts that way!
I feel so lucky to have so many awesome people in my life. They way I grew up... I'd learned to think that most people are inherently bad and were only nice if they wanted something from you. So a lot of the time I would just keep to myself. I was something of a hermit, actually and worked as an independent contractor from home so I only needed to deal with people over the phone for business dealings. While most people thought I lived an ideal life -- getting up, walking into the next room and logging onto my computer for work -- it was quite lonely and depressing.
I'm excessively happy right now! It's so nice to know people that I can be myself with and talk to openly and honestly. That's just how I am. I'm direct and honest, which can sometimes be taken as tactless and crass (I'm still working on it!). Or, I end up coming off as a weirdo. Which I kinda am, so that's fine.
I don't understand this. I go out of my way to make sure Tiger has purified water to drink, but he insists on drinking icky water directly from the tap.
And he drinks it like he's dying of thirst. I wonder is there something in it that he needs? I've not tasted the tap water, but I've looked at it and I've smelled it. It's some vile stuff!
I finally got to see
halsparks
and his band
Zero1
perform. They put on a fab show. Hal is a great frontman and the songs were so fun to dance to. I hope they play around more often.
Okay. Time to clean up after Tiger and get on with my day.
Balls.
What a boring fucking day.
I ate chili cheese fries with jalepenos. Mmmmmm.... I know I'm going to wake up in the morning with regret and a tummy-ache!
Chillin with a sixer of beers. I'm so insanely bored right now, if I were the type who watched TV I would go do that. But, since we're talking mindless activities, I'd rather daydream and stare at the ceiling, thank you.
I met up with some people today whom I've only been casually acquainted with. I was invited and it sounded like a nice opportunity to get to know everyone. The downside is they already knew each other, so it felt a bit cliquish, maybe? I got annoyed, and I left. There is nothing worse than going out with other people and feeling like you're by yourself. I can do that on my own -- at home with my cat. So now I am doing just that.
Two beers down, four more to go. I'm hoping to pass out. I'd have just gotten some hard stuff if I wasn't certain I'd over indulge and get sick.
Good things never happen when I pick up the bottle while I'm in a crabby mood.
There was a highlight to today. I got to talk to my friend Eric! He's in Portland with his band,
Codeseven
. I'm glad the tour is going well and he's enjoying himself. I can't wait to see him again.
I hate that Tiger's favorite spot is behind the screen of my laptop. While I type he will reach out and scratch at my fingers. The whole time I'm on, I spend time chasing him away while he stealthily creeps back into position. Then we do it all over again.
I am ham.
bombshellbetty
said, and that makes it so!
Just got back from recording the commentary track on
Eon_McKai
's latest, Kill Girl Kill 2. It's fucking hot, yo.
Seanbaby
, look for your shout out. I made sure to do it before I got too drunk.
What else have I been up to... uhmmm.... Heading back to NorCal later this week to get some more work on my tattoo. Trying to figure out how I'm going to do that
and
pay rent. But, I know where my priorities are, so whatever.
I completely filled up the hard drive on my dinky little iBook. So, I'm in desperate need of a new compy or at the very least a bigger drive. I need way more space for all the media files I'm trying to work with. Dammit.
I wonder why
Kurt Lockwood
's website is down. I should've cllick-saved some pictures. That is one sexy man and now I have no access to my stroke material.
I simply can't keep licking his business card because that's just weird. And maybe even a little gross, too.
I think I'm going to start singing for this band. I'm a little intimidated because I've not sang for a band since last year with
Subrosa
and
Tentatively Called Poop
. That was a good time! But, I was surprised by how hard it was to hear myself over all the live instruments. I'd gotten so used to not being able to hear myself in the practice spot, that it was weird to go on stage and be able to hear. I guess I've been spoiled by all the karaoke bars? But, yeah, it's a rock band, so if not anything else, it'll be loads of fun. Plus, I'm ham!
I had some really awesome sex a few nights ago. I came so hard, so many times, I thought I was gonna puke. Actually, I did kinda puke.. but that was from, errrm.. something else.
OoOo! Guess what?
halsparks
and his band Zero1 are playing The Viper Room on Tuesday! I've been wanting to see them perform for weeks.
Brett Hellings
is on the bill as well, and I know he always puts on a great show, so this is going to be a fab night.
I won't be going to
Metal Skool
tomorrow. I need time for the bruises to heal from last week.
Ugh.
I've never gone that deep before
. HOT!
At The Whiskey A Go Go on Saturday night with Not The Ramones: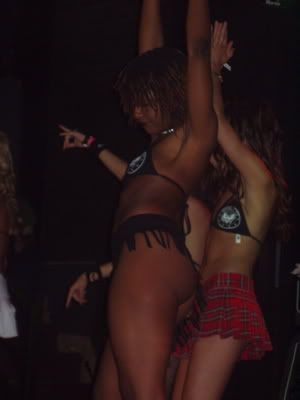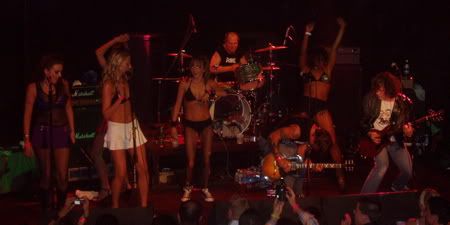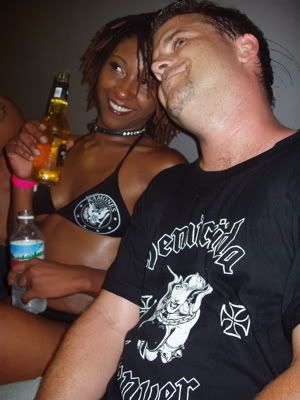 Fuckin' fab party!
The bad news is I did not get laid last night. The good news is, I totally could've, but instead got so drunk I could barely sit upright.
Eon_McKai
is awesome.
As it happens
Kurt Lockwood
is a sexy
rockstar
as well as a talented *cough* actor.
Ron Jeremy looks exactly the same as the first time I saw him four years ago.
Riding in a stretch Hummer limo while drinking whiskey is the closest I'll get to teleporting. The ride seems to go by so fast!
Okay, off to Trader Joe's!
Tomorrow.
METAL SKOOL
!!!
Shit is getting really fucking stupid.
But, I'm totally getting laid tonight. So, there.