I'm private
I have an irrational fear of hairdressers




One week to go till i'm back in Leicester

yes, can't fucking wait.

Any Leicesterians about?


Oh, and I forgot to say.. DOWNLOAD 2006 yesssss! I'm going. Are you?
Wow, I actually want to cry. I just wrote a MASSIVE interesting, amusing and imformative (pah!) entry only to have my laptop die on me. Oh yeah, lots of pictures in this entry so dial-uppers BEWARE the pictures of computer crashing doom.
Anyway.. Thank you to all those that left nice comments on my last entry
I really haven't had much to say lately which explains the sporadic and pointless entries. I'd love to reply to you all but i'm so busy these days.
Things have been very up and down these past few weeks, but i'm determined to keep things looking up. So far it definitely seems to be working. I've changed my outlook on a lot of things and am ridding myself of any unneccessary judgemental thoughts I used to have. No matter how much you put other people down it will never make you feel better about yourself. FACT yo'.
I went to the Natural History museum the other day, I LOVED IT
I used to be a big dinosaur nerd, so yeah..
PICTURES.
I loved the T-Rex! Even if he wasn't half as scary as I remembered him. None of the kids seeing him appeared to be even remotely scared, actually.. one of them was taunting him. He said, "HAHA, you can't hurt me because you're DEAD", which made me giggle. I used to bawl my eyes out when I saw Mr. T-Rex.
Hehehehehe, immature moment
Ugly fish
I'm not sure why they positioned this Panda skeleton to look like it was playing an invisible banjo.
Yeah, I know this is really sad but I was laughing at this for about half an hour. 10funny.
AND, more pictures of me. I put pink in my hair. See: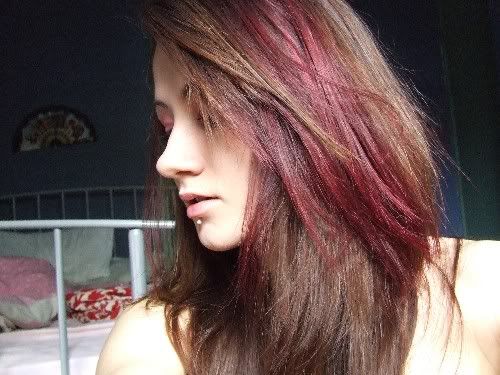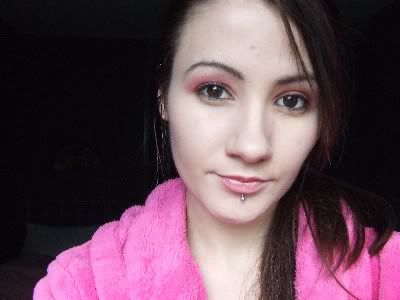 Sexy dressing gown innit.
I'm back to uni soon
I miss my girlies and I can't wait!
Love,
Severity
Urgh, so damn poor and sick of my four fucking walls. This flat is driving me crazy (and I know it's my own fault because I never go to lectures). I am lacking in any motivation whatsoever, I can tell by how much of a shit heap my bedroom looks at the moment. Oh, and the fact that I don't
do
anything.
If you look hard enough, you can find pretty things in crapholes.
Life is SO confusing right now.
These past few weeks have been quite dull. I've turned into a daytime TV zombie and a slave to the internet. It's the rains fault, I melt in rain. I haven't even been able to test out my crazyawesome new rollerblades.
My housemate has got me addicted to Neighbours, ach, Stewart is so pretty. Anyone see it yesterday when he took his top off? Yowza!
Ahhhh! [swoonswoon]
BUT Deal or no Deal's where it's at!
Who's stupid idea was it to give Noel another job?
-I don't know if i've mentioned my housemate from hell before. Lately i've been wondering what the hell she contributes to society. She keeps me up virtually every night till 7am either a) getting laid [loudly] b) inviting as many gangster style pimp looking guys with gold teeth (one even calls himself
Goldie
, c'mon!) with the deepest voices known to mankind to take as many drugs as possible c) with the most irritating ringtone i've ever had the misfortune of hearing followed by loud phone conversations. I've seriously never hated somebody so much. She struts around the house in mesh tights with no underwear on underneath and high heels with a big hoodie on top. Who does that?! I really could do with not seeing your vile bits at 9 in the am.
-Please go add me on
MySpazz
!
Love,
Severity xxx
you know that feeling you get when you've been drunk and wake up and think,
shit, what the fuck did I do?
That's what i'm feeling right now. I like to call it post-drunk guilt. I haven't done anything wrong, I just worry that i've offended someone.
I need to stop drinking so much, i'm spending £30 every time I go out on pound drinks and I'm even drinking Stella.
Fucking Stella
.
I can barely remember the past month of my life, it's been fun and stuff, but shit - i'm suffering for it.
i'm officially too lazy to comment back these days. Well, busy, but when i'm not busy i'm lazy.
weeee im drunk n shit.

BLAHHHHH
yeah, despairing of the human race again. Knew it wouldn't be long.
New hair, new pictures, absolutely nothing else even vaguely exciting to add.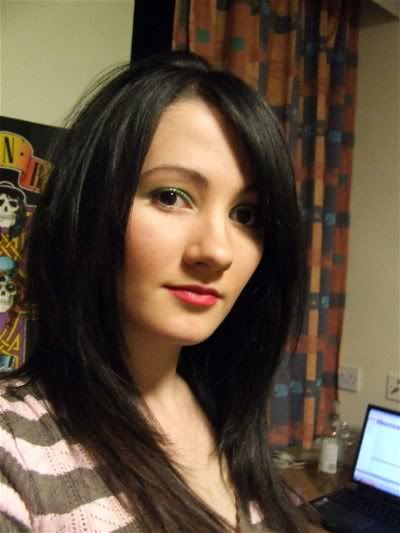 My boyfriend is touring with Adler's Appetite. How awesome, go see him play. He's cute, I promise.
i finally caught up with the 21st century and bought a mobile phone with a camera, it's pink and snazzy (and i really should stop calling everything 'snazzy')
Any photographers in/near Leicester? I really want some portfolio shots taken. Send me a message with that new handy function.