Serene is leveling up her sneak, and stealing all your gold septims.
I'm private
...xoxo
Winter is coming...so here's some cats singing the Game of Thrones theme song...
You know you enjoyed that, don't lie.
Also, Halloween! Yeah! Fall is my jam. Love it. What are you all going to be this year?
(Recycled Halloween pic is better than no pic at all...right?)
Disclaimer: If you follow me on
Facebook
, you've already seen most of these. My apologies for the deja vu.
Managed to get outside and take a few product photos before it got too cold...
Made some Captain Nemo inspired necklaces and wooden boxes, (they come as a set). They took a ton of work, but I'm happy with the results...
Also working on a few different styles of headpieces. This is one of the more ornate ones...
And some other random images of things I've made recently...
Don't worry, no beetles were harmed making this...little guy was already long gone.
...and there is tons more in my shop:
Alternate History
Been playing Dishonored and KoA Reckoning....and a little bit of Darksiders. It's not a good thing for me to play more than 2 games at once though. Confusing the sneak and attack buttons is a costly mistake.
Hmmm, what else? Voted and made some good quinoa spaghetti. Saw some music, hung out in the forest, found weird things at thrift stores, haunted pumpkin patch....won $10 by wearing a plastic iron man mask for an entire shopping trip.
Kid's Halloween masks have improved considerably in the comfort department. I remember those things cutting into your face by night's end...and now I sound old.
I hope you all are having a wonderful Fall, and have a fun & safe Halloween!
XoXo!
I leave you with a puppy pic...
It's already half way through August, it's 100 degrees outside, and the only type of productivity I feel enthusiastic about involves a/c and an xBox controller.....How did this happen? Oh. Right.
Also, blueberry vodka...
Here are some random things I have done lately that do not focus on sitting on my bum getting thumb exercise (interpret that however you'd like).
I've been trying to do little improvements in my house for as little $$ as possible.
Among other things, I painted a wall. I still think it needs ragged with another color for some texture though...
I made and added that curtain too. Not incredibly impressive, but I was stoked I remembered how to thread a sewing machine and sew a straight line.
Painted some vine type things on my bedroom walls that I painted greyish-green a few months ago...
I'm saving up for a large ornate mirror I've had my eye on for that big blank spot next to the vines.
Re-did an old dresser (and made a silly photo collage of it)...
It was beat up and gross. The wood was pretty cheap so stain wasn't an option. So,I sanded, primed, then painted it that taupe color....added molding, and painted it again with a faux finishing technique and a really dark glaze. I think it turned out pretty nice considering it was my first attempt at adding molding and the faux finish thing. The top actually looks a little like wood grain.
Bought a dress on eBay for super cheap. Took a poor quality picture of it...
Then took some slightly better quality pics wearing it. These are some product shots I took for my
Etsy shop
...
Like most everything else in my life, these were also very DIY, so please don't judge too harshly.
Alternate History Designs
And some other random shots I took mostly for my
Etsy shop Facebook page
....I gain sustenance off your likes (also, I don't have very many so I'm trying to update it more often).
tea-staining lace...
Agent Scully...
Finished tea-stained lace choker...
Finished poison bottle necklace...
Potion of Flora...
Crazy buns-camera face...
More strange faces...(this always happens, but I'm sure you've noticed this)
Okay, that's enough random pics and Martha Stewart like craziness for one blog. Thanks for hanging in there.
I hope you all are having a nice summer, or August I guess I should say.
Have any game/movie recommendations for me while I melt on my couch????
XoXo!
ps: Thank you
Rorschach
for the 3rd vol. of The League of Extraordinary Gentlemen. I'll definitely be diving into that as soon as the xBox overheats. Which will be in 3...2...1....
Cat's got my tongue...so here's some random pics!
Dyed my hair (again)...
Grew some potted squirrels...
Built a fence...
Grilled ALL THE THINGS!...
Made a custom necklace design for a blog give-away (
for my etsy shop
)...
Bought myself a dress...(which I'm overly excited about because I rarely buy myself things)
I also bought myself a vintage purse. My old one was falling apart....I feel spoiled.
Also, one day I want to be as badass as jaqen h'ghar. That is all.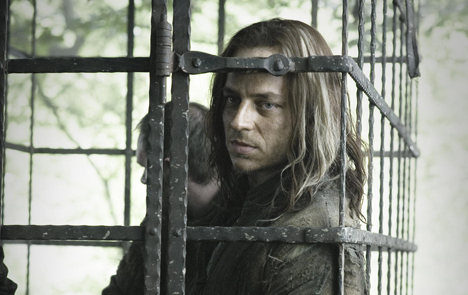 XOXOXO!
This blog is about the importance of cinnamon rolls and tee shirts. Serious bizness.
I cannot stop eating cinnamon rolls. I need help.
I blame Skyrim. I had to recreate sweet rolls after a particularly long binge of gameplay.....why does cartoon/animated food look so damn yummy?
I made hazlenut icing for them and they are deadly good.
Butters also likes to get his game on.
How was your Valentine's Day? Mine was good. Homemade dinner and cookies....chocolates and presents....a
Firefly
marathon and video games.
My gifts where handmade (as usual for V-day). I made the husband a robot (& cookies)....
He gave me the perfect tee shirt...
Hail Sithis.
Speaking of tee shirts, they are awesome. They have gone underappreciated in my life until now.
These guys
make some interesting designs. I own 2 and they are really soft....
Been working on lots of jewelry for
my shop
. I snapped this photo of some bottle pendants in progress...
The tiny spines are new.
Oh....."like" my
Facebook page
if you want updates. I try to update it often.
I hope you all have a good weekend....mine will be full of painting walls and hanging light fixtures.
And probably cinnamon rolls.
XoXo!
Hangin' in Riften...brb.
Cyber Monday sale at my shop! 20% off everything at checkout! Today only.
Use coupon code: CYBERMONDAY20
After Monday, SHIPITFREE will get you free domestic shipping!
Alternate History Designs
Everything comes gift boxed for easy giving!
Happy Halloween!!!
Nothing too fancy this year....just doing bunny ears/tail and vampire fangs. If you get the reference, you get 100 awesome points.*
*Points are redeemable at my house, but you must bring cookies to get in the front door. Then doggie treats to appease the tiny, man eating chupacabra known as Butters....

Your prize is the 5 lbs. bag of caramel corn my dad bought me from a boy scout....it is sitting on the counter....judging me.

In other news, I just finished watching the last season of Breaking Bad. I had a bit of a marathon and watched all 4 seasons in the last month or so. That show is freaking intense but soooo good.
And the season 4 finale? WTF? Does that mean? But how could he? Gah!

I recommend a Breaking Bad marathon....then watch a few episode of Malcolm in the Middle...

I love that guy.

I've been bust with my Etsy Shop (as usual)

New photos and new jewelry!


Alternate History Designs

I hope you all have a lovely Halloween!

I am a home owner!
My body is so sore from moving, but I am super happy. Still close enough to downtown, but REALLY private with tall cedar trees. I can make all the noise I want! It's an older house, but it's perfect.
I need to sleep for a week.
Also.....check out this youtube video a customer made reviewing my shop!
Lol! Awesome.
It makes me ridiculously happy to hear nice things about my work.
Fall is coming. Bring it on, favorite season! Pumpkin muffins must be made.
XoXo!
MAY 2013
1
2
4
5
6
7
8
9
10
11
12
13
14
15
16
17
18
19
20
21
22
23
24
25
26
27
28
29
30
31
APRIL 2013
1
2
3
4
5
6
7
8
9
10
11
12
13
14
15
16
17
18
19
20
21
22
23
24
25
26
27
28
29
30
MARCH 2013
1
2
3
4
5
6
7
8
9
10
11
12
13
14
15
16
17
18
19
20
21
22
23
24
25
26
27
28
29
30
31
FEBRUARY 2013
1
2
3
4
5
6
7
8
9
10
11
12
13
14
15
16
17
18
19
20
21
22
23
24
25
26
27
28