Rayde twitter/instagram: raydesuicide | facebook /raydesuicide
I'm private
quick updates for those following:
- I have been working overtime at the office, plus commissioned artwork being rushed for its deadline
- registering for school in the fall... again
- watching family guy. very. very distracted.
- Spinning at a party in January, got that booked, and promoting one on September 3rd in Toronto (Funhaus). will post more on that later
Will elaborate when i get my head above water.
Rayde
____________________
On the Street. A memoir.
____________________
I saw this lady today
she drifted down Queen St. pushing a stroller
draped in robes, black and heavy
her eyes peered through a slit in her veil
at the don't walk signal
and then at me
I smiled
I can'tt tell you if she smiled back
I thought about how hard it must be
coming to a city that is tolerant of many a culture
and embracing of none
to be saturated by a foreign tongue
and drowned in consumerism...
to be alone and shut away
in the busy city streets
must be so hard
how alone she must feel
scared even?
unsure, insecure and determined to raise her family
undivided
I dont know if she smiled back
but I know that I did
and that she made me stronger
I looked up at the overcast sky
and noticed that it wasn't grey
it was streaked with pinks
and baby blues
-Rayde
... its all about the pinks and the baby blues...
Last night i went to Ravestraveganza, a production my buddy put on. It was a great turnout, at least 300 people, with wicked lineups and good company. I started off drinking at home, the whole "one-more-beer-then-we'll-go" story. Which usually ends in drunkardness.
*sigh* I'm such a sucker for Amsterdam Beer.

I have this really bad habit of singing when drunk. I'm no better drunk than sober, but I belt it when drunk because I figure I'm already making a drunken ass of myself anyways. May as well?


Yes. I get really, really into Pretty Hate Machine.


So finally, left for the party, needed to be piggybacked to the streetcar stop because I could not quite master the motor skills. What else is new?

The venue was damn full, hot as hell, and dirty,dirty. I loved the vibes. DJ Flim, an amazing Toronto local, blew me away as usual. He has a baby boy name Elijah that's learning daddy's tricks of the trade



Aside from Flim,
Mike Conradi was bangin' as ever...




Me and Paul headed over to our friends' house afterwards and talked until... well.. this morning. I have to work tommorrow, even though its a Holiday for everyone else. My company is Canadian/American... Why is it that none of our holidays coincide? I get to work both. shoot. me. now.

Ah well. Today is nice and warm and breezy. I'll enjoy it while I still can.



Rayde
So I met the lovely Kensington today,
That girl is SUCH a cutie patootie!
We, if you can believe it, worked out.
Yes, exercised and sweated like pigs and it was g-r-e-a-t!
Got caught in the rain. Good thing my UFOs dry quickly, it was a soggy afternoon...
This past weekend was a great time with great friends
Spinning records
playing scattergories (awesome vocab game)
Drank and made random runs around the city
not useful
but satisfying none the less
It truly is the people that make the evening
Here's to present company,
and absent friends
Rayde
Im finally settled in my new place
working in a different city and living with the parental units mon-fri
catching up on weekends at my new place, still settling.
Spinning records more now, hanging out with good people.
I've been light of heart lately, easily pleased and twitterpated. I feel like a schoolgirl. maybe its the summer in the air and the suburbs im in mon-fri. who knows.
i miss my kitty back at the new place with the ol ball and chain. i wonder how theyre doing. I hope the new sofa isnt torn up or im getting them both declawed ahah.
hopefully a new set soon. im so tired lately i barely have the breath to catch up with myself.
I'm zoning in and out writing this but i dont want to have such a stagnant profile on the site for those who care you know?
Here's some poetry to lull you to sleep... kinda.
Cheers
Rayde
***
The air is thick
and hot
the smell of dirt turning to mud
lingers in my nose and throat
The fan turns
but no breeze relieves me.
How many a day spent
popping beercaps
and watching mindless
situation comedies?
[my god, not for their humor]
Belly hanging from beneath his shirt
by just a little.
pasty and white.
A drunken gaze, all glossy
and a breath of dissinterest.
A dissinterest in me.
How many days spent
stealing. worthless. shit.
?
Jerkin' it to Mike Patton
and mumbling 'I love you's
in the euphoria all too familiar
of a ketamine dream?
How many times shut out?
from a love
was it then?
Or was I a cheap trick to pull on a Sunday afternoon
under the haze
of the bedroom bathed in golden yellow.
The time of your life is upon you
smooth-talking and dreamy
sensual...
sexual.
you deserve nothing
but the strangulation of your own greed
you assinine junkie
***
~Yours Truly,
Rayde
This weekend is the SG Toronto Gala
Im so excited
Sorry ive been neglecting the comp, ive been unpacking and busy with work and extra stuff i belong to outside of it
a new set will be shot soon in my new place hopefully, i just gotta get it organized.
Cheers Lovelies
Rayde
Well, Just letting all the ladies and gents know how the Pillow Fight League's first solo event went on Thursday...
SPECTACULAR!!!
PHOTOS:
we PACKED the PFL Arena! The bar was exploding with fans!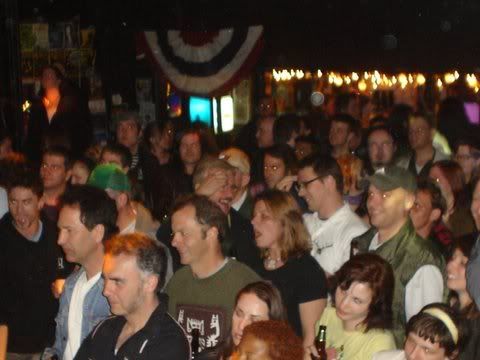 We had A load of Girl on Girl fights. This was no gimpy girlie catfight. This shit was insane. Bludgeoning, smothering tripping, pinning, clotheslining entertainment.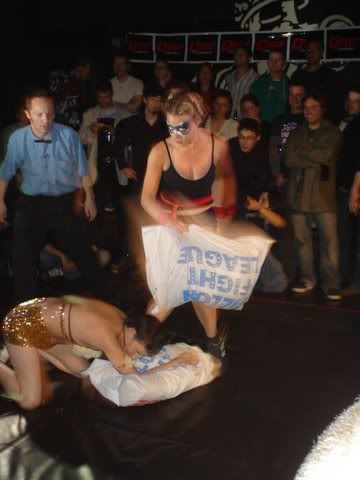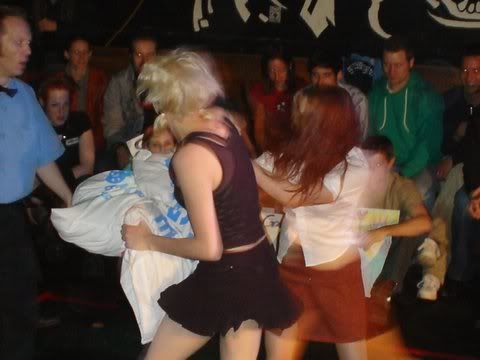 The last major fight was a Pillow Fight Scramble. All girls on the mat. If both feed were pushed off, ladies were eliminated. Major Fun as you can see.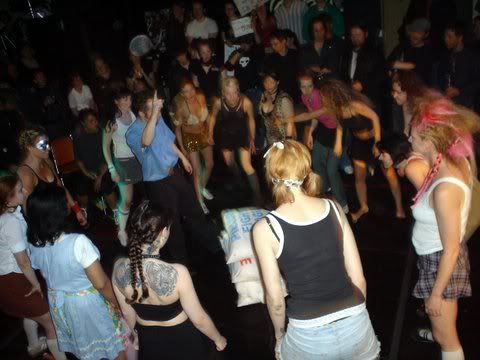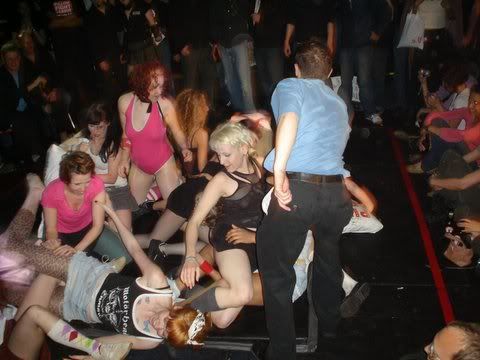 LIVE FOOTAGE:
All the footage here was filmed by people at the fight. Professional footage was taken by Sportsnet and the Toronto Sun. There was also an article in the Toronto Star last week as well as Yesterday about the League. Fight was sponsered by Q107 and CooL Beer, future funding by Beer.com.
Enjoi!
***
Two of the toughest meanest broads in the league duke it out:
ChamPAIN vs. Boozy Suzy
Its a clash of old fashioned morals and new age attitude, we're ready to level the playing field:
Digit Jones vs. Sarah Bellum
A masked villian dules the loudmouth broad from the wrong side of tracks:
Wynn Cognito vs. Vic Payback
These ladies do NOT get along, Polly Esther (diner waitress) and Betty Clock'er dissagree in kitchen. See the rage here:
Betty Clock'er vs. Polly Esther
Four Ladies in our audience tried out they're pillow swingin scramble on the mats. The guy filming this is the boyfriend of the girl in the plaid skirt. He goes NUTS!
Amateur Fight... that's not so amateur after all!
14 Girls on the mats for a Pillow Fight Scramble. Here the rules are different, if both feet are off, youre out! It's funny, it
looks
like nothings going on. Its brute strength trying to be the last girl standing.
Click Here to See the PFL Scramble
***
I know YOU ladies want to test your pillow fighting skills!
For info on Joining, Booking or Sponsering, visit the Pillow Fight League Website: www.GoPFL.com
The night was action packed from 9pm to 1am, with League Girls, Fans, News, Media and girls in the crowd who took turns walloping eachother! PFL got funding fro their new website, sponsered by Beer.com and a new show announced to be at the Phoenix Concert Centre in August.
Visit www.GoPFL.com
Cheers ladies, hope to see you at the next show
Rayde
Yes Yes Yes
I love my ratties
I love them to moon..... and back...
Rayde
So im uploading some pics of the new place.... its a lot bigger in person! I always criticize the bas photos those rental websites show... ok now I know the difficulty. Its shitloads brighter than my current place (a stingy basement apartment) so i will be a lot happier there.
Its in a building thats a 10 storey, quiet, full of old people and near the lake...and the CNE! So I can walk to the fairgrounds when its open in the summer. This could be dangerous.... I can see the headlines now..."Girl found dead after overexerting herself on amusement park rides and overdosing on shitty shitty cotton candy." .....*drool*.... I can see it now...
I also wen to a baseball game the other day, had really good seats too! It was the Jays vs. the Angels. My buddy got us great seats cause he's got hookups like that.... I have... no hookups. *le Sigh*
The Jays lost but...I still had fun. I like the guys that sell stuff up and down the isles. Its so old world! "Ice Cold Beer! Getcha Ice Cold Tall Booooys!". Hehheheh. I thought about how much I could sell if I worked the concessions. Then I figured I couldnt carry a 24 uphil iff I tried
Also had fun with everyone at 421; it was a hug party, about 500 people in that venue spread over 4 floors. Cheers Lolita
can you tell I just cleared out my camera memory stick? ahah
Rayde
So its been brought to my attention by a couple people that I appear Tiny in my photoset.
I was like...really? Maybe its the 100 year old bathroom I'm in, all substandard and shit. But I'm 5'7". Well either way if it makes me seem cuter and all that more squeezable you can call me shorty.
And for the record, I am not peeing in photo #39, its a joint in the wall panels... Unless of course you want me to be peeing in which case I can't stop your mind and it's dirty dirty ways.
I was watching the Kevin Smith DVD last night. For those in the dark Kevin Smith (aka Silent Bob in the Jay and Silent Bob movies) is a mastermind. He's filmed fielding questions from Universities across the states. He is hilarious, a really good DVD to buy. The next one is coming out soon with some Toronto Universities in it as well. I will see him next time he tours to Toronto.
and furthermore.... why did I find Jason Mewes strangely sexy in both 'Clerks' and 'Mallrats'?
It's funny to think of the people we had crushes on as teenagers. The stuff I used to conjure im in my twisted little imagination. Not your classic pop stars or anything.
Hell I didn't really have internet either! Imagine the loss of imagination the next generation of teens will have. THAT blows my mind. The lack of creativity and the daydreaming at loss when you have videos to download at your 14-year-old fingertips. yipes.
Im kind of glad I went though my childhood and most of my early teens without the information highway that is the internet. The world will never be the same, will it?