Nixon Fucking Hoff-style.
I'm private
So, I'm watching RuPauls' Drag Race the other night (because I do that. And because they just put Season Three up on Netflix), and Sharon Needles does this plastic surgery routine with her head wrapped in bandages and a big long needle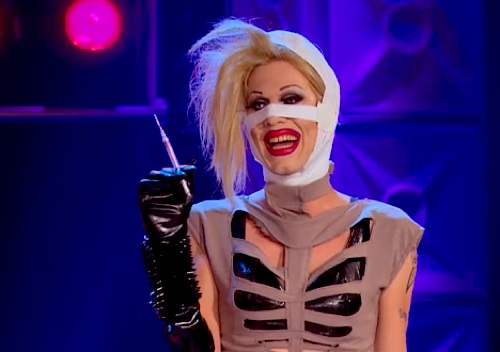 Holy shit! There's a drag queen on the telly doing
Manko
!
No I am terribly jealous, and want drag queens to do me.
This post is entirely
Fractal
's fault.
She's the one that made me read "Let's Pretend This Never Happened", which basically is a memoir about someone whose childhood was almost as f$%&ed up as mine. But not quite.
For example, she talks about this one time when her crazy Dad set off an antique cannon to celebrate a holiday. OK, cool. That's pretty weird, I'll give you that.
AT LEAST YOU HAD A F&*%ING CANNON.
The time my Dad wanted to set off a cannon for his birthday, all we had was a cannonball. So Dad shoved a half pound of gunpowder and said cannonball into a four-foot section of PVC pipe, stuck one end of it in the side of a small hill, dropped a flaming pack of matches into the open end, and told us all to run like Hell. I have no idea what happened after that, because instinct took over and buy the time I heard the 'BOOM' I had barricaded myself indoors underneath the overturned sofa. Possibly locking the rest of the family outside on my way in. That's OK, though. They were all assholes.
You want to know how I know they were all assholes? The whole reason we had a cannonball to start with was because my grandparents, who lived at the very top of a big giant hill (like, many acres of hill) thought it was hilarious to roll the cannonball down the hill and watch their faithful and long-suffering German Shepherd fetch it back again. A cannonball. With his teeth. It would take him an hour to wrestle the damn thing the quarter-mile back up to the house, because a cannonball weighs like 20 pounds and is made of metal. And do you know what they would do when he finally made it to the top? I mean, once they had stopped whooping with laughter? They would roll it right back down their mini-mountain.
Which is why we had a cannonball. Also a fairly good explanation of why I don't talk to that side of the family all that much any more.
Finally, I have wheels again!
d23
came to visit, and brought Pancake. So, pretty much every picture I have of the last week is Pickpocket and Pancake being stoopid cute. And also helpful. See how they help drive? They are also great at helping clean, make the bed, get work done, and get up in the morning.
In other news, I've realized I take a lot of pictures of bugs- I suppose it's all the wildlife I can really expect to find in Oakland. I think I'll try out one of those little magnetic macro lenses for my phone. Anyone have any experience with those?
Crap, I haven't checked in since before the holidays! I'm a busy girl of late. So, let's see if I can catch y'all up:
Pickpocket learned all about bugs, and how delicious they are
Guy Fawke's day came and went, with
baudot
hosting the usual Irish car bomb tasting. I'm sure he remembers who won. The rest of us remember very little.
Pickpocket went to a friend's birthday party, where we all learned a valuable lesson: it's all fun and games until someone easts the candles (still lit, I might add). Way to go, Bijoux.
I made a whole lot of pumpkin cookies, with Earl Gray icing.
There were lots of cuddle with the boy
and the dog
I made Christmas dinner
for
d23
,
AcidGrampa
, and their respective ladyfriends.
Flux
came to visit, and we hijacked someone else's birthday party and totally got away with it
I painted my toes
(And that about sums up the last couple of months (or the highlights, anyhow).
Holy OGSG House, Batman!
Trillian
and I are once again searching for a roomate, and it looks like the amazing
Pearl
may be moving to the Bay just in the nick of time. Fingers crossed- it's been way too long since I've had time to spend with that one.
Also, still looking for photos of me with
Missy
. Comic Con, perhaps?
Hey, do any of you guys have any pictures of me with Missy? It would need to be something you were OK with me passing on to SG proper for whatever insidious use Missy has in mind. Turns out that as much time as I've spent with her over the years, I have very few photos of the two of us. This may explain why the media occasionally thinks we are the same person....
Hmmm, I seem to never update my blog these days.
I've been going to the farmer's market and cooking delicious food (artichokes in white wine and miso sauce? Roasted beets with feta and fresh mint? Potato Leek soup? Fresh blackberry cobbler?), cavorting with buddies, playing with Pickpocket, and cuddling my weekends away with the boy.
Nothing to see here, people. Move along.
Life is positively charming at the moment.
So, I have determined to get on the bowl-free bus and make PickPocket a no-bowl dog. That's right, little buddy. Welcome to your California DogMom lifestyle.

Of course, up until now he has been doing fine. He's pretty smart- he picks up commands in just a few sessions, as long as treats are involved. He's been getting some of his food in a Kong for a couple of weeks, so today we stepped it up to the Tug-A-Jug. Man, my dog thinks I'm an asshole. He can't figure it out- he's given up. I keep showing him, but he just eats what falls out and then looks dejected when I stop.

Has anyone else tried this route? Is the Tug-A-Jug too much too fast? It's supposed to entertain him, not depress him!


I'm feeling pretty damn good about life today.

After a pretty intense weekend of staring at my computer (there have been a lot of those lately), for the first time my portfolio website actually looks like a website. And has stuff in it. And goes. It still needs at least one more piece, but that's kinda-sorta built, I just have to decide what it looks like. And one piece crashes Safari for reasons I don't understand, plus there's a few other bugs to iron out. But mostly, it's done. By the end of next weekend, I should be able to start uploading it and fixing all the bugs that turn up there. And then, the job hunt begins.

This has been a really long, tough haul- I've been Ms. Nose-in-a-book for a year now, and it feels really good to see it coming together.

Hell, I may even see my friends again one day!

Also, there's an outside chance I might go to Geneva for six months. Anyone lived there? What should I know? (it's only a slim chance, anyhow).




Haute Macabre just released
our new jewelry collaboration
with RockLove. The lovely
Zoetica
models:
Meanwhile, I am being a Very Busy Girl and barley updating these days. I'm SOOOOO close to having my portfolio site finished so that I can actually start job hunting- except that my computer freaked out yesterday and vanished everything in my Documents past the letter D. Including my whole portfolio site. I do have a backup copy, but it's days of work out of date, so now I'm learning how to recover vanished files from a Mac. It's not like they just got put in the trash and deleted. They never went into the trash- they just up and vanished. So I'm quite convinced they're still here somewhere....
JANUARY 2013
1
2
3
4
5
6
7
8
9
10
11
12
13
14
15
16
17
18
19
20
21
22
23
24
25
26
27
28
29
30
31
DECEMBER 2012
1
2
3
4
5
6
7
8
9
10
11
12
13
14
15
16
17
18
19
20
21
22
23
24
25
26
27
28
29
30
31
NOVEMBER 2012
1
2
3
4
5
6
7
8
9
10
11
12
13
14
15
16
17
18
19
20
21
22
23
24
25
26
27
28
29
30
OCTOBER 2012
1
2
3
4
5
6
7
8
9
10
11
12
14
15
16
17
18
19
20
21
22
23
24
25
26
27
28
29
30
31