I'm private
i need to make friends. In here in London.

Everybody is nice but nobody is really commited.

and also i need to find a cool place before the 20th of july for a SG photo shoot. ARG

ok so i ve been running all day since this morning although i worked hard yesterday, and by the way im very happy that i get along well with Jemma because she's such a nice girl (she's my colleague and very into psycho punk). I was complaining because for once im not working on saturday but i had nothing to do, so she invited me to her birthday party which takes place at the Garlic and Shots, i hope it'll be fun!
So yeah today i had to go to my landlord's to have a reference letter then run to selfridges to have my boyfriend's reference letter but this cunt had forgotten to ask his manager so i ended up asking him myself, and then run to the agents to give everything and here we are, we are moving on next friday!!! I'm so excited!! (that i just can hide it)
AND I ASK jAMES THOMAS IF HE WOULD BE INTERESTED IN TRAINING ME AS A PIERCER AND HE SAID YES!!!!!
The only thing is that he needs me full time so i'll have to tell my managers that i won't be working at the Crobar anytime soon. I'm so embarassed because i owe them so much! but i will not build a career as a bartender it always has been a job-for-money, and i DO want to become a body piercer!!!

I'm really gonna end my life in this fabulous country because in 5 months i had more opportunities that i had in 23 years in France.

Anyway, i love you all!
ok
ill try to keep this blog updated from now on, because i feel like i'm betraying on SG community...
I sincerely thank everybody for their comments, that cheered me up, me and my insecurities...
For the moment all i can think is about how hot the weather is...
So i' currently living in London for 5 months now, and i just love it here! For those who knows about it i'm working as a bartender at the Crobar, and i'm having so much fun! i try no to get drunk every night but still its very hard!
I met some crazy people here im so happy lol i sound like a hippie.
My boyfriend managed to get employed at Metal Morphosis (he's a tattoist) and he's getting paid a hell lot of money so we are now about to rent a big expensive house just for the two of us and my best friend. I can't stand living with other people whom i barely know and sharing everything.. Yuck!
Also some of my friends are coming in july, and one of them is applying to be a SG and she's fucking gorgeous. She will be shooting in London and hopefully we will shoot a multi set together, she's so hot i cant wait lol :p
hi people!!!
ouahou i didn t know that Albertine sent my set and everything and now im all pink ha ha!!!

Sooooo the pics are great i cant wait for them to come out and for you to see!

I wish i had the time to reply to every single person who left me a message but i dont so THANK YOU!!

Kisses!
OFF TO LONDON, CAN'T UPDATE RIGHT NOW, I'LL FIND A WAY, SEE YOU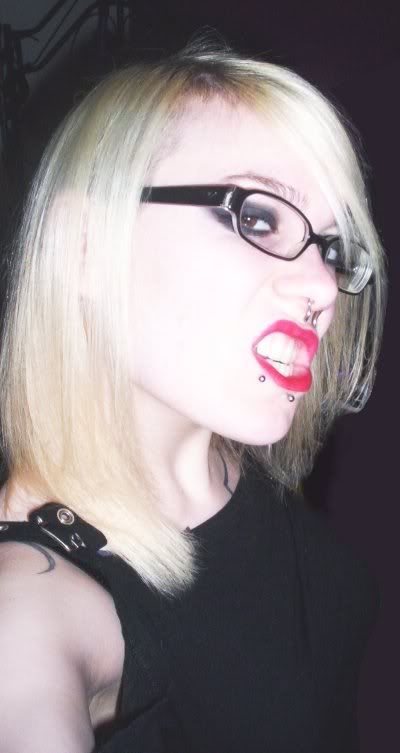 don't you think i look like an old hardrock girl?? :p
ok
so i spent my weekend in Paris to see my friends a last time before i fly to London.
Friday morning i shoot with albertine and it was so fucking nice! i hope the set wil be accepted because i think we did great work.
In the evening we did shopping on the Champs Elysées, and then we ate at Haggen Daaz, we laughed a lot.
Then we drank big and cheap cocktails in a very-burlesque-like bar, and we finally went bahk home. On the way a guy called me and when i turned my head he just said 'yuck' seeing my face!!! Niiiiice. What an asshole, i know it's because of the piercings and this made me want to hit him hard!
Saturday, we prepared ourselves for the gothic party, bought loads of alcohol and poppers and sushi food! Then we went to the party and i saw
Pseekaal
and
Luce
(i think it was Luce O_O). was also web friends i was so fucking drunk and i just couldn't stop laughing. for the first time since i'm going to parties, i didn't feel the need to sleep for a while or even to sit, i was sooo energic whao! :p
Then we went back home int the morning, we slept a little and left to take our train a few hours later.
and now it's 14h30 and i'm still naked and i've not bathed and i must go to work at 17h !!
hi
i added a new folder, it's pics of me naked (but you won't see anything
) i tried to play with contrasts, shadows and lights... non professional way of course T_T.
ok

so the day for the photoshoot is set up. It's going to be on friday the 27th in Paris in a friend's house.
I'm so glad that it's Albertine who's going to shoot me because i looked at her work and it's fabulous! She doesn't show just boobs and ass, it's a work of art! Very aesthetic, with a real search in the quality of her pictures.

I hope eveything will be alright.

THen i'll go the next evening to a gothic party on a boat to celebrate my best friend's and my departure to London.

i can't wait !!
hi there,
I'm sooo happy today!!
First i received an email from albertine to shoot me to complete my application for the Suicide Girls.
Then i received lots of answers for jobs i applied to in London, for i'm going to live there in february. I also found an accomodation!
Everything's perfect today