Mystik Follow me on twitter www.twitter.com/mystiksuicide
I'm private
I have pretty much been on hiatus from the site but I am back! The last few months have been exciting and had the pleasure of meeting some great individuals. I had the pleasure of talking for a while with Cory Feldman from
The Lost Boys
fame and Jesse Jane from
Pirates.
Both where extremely sweet individuals and a pleasure to be around.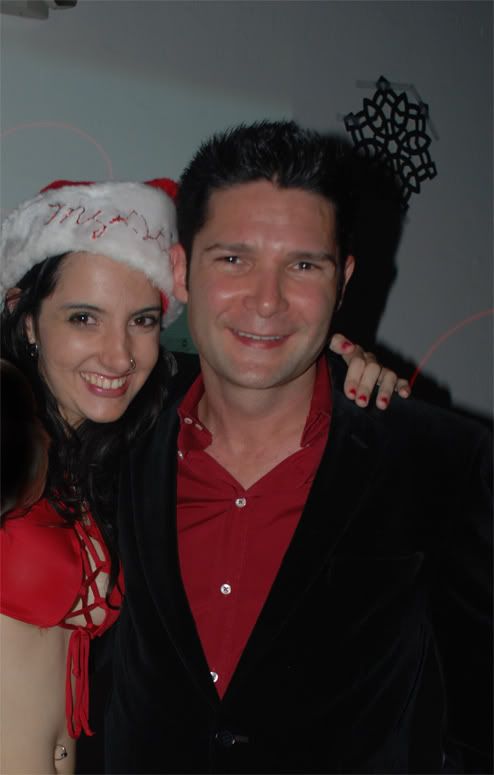 Mystik & Cory of The Lost Boys
Mystik & Jesse Jane of Pirates
I plan on seeing
Ginary
in the next week or so for her birthday (Feb 23 so make sure you all wish her a happy birthday) so I hope to take some pictures with her as well since many of you enjoy looking at them as much as I like taking them with her.
Bye for now,
Mystik
It's been a while since I been active on SG, so here are some new pics I hope you all enjoy. If ever in Miami make sure you go to DV8 parties they are a BLAST!!!!!
They have a place for everyone who wears latex to get a free shine. You cant beat that!!!
You have all heard of the phrase "Hey get a room" Here they told us "Hey girls get a cage" Gotta love Miami. lol
This past week I had the great pleasure of being the guest of 2 famous bands. Sunday night Scott Mercado (
Scome
)of Candlebox invited me to see the show and spend some time with them after the show.
This was my second time watching them perform and as expect they demonstrated why they are one of the greatest grunge bands of all time. Scott has been a great supporter of mine here on SG and it is such an honor to call him my friend
Last night I was invited to see Combichrist and they're show is something to behold it's simply pure energy. When these 2 bands perform in your area make sure you catch them you wont be disappointed.
Kevin Martin Candlebox
Kevin, myself and Scott Candlebox
Andy LaPlegua Combichrist
Jon H Combichrist
Myself and Jon H Combichrist
Well, I just shoot my second set, now comes the task of going through all the pics and choosing the ones I like best. I hope to have it in the mail in a week or two. If accepted and I hope it does cause I really spent a lot of time, effort and money to do it.
So wish me luck and if accepted I hope it goes up in 2007 and doesn't take as long as my last set.
A special thank you to my friends at
syren.com
for the beautiful dress they made for my shoot.
Kisses to all
Mystik
Last Sunday was totally a trip
Ginary
,
Jaime
and myself performed at the Salvation party at the Soho Lounge.
I still haven't had a chance to shrink all the pics to size so they can be posted here. But here is a teaser. More will follow I promise in the following days. Make sure you check
Ginary
and
Jaime
blog as well for additional pictures.
I must admit I have no idea in hell what we where doing at this moment but hell looking at the pic it seems like we where having way to much fun.
First of all Id like to thank all the beautiful people who have left me comments on my set. I must admit I been overwhelmed by all the comments left. I hope you will enjoy my next sets even more.
Here is a pic they just sent me from a DV8 fetish party I attended last month. So if anyone needs a nurse you know who to call.
Wow, the Easter Bunny really kicked Santa's ass this year.
MAY 2008
1
2
3
4
5
6
7
8
9
10
11
12
13
14
15
16
17
18
19
20
21
22
23
24
25
26
27
28
29
30
31
APRIL 2008
1
2
3
4
5
6
7
8
9
10
11
12
13
14
15
16
17
18
19
20
21
22
23
24
25
26
27
28
29
30
MARCH 2008
1
2
3
4
5
6
7
8
9
10
11
12
13
14
15
16
17
18
19
20
21
22
23
24
25
26
27
28
29
30
31
FEBRUARY 2008
1
2
3
4
5
6
7
8
9
10
11
12
14
15
16
17
18
19
20
21
22
23
24
25
26
27
28
29