Murphie my favorite time of year. Yummy.
I'm private
A Picture Blog: For Your Enjoyment
xxx
Murphie
i'm SO SORRY i haven't been on lately. My life has been crazy.
No time for a full-length blog right now, but I wanted to let all my wonderful friends know that i'm not dead.
Within the week i will have an enormous blog posted
i love you all!
xxxx
Murphie
i'll be thinking realllllly hard about this past month and a half so i don't leave anything out <3
AHHHHHHHH!!!!!!!!! Yesterday i got a text from
Sunshine
, only to be alerted that
Private Tutor
got bought and HELL YES IM A SUICIDEGIRL! Thank you again to all the people that commented on my set, and all of the amazing girls who kept up with my set and never lost hope with it
I'm as close to speechless as I've ever been. It's going to be a great weekend, i do believe
xxxxx
MURPHIE <3333333333333333333333
p.s. now go look at my bestie's sexy ass Star Wars set, so she can be pink too
Skywalker
(you'll love her if you love BOOBS AND ASS)
i love you all, again! THANKYOUTHANKYOUTHANKYOU!!!!!
So first off, I know I should have blogged sooner about this, but THANK YOU THANK YOU THANKYOU to everyone who supported my set!!! I have a special place in my heart for that set, and seeing people enjoy it so thoroughly made it ll worth it to me. I love you all so very much <3
Now for my crazy picture blog!
Went camping with some good friends
we got to swim under a waterfall! (hence the nasty looking picture haha)
practicing the old baking skills on my friends
Unforgettable moments from the BLINK 182 concert I took
Pannn
to for her birthday!
Did i forget to mention?.....
that sweet boy who took me to the waterpark a couple of months ago, wellllllll, meet Robert
I also play sweet ass drinking games with my friends
Meet Zach and Andre
We clean up gooooood
Modeling on sweet cars in SLC for my family reunion, yes.
I was trying to plank our pontoon at the lake, it didnt exactly work out...
I missed the mountains so much
I got a new job! Woooo!!!
Our puppies are all grown up
Oh I also met the fattest cat in the world a few weeks ago, Ketch:
Well that's my photoblog thus far, I'm sorry I haven't been more interesting lately
I started school last month, and that's really been eating up a lot of my time. But that's all for now folks! How have you all been??
Much love
xxx
Murphie
p.s.
Private Tutor
is still in MR, if you feel frisky, you could always comment on it and make my day
I'll have to come back in a little bit and write more (i'm short on time)
but I've been camping and didn't get a chance to see how my set was doing....
all i can say is WOW! Thank you all so much!
And thank you to
Alissa
!!! You made this set what it is, and it's amazing.
Thanks again! I really do feel close with this set and hope it continues getting good feedback
I've been attempting at more socializing this morning. I feel like I really don't talk enough on this website. I get in this rhythm of just reading a bunch of posts and blogs, but never actually commenting
I'm a social failure sometimes.
But as far as life has been going, it's been pretty okay!
The only bad thing that happened to me last week was that I was forced to quit my job due to my own stupid actions. I hate myself for the things that I've done and the decisions I made, but I think i'm better off without that job. I'll miss all of the friends and interesting people I met over the past year, but I suppose the temptations were just too much there.
The bright side is that I haven't been unemployed since I was 15, so I've just been sewing and baking and soaking up the sun the past few days!
Friday I went to Starkville to stay with one of my very good friends. We went to this AWESOME waterpark called Geyser Falls the next morning.
yeah it was badass, he's badass for trying to make me feel better by taking me to a waterpark
I got home on Sunday, and sunday afternoon I drove to Oxford with
Pannn
to visit our long lost friend Hattie.
We watched Alias all night and got stoned as hell. We talked about old times, and fun times.
Like when we looked like this: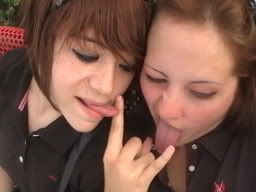 Since then I've just been relaxing. I'm going on a job hunt today. Wish me lots of good luck
Cuteness of the day
xxx
Murphie
First things first.
GUESS WHO HAS A NEW SET COMING OUT IN AUGUST?
This gal right here!
Now for what I've been up to this past month:
Pannn
and I took a roadtrip to Nashville for the Full Moon Tattoo and Horror Festival, where, if you didn't notice above, we got to hang out with Malcolm McDowell and Sid Haig (who were both AWESOME by the way!)
I got my first tattoo, which is simple, yet powerful. I'm super stoked about that.
Been hanging out with our new puppies!
And of course, been partyin' partyin' YEAH!
(yeah that's me in the blue, after vodka, tequila, and whiskey, that night was a night to remember haha)
Other than that, I've just been working a whole lot.
You want some free passes?
I've been loading up.
That's been my life in a nutshell!
Until next time!
xxx
Murphie
(oh yeah, I sort of changed my name?)