Monroe don't cook or clean but I dress my ass off and my walk is mean
I'm private
This weekend wasn't very eventful.

Friday obviously I did nothing because I would have gotten washed away by all the rain. Well actually, I did pick off all of my acrylic nails. My hands look so tiny now without them. Pretty sad when that's the highlight of your Friday night.

I got stuck watching Jeff the Jagoff's dog all day yesterday. I've seriously had it with that kid. We had his fucking dog all Friday evening till yesterday around 5pm, and he wasn't even going to come get it then. I called his girlfriend's cell and made him come get the dog because he shat gigantic turds everywhere and there was no way I was going to pick them up. Then Jeff hung out for a while for whatever reason, and I told him I'd have to kick him out in a bit when Brian got there, since Marisa was going out too. When Brian got there, Jeff was in the midst of a cigarette so he said he'd leave as soon as he finished it. I left and went to Brian's. Several hours later when Marisa got back, Jeff was still there and he had finished off all the Corona. I FUCKING HATE SQUATTERS!!!!

Anyway.

I spent the night at Brian's last night, as usual. And also as usual, it was fabulous!

Goldschlager tastes like Christmas.

I watched Lost in Translation today when I got home. My mom had said it was kind of boring, so I wasn't really expecting to care for it too much, since she and I usually have similar taste in movies. But to my surprise, I did like it. Probably because I saw a lot of myself in Scarlett Johanssen's character--the way she felt around other people, being called an "indie snob" by her signifcant other, and just a general sense of directionlessness. (Is that even a word?)The whole movie itself was a great metaphor. Oh dear. Am I sounding like an indie snob? Haha. (You know I love you)

I guess that's all.

Love,
Jess

PS. I am broke. Send me money.

Today has been kind of shitty.

This morning when I was taking off my shirt to get in the shower I noticed that the mole on my left arm was black. It's all inflamed and when I poke at it, it bleeds. Maybe last night in my drunken stupor I unknowingly cut or burnt it, but I doubt it since it doesn't really look like that. Fucking scary. I called my mom and she said it's probably nothing serious, but she's still going to make me a doctor appointment.

And how 'bout this fucking rain? Everything is flooding. All the roads are closed and there are cars like floating out of driveways. It sucks because I was supposed to go to Brian's but now I'm stuck in this apartment going stir crazy.

I made fetuccine with garlic alfredo sauce and mushrooms for dinner tonight. It was pretty damn good. The sauce was a tiny bit too thin, but it still tasted good, which is what really counts.

Perhaps tonight will be an art night. I have no supplies though. Someone buy me paints!

I want to dye my hair so badly it's driving me nuts!

Love,
Jess

I went to a panty [panty party with the ladies! iT WAS sweet! I sat ariunbd in my hello kitty panties with the boys and girls. Nicola is Fleur's roommate. I never kbew that. I am drunkaas fuck. Hahah. Holy shit. I will wite a more coherent entry wehn I am sober.

LOVE,
JESS
My computer is at the computer hospital getting all better, so I'm in the lab right now. Man, it's only been a day and I'm already dying without my music!

Yesterday was Jess's Terrible Horrible No Good Very Bad Rotten Day.
1. spilled an ashtray all over the couch
2. realized that my disposable camera w/ pictures spanning the entire summer had gotten thrown away
3. waited around in Best Buy forevvvvver to send computer off for 2 weeks to be fixed
4. waited 45 minutes to catch the bus back
5. when it got there, the driver was going on break so had to wait 45 min. for next bus
6. tripped and fell coming up the stairs
7. burnt pierogies
8. set smoke alarm off for like 10 minutes straight
9. pissed boyfriend off
10. walked all the way to the Unimart late at night to get cigarettes and didn't realize that I didn't have enough money till I got there.
THE END.

Jeff came over last night and he is still fucking here. JESUS FUCKING CHRIST! He won't take the hint and leave. He makes the apartment smell foul and his dog took a shit in my room. Ugh. I seriously don't understand how someone can take a shower and still smell so bad! Hmmmph. Squatters=Lame. Before I actually had my own place and actually got to know some sqautters, and when I was actually punk in the truest sense of the word, I would have thought that squatters were okay. But now I'm so jaded. Their actions don't do shit for their cause and all they do is fucking mooch off of the very few people who are willing to be kind to them. Mooching is so not cool. Sqautters=lame.

Tomorrow I get to go to the zoo for my class!

Is it bad to pick of acrylic nails? 'Cause I've definitely started since my nails are currently growing faster than my bank account.

I suppose I'm done.

Love,
Jess




We have digital cable now! So exciting!

Today in my Animal Behavior class the professor was talking about misinterpretations of the survival of the fittest idea and he kept saying in his example "I'm the baddest baboon sonofbitch!" It's really not that funny, but for some reason I couldn't stop laughing. It was one of those silent shaking laughs but I'm sure I still looked like a total jagoff.

I've been looking into studying in London. I think it would be a kind of cool experience, but I'm scared. My dad said in all seriousness that he'd pay for Brian to come visit me, but it'd still be rough being apart that long. I know that I could handle it. Yes, it would be difficult but I know I don't want anyone but him so I can say with total sincerity that any London boyfriends would be a non-issue. But I wonder if he could handle it, or even if he'd be willing to. It's not just the whole boyfriend thing that worries me though. Going to a foreign country by yourself for an extended period of time would be fucking scary. What if I hated it? I'd be stuck. "So many questions are confusin' up my head!"

I think I'm going to take my computer to get fixed today, which means I'll be without it for up to two weeks. Sad for me.

Ummm....I guess that's all.

Love,
Jess
This weekend was good.

Brian picked me up on Saturday for some Jager and Soco drinking. We were both terribly hungover and puking in the morning.

Fucking Jager.

Yesterday morning my dad called to say he was in Pittsburgh becaue of problems with the people who are renting our house. The story is pretty complicated but basically it involves the people who live there being on some serious drugs, inviting convicted felon Bikers for Jesus over, stuff being missing from the house, and my neighbors' car being semi-stolen. Ugh. After he got back from the police station, my dad met Brian and I for lunch and then took me grocery shopping.

I took my vert labret out for like an hour or two, and it closed up. So no more piercing. I'm not that upset though, since it had been kind of irritating me lately. Maybe I'll just get it redone in a bit.

Then my love and I hung out for the rest of the night, and this morning I had to come back for class.

Oh, and I love it when ex-boyfriends feel the need to boost their sexual egos by telling completely fabricated stories to our mutual friends. Mhmmm. Isn't that grand?

And that is all.

Love,
Jess
Oh what the fuck...two journals are better than one, right?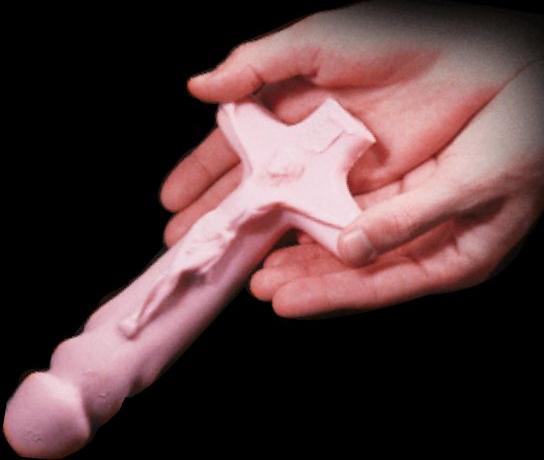 HAAHA. I saw that years ago on
Insomniac
, and always wanted to find it again. And a few days ago I googled "Jesus" and there it was in all its glory.
I needed a cigarette after I heard The Faint's new album
Wet from Birth
. Yeah, it's THAT good.
Tonight was excruciatingly boring. I watched
The Exorcist
with Marisa and her boyfriend. Then my mom called and pissed me off.
And that is all.
Love,
Jess