I'm private
It's ridiculously warm. We're at a record-breaking 105 Fahrenheit. I just returned from a wedding which was held on the sixth floor of a Masonic temple that wasn't equipped with air conditioning. I'm thinking of going to watch a movie in the theatre, just to escape the oppressive heat of my house. I'm hoping it will be slightly cooler in San Francisco, although the forecast isn't promising. Just two more days!
In other news, I've adopted a stray kitten that showed up at my house last week. He wouldn't leave, and nobody in the neighborhood seemed to know where he belongs. I'm taking him to the vet tomorrow to make sure that's he's healthy. Meet Franz Kafka: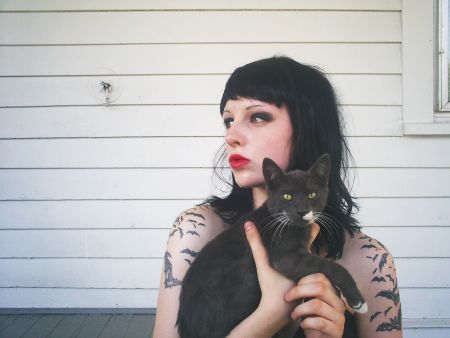 He's quite friendly, and enjoys attacking people's shoes. This is not a good picture because, as my roommate pointed out, it looks as if I'm kicking him. But hopefully you can see that Kafka has a playful nature:
That's all for today.
All fire alarms in my workplace are being tested today, and it's damn annoying. I should have brought earplugs. I'm using the piercing noise as an excuse to ignore my work tasks for the moment and gratify my latest obsession - mustaches. Occasionally I'll develop a strong fascination with a completely random topic - a few months ago it was tin robot toys from the '50s and, by default, mecha anime.
I've been searching online for a well-illustrated book dealing with the history of facial hair, but very few seem to exist. What the hell, maybe I'll write my own.
Look at these dashing mustaches: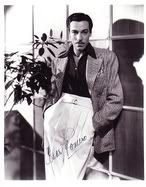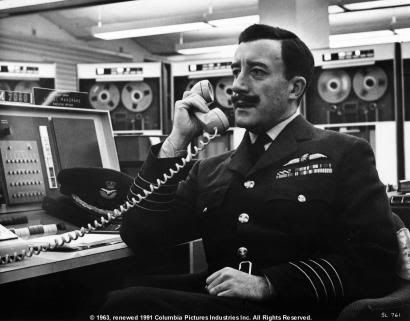 See, Burt Reynolds is NOT the only actor to sport a mustache, and to do it well.
Actually, I'm not at all sure why I suddenly find mustaches so riveting. I doubt I would ever date anyone with a mustache - clean shaven boys are oh-so-nice - but I do like looking at them.
My best friend surprised me with a lovely mustache of my own: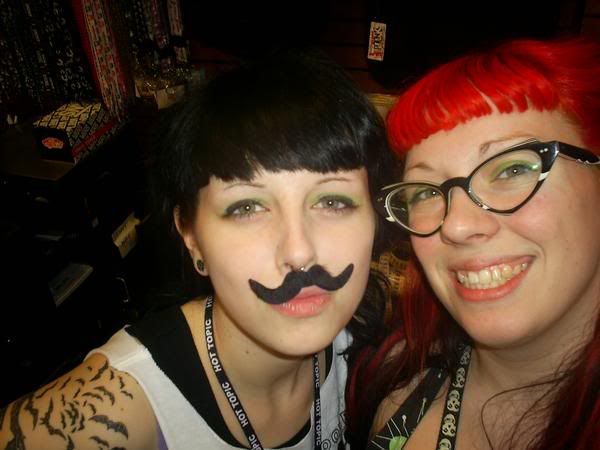 The matching eye shadow was completely unplanned - maybe it's a BFF thing.
To conclude, I find mustaches enthralling because they're extremely versatile. Mustaches come in many varieties. They can be droll, suave, sinister, and yes, manly. With some mustaches, there's a hint of androgyny. Growing a mustache is typically a female's worst nightmare (lunch lady upper lip hair!), but is practically a rite of passage for young men. Mustaches - and their wearers - have often figured prominently in the realms of politics and entertainment. All right, I'll shut up now.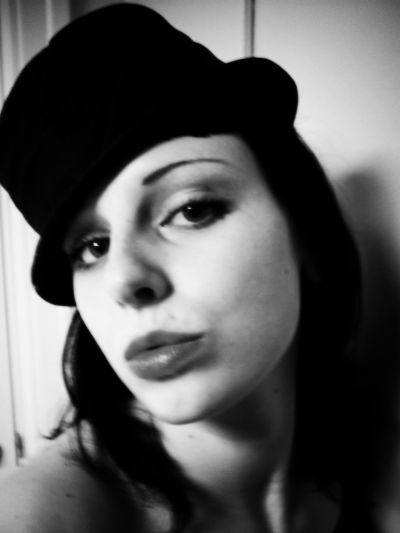 But I totally needed a mustache here so that I could channel that vaudeville comic look, circa 1905.
Thank you so much to each of you who commented on my set or sent me messages! I AM working on responding to all of you, but it's taking a bit of time. So...please be patient! Your lovely compliments made me so happy, and I'll be sure to let all of you know it!
So, it's been a while since I've bothered posting here, but things have been insanely busy. I'm leaving in a few hours to spend the weekend in Seattle and Olympia, and I'm taking trips to Victoria B.C., San Francisco, New Orleans and Boston in the coming weeks! Along with the search for a new job, the conclusion of summer classes, volunteering activities, working on the
Finger
and dealing with a kidney infection (ugh..), I've also added a few more hours of ink to my collection.
Unfortunately I don't yet have any great pictures, but I did get my other shoulder piece finished, as well as the leg tattoos I've been looking forward to for a while. I have the oddest of love affairs with winged vermin.
That's the only sexy look I know.
I'm finally getting settled in my new home, although my bedroom is so red it occasionally startles me on waking. It's now unfortunately known among my acquaintances as the "Menstrual Pad."
No, I really didn't want you to see my face.
I'll write more soon. I'm very, very excited about the coming weeks and months. I can't believe how much happier I am since the turn of affairs that brought about my resignation at my former job. I actually have only one more week of working days left, and then I'm able to take my two weeks of paid vacation.
Also, I danced my heart out on Monday night to awesome music with the most gorgeous of girls...something I haven't done in far too long. I've missed wine, summer nights, dancing, laughing and generally being a silly idiot.
Things are looking up!
So much has been going in my life over the past couple months...where do I even start?
Okay - I just found out my transfer application was accepted by Smith College.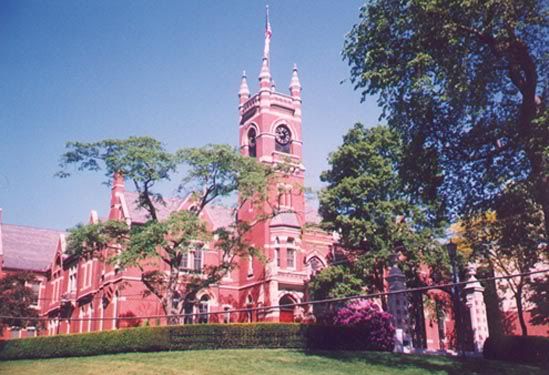 Smith has been a women's liberal arts college since its founding in 1871, and was Sylvia Plath's alma mater. I still can't believe they accepted me.
I now have to look into getting the appropriate financial aid to attend this institution...if this is actually where I choose to go. I'm also considering Reed University in Portland and Bowling Green State University in Pennsylvania, as well as UI in Chicago. But I do need to come to a decision by mid-July at the latest.
Frankly, I'm not sure what the hell I'm doing. Everything has changed so much for me in the past year. I feel pretty rootless. The people that used to keep my grounded are gone - either for good or lost to distance. I just concluded my last session at a job I've had three years - tutoring and living with Japanese female college students. I loved this job, as well as the campus I lived and worked on, and I'll really miss it.
And I recently moved into a house with a friend, his girlfriend's mother, and basically, his girlfriend - although she moved out (for more privacy, I think, which I'm beginning to understand) she's at the house every day. I love both my roomies - they're probably two of the five people I really hang out with on a regular basis - but I'm feeling somewhat cramped. Still, we have a great time. I'm teaching Linds how to make a vegan dinner tonight, and then we're going to create EVIL COOKIES!!! You know, sugary satanic delights such as goats, bats, inverted crosses, and Baphomet heads.
So, I haven't been getting out much. Most of my non-work and non-school activities involve reading for personal pleasure, hanging with a few close friends or taking out of town trips. Being a non-drinker means I pretty much sip silently on cranberry juice while listening to drunken stories the tenth time around, or avoid the bar scene altogether. But I did just get back from the Goregon Massacre Fest (entry and photos forthcoming!) which was fucking awesome.
However, I'm getting tattooed again this weekend, too - I cannot wait! I'm looking forward to having my other shoulder done, as well as the long awaited text behind my ears and if I have enough money, the beginning of a half sleeve on my right arm.
Oh, and I need to start making plans for the trip to Seattle to see Dragonforce on June 29th!
Anyway, I got a few photos taken a couple weeks ago. Here is one of the finished products: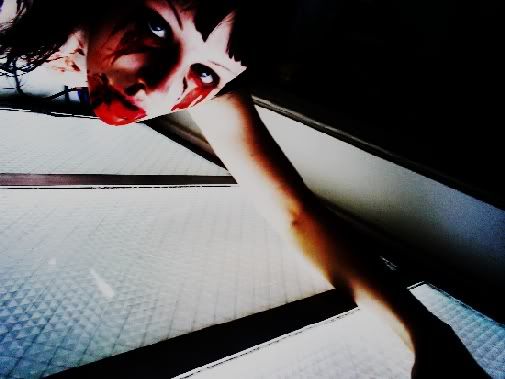 And I was goofing around with my camera one morning and came up with this, which I thought I'd share: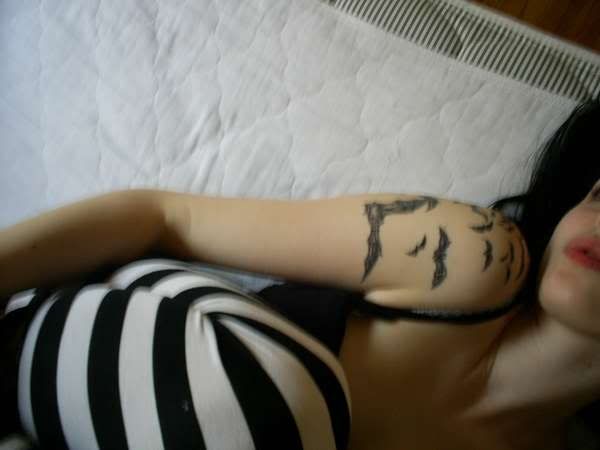 Even worse:
So that's enough information about my awesome rock 'n' roll lifestyle for now. (Tongue firmly inserted in cheek).
In any case, it looks like change is ready for me, whether or not I'm completely ready for it. Now is not the time for trepidation.
Today I received a package from family members in Sweden.
When I opened it, I immediately felt a thrill - not only of joy, but of excitement. After the last two weeks, which I've spent in three different West Coast cities, I can't imagine continuing to live here any longer. I don't know what the future might have for me, but when I hold the things my cousins sent across the ocean to me, I'm filled with an overwhelming desire. To see things for myself, to see what lies beyond each mountain and each ocean.
Always I'm imagining my life in some new way, in some new place.
Last night I fell asleep on the train, and dreamed about my ex-boyfriend. The dream was beautiful, but I woke up to a dark sky and rain-streaked windows and cried my eyes out.

Tonight, I'll pull up my stockings and go to see Toxic Holocaust and Bludwulf. Alone in a crowd of metal boys...this could be fun! Perhaps later I'll meet my best friend at the bar where she works and have a few virgin Bloody Marys with the regulars.

No matter what, tomorrow is always a new day.