Fraiya is a 28 year-old SuicideGirl in Pennsylvania, USA.
I'm private
Work sucked, I can't get my ass moving, and I just saw that the RX Bandits may be on the next Guitar Hero...
I need a beer...or five.
In the mean time...

I also can't stop listening to HIM...



That is all.

Apparently Demi Moore and Ashton Kutcher were in Altoona, PA today!
Ohhhh wait, I don't give a shit. Seriously was this front page worthy news today?? I think not.
I'm so not looking forward to the week of work that is ahead of me. I can has another day off? K thx bye.
I got my Halloween costume the other day. My friend Tristi and I are going to be gypsies
I also got this to go with it because the costume's coins weren't loud enough
Should be having a Halloween party at a friends place. It will be a night of awesomeness.
Saw this on opening night with some friends...
I can't help it. I fucking love Jackass. And anything Bam's in. Even if my fiance think he's dirty looking. In my fantasies he's not
Seriously, fucking rawr
*******************************************************************************************************
On a more serious note...
Does anyone know where I can find this documentary online? It looks very interesting, but I can't seem to find it.
The Anatomy of Hate
I find that I watch a lot of documentaries like this. I just watched one on the West Borough Baptist Church. And I've seen a ton on different aspects of the Holocaust. I think sometimes I want to learn so much about this kind of stuff because I just want to know how people can have/had so much hate in them. Enough hate to systematically wipe out a group of people. Or lack enough sympathy to protest at a funeral. I keep watching trying to figure it out, but I just don't get it. It almost seems impossible. It also seems like it would be very exhausting to just be so hateful.
I met a guy the other night at a party, who may or may not have Nazi/white power tattoos. He was also laughing at the idea of his little daughter doing the Hitler salute. I have zero tolerance for that bullshit. After that I didn't even want to be in the same room with him. Seriously in the words of Jello Biafra, Nazi punks fuck off.
So anyways, I should really be off to bed. Gotta work early and mail some soap orders out in the morning. Goodnight all <3
Hello all
This shall be a more cheery blog I promise. Filled with lovely photos and naked ladies.
Hmm lets see. Last weekend I went to visit my sister and her best friend at college. It was family weekend. I got to stay in the dorms and such with her. Got some cool stuff while I was there. My mom got me a sweet hoodie with the schools name on it, but she said I can't have it till Christmas
I found this sick Clockwork Orange poster at the student book store. For real, I need this framed.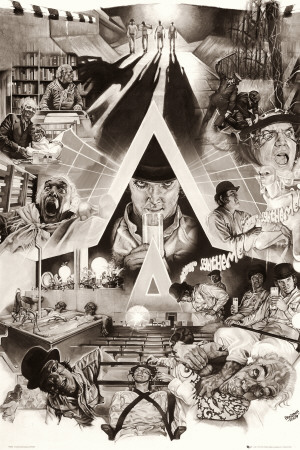 I also got a sweet 8x10 print of this...
They have a really awesome student bookstore haha. Here's a pic of my sister (in the middle), her best friend, and I at a football game. Our shirts were awesome cuz they looked like the Star Wars logo. I miss my sister like whoa. Her school should totally be closer to home.
Here's another one of the shirts I bought while I was visiting her. My hair looked awesome the other night. And I'm wearing the awesome necklace I bought from
Serene
Went to my friend Dave's last night to watch a bit of the old True Blood. Finally got to wear my new shirt that took fucking forever to get here haha.
So yeah I think I need a new set. I kinda gave up for a while because I wasn't really getting anywhere with the ones I was submitting. I still love them all, but I know I can do a fucking stellar one if given the right circumstances. A friend of mine also wants to try to be an SG so I thought this would be my chance to try again. I feel like I can do way better than all my other ones, plus I've got some new ink to show off haha.
There's a set I'd reeeeeeeeally love to do in a church. So if any photographers out there are close by in PA and know of a church location, hit me up with a PM or something.
Well gotta get ready to go out this evening. Going out with some friends to the bar across the street. I LOVE having a bar across the street haha.
I realize I hardly ever do this, but I should. I'm going to leave you with some other sexy ladies sets that you should totally leave some love on.
First off I saw this set and about died. (No pun intended
) It's a tribute to one of my favorite movies with one of my favorite SG's.
GoGo - Lisbon Girl
This set is just hot, and I love the intro
Lyxzen - Toy Story
Seriously those eyes
Scotty - Twitterpated
The sex, for real.
Nemesis - Dorian
This set is just all kinds of awesome.
Nya - Break Free
Another sexy tribute set.
Monroe - Vertigo
I love AnnaLee and her freckles <3
AnnaLee - Specimen
And last, but not least. I fucking LOVE the color in this set. I just want to lick it!
Lainey - Polka Dot Bikini
Ok I'm seriously off now, much love <3
It's been a crazy week I must say.
Started out kinda shitty to say the least. My grandfather on my dad's side passed away last Tuesday. That's three grandparents I've lost in little over a year. I'm officially done with funerals right now. I only have one grandma left and I told her I was keeping her healthy cuz I wasn't losing another one.
My friends are awesome though and were there to cheer me up
On Friday
FoxRx
and I went out to dinner at a new Mexican restaurant in town with a few friends. We ended up going to a show afterward. We almost didn't go for one reason or another, but I am soooooo glad we did. It was definitely good times. It was one of my favorite bars 25th anniversary celebration. They had a bunch of awesome bands and there was a reunion show of this awesome local rockabilly band known as The Marauders. It's kinda sad that they aren't playing together anymore because they are pretty amazing. The music isn't working on their myspace anymore, but I did find a youtube video of them doing one of my favorite covers that they do.
I also scored some Marauders vinyl after the show for free which is pretty fucking sweet.
Then last night I went to my friend Matt's house with a few people to watch the True Blood finale. We made vampire blood punch
I can't believe I have to wait until next summer to see what happens!!! I have no idea what to do until then haha.
We also watched the new Venture Brothers episode. Fucking hilarious!!! If you missed it you must check it out.
"Hank, what color is my tongue?"
"Like a Wednesday? a light shade of Wednesday."
Ohhhh lolz
Alright I'm running out of silly things to say. I'll leave you with my latest creation.
I've added solid perfume to my
Lethal Lathers
shop. Check them out
Lethal Lather Perfumes
Ok I'm off to make some buffalo chicken mac and cheese, yum
Oh good sweet lord if I ever get the idea of getting two tattoos done at once again, someone please slap me! They are super awesome by all means, but I am so ITCHY!! haha
Speaking of, here's a better pic of my shark I found on my sister's facebook...
He's pretty much healed. Now I just gotta wait for my side to stop this horrendous itching and we'll be good to go.
So far I'm enjoying a mini vacation from work. I like whenever my boss puts all my days off together. I do have to work on Labor Day, but it's not too bad. I get time and a half to do nothing basically.
Although I am a tad upset that I have to wait two weeks for the season finale of True Blood. But that will give this time to get here
I just went a little True Blood crazy on my wishlist as you can see haha...
Fraiya's Do Wants
I also got rid of some stuff that I actually purchased for myself. I guess I never look at that thing. I saw that I still have an X-pole on my list too. Every time I see one it just makes me want a pole soooooooooooo badly haha. But alas, one has yet to find it's way into my living room. Maybe with a few more soap sales I'll be able to get one
Speaking of you should check out my shop if you haven't before...
Lethal Lathers
Making up my first batch of perfume tomorrow to add to the shop. Hopefully that does well also
I know these are polar opposites, but I'm gonna need both of these games when they finally come out...
Ok I suppose I should get a little sleep. Got a few orders to mail out tomorrow and such. I need a big map so I can start marking all the places I've sent soap to. So far the farthest was Malaysia I believe. That or Saudi Arabia, not sure which one would be further.
But yeah I'll leave you with this awesome cover that was done for the True Blood finale. I dig it.
<3
Doing a quick update to show off my new ink finally!!
First there's my sharky shark and my sisters jet plane. My shark's name is Bernardo
There I got the "There She Is" inspired side piece.
Yes I got another tattoo while the first was still healing. I'm a little crazy but it's ok haha. They were both done by
Cassie Dillinger
who is a super awesome lady. I also got her son really into the "There She Is" cartoons which is awesome too haha.
Well gotta run, helping
FoxRx
dye his, watching last nights True Blood, and then out to eat with some friends. I'm going to do all that even though I feel like I got punched in the ribs haha. Much loves <3
So this supposedly hits news stands tomorrow and I'm pretty sure I'm gonna have to go out and buy it...
Umm hellz yeah, hot damn!
And speaking of True Blood, I've listed a new soap on
Lethal Lathers
today. Inspired by the beautiful Miss Stackhouse...
Sookie
This weeks episode was fantastic, especially this part...
Seriously, I almost like Russell after this little stunt haha.
In other news that's not True Blood related
I'll finally be getting some new ink in the next weeks. Two different tattoos in fact. I'm finally able to get my tattoo with my sister since she's now 18
We're getting West Side Story inspired ink. She's getting a jet, and I'm getting a shark
I'm also getting a piece done up of one of my favorite cartoon series. I'm sure I've posted this before, but this is what it'll be from...
It's gonna be a side piece with the bunny, Doki and the kitty, Nabi. I'm pretty damn excited to get some new stuff. Plus this piece will be done on the day of this event...
Tats for Cats
The entire days proceeds go to the Humane Society. And I found it only appropriate to get a kitty and bunny done on that day. The lady doing it already warned me that sides/ribs do hurt. Should be a fun day haha.
I also finally get a mini vacation this week. Thursday and Friday I'll be with
FoxRx
and his family at the Pittsburgh Zoo and maybe a Pirates game. I'm not that into baseball, but hell it's something to do. Plus I'll always love Pittsburgh and it's nice to go there every once in a while.
Then Saturday and Sunday my family and I will be heading to Washington D.C. to visit the zoo there. (I'll be seeing lots of pandas on my days off
) Plus we'll be hitting some Smithsonian's I assume. Should be good times had for all.
Well I gotta make some nom noms for
FoxRx
before he gets home. So until next time, much love
<3
So I'm bored an making an update about who knows what.
My day hasn't been too bad. Work was crazy like I thought it would be, but hey it's Monday.
I came home and watched the latest True Blood. Soooooooo fucking glad that Lorena and Magnus got slaughtered. I thoroughly enjoyed it. I want to know what Eric knows about Sookie!!!! Agggg why must I wait another week?
I entered a contest just for shits. It's a Sailor Jerry calendar contest. I highly doubt I have a chance to win, but oh well. Here's the link to vote for me if ya like...
Vote for Fraiya
And it's only right to give credit to the girl that I discovered it through. So be awesome and vote for the lovely
Monroe
too
Vote for Monroe!!
I got supplies in the mail today to make solid perfume. Should be good times. I also got very pretty purple and bronze micas for my sparkly soap. I'm quite excited
Oh man I also sold some soap to a girl in Saudi Arabia!! How crazy is that?!
Ok I should really get going. I've got some soapy soaps to make
Much loves <3
I should be getting ready to go pick up my sister, but of course I'm fucking around on the internet. Gonna go to a friends with my sister and
FoxRx
. There's supposed to be an ice luge. Never tried one of those before. Should be interesting haha.
I'm watching this...
I can't help it!! I know most will argue that it's not as cool as the first, but the more I watch it, the more badass it gets. And I'm sorry I have a weakness for Irish boys
I posted a new soap today. Introducing
Mata Hari
. It smells like yummy cloves!!!
See the rest here of course.
Lethal Lathers
Ok I should really get moving. Gotta get a shower and all that good stuff still. And just for the record, I do not have a flat ass.
k thx bye
<3
Oh P.S. if you haven't checked out the set today, you are seriously missing out...
I can has long hair?
As you can see I got some new hair. Courtesy of Miss
Vivid
that is <3 I'm so excited to see what my friends think tonight when we go out
Let me know what you guys think
I really need to take a nap now. I've had a headache all day. I probably shouldn't have been pulling at and clipping things in my hair, but I just couldn't wait
Alrighty, nap time. Maybe more pictures of the awesome hair later. Much loves <3