I'm private
LIFE




ILLUSTRATIONS






OH THE INTERNET
Random thingies and food for thoughts from the web. Coincidentally, a lot about gender.






SG





AS USUAL
Too much ladies in my blogs

LIFE



STREET HARASSMENT





SG

Picture by
Lou Noble
"There is more and more I tell no one,
strangers nor loves.
This slips into the heart
without hurry, as if it had never been.
And yet, among the trees, something has changed.
Something looks back from the trees,
and knows me for who I am."
-- Jane Hirshfield, closing lines to "Three Foxes by the Edge of the Field at Twilight"
EYES
I had my first color roll developped and it was amazing, as were the people I met on the road.



SG





RAPE CULTURE... and all the loveliness of this world we are living in





MISCELLANEA
Not-so-random thingies from the internet





AS USUAL
Too many ladies on my blog

These are going to be two very long and intense weeks. I feel tired before even starting.....
(pic by
P_Mod
)
SG



I hope to blog more soon, but I don't know when I will find time for that.

LIFE
I've just moved in my new city.




TATTOOS
A bunch of cool ones I did in Paris






SG





RAPE CULTURE
*Warning* : articles under the spoiler contain lots of mention of rape and may be triggers.




MISCELLANEA
Not-so-random thingies from the internet





AS USUAL
Too many ladies on my blog

ON WORDS, AND HOW THE AFFECT YOUR THOUGHTS
This is, I think, the best text I've ever read about the sexism in language.
You'll probably be very shocked ; that's the whole point.
I wish I could translate it in French, but that would be such a creative work of translation and adaptation ; and I'm afraid many witty tricks wouldn't do well in our over-sexist french language. I'll probably try anyway.



ON IMAGES AND HOW THEY CAN AFFECT YOU TOO

I'm back.


Not home yet. There is still one week of tattoo works going on in Paris, then a few days to pack my stuffs before I move to my "new home".
There is so much to show, so much to say about our trip, though I can't do it now. I still can't believe we travelled so much, for so long, and met so many amazing people. I still want to thank you all.






SG




See you lator 'gators !


By the way. This is something I'll print and carry on me to spread it everywhere.

Ever heard about
Stendhal Syndrome
?
(better and longer explanation for french speakers
there
)
Nothing as spectacular happened to me ; and I am not so moved by Renaissance art. However I am easily overwhelmed with emotions and I cry all of sudden when confronted to certain art forms and especially words - books, speeches, songs, poetry. Wordsmiths lead to tears quite easily.
I remember the last time I have been being moved to tears happened in Edinburgh, while listening to an unexpected opening speech from Richard Holloway before Messiaen Quartet for the End of Time. You can listen to
this speech here
. I have listened to it again, over and over, afterward, and it never brought similar emotions again - not as strong. Was it only the right moment, the right ambiance ? Was it echoing my own thoughts, was I just focused enough to let the words resonate deeply ? Was I touched by his voice, at the moment ? I will never know.
Last week I went to the Getty Center with
Cherry
and
Phoenix
. In the middle of several photography exhibition, I stumbled upon a photograph of Victor Hugo. On his death bed. by Nadar.


It brought back to my memory the sound of his poetry, the sadness, the beauty, the longing for his dead daughter that fills them, and I burst into tears.




English translation, even is every translation is a betrayal. It looses the cadence and can't do justice to his words, .





Victor Hugo was a poet, playwright, novelist, essayist, probably the most important of the French Romantic writers ; he was also a statesman and a human rights campaigner, fiercely against death penalty, misery, children's labor... After 1849, one third of his work was for politic, one third about religion, and the last part for human and social philosophy.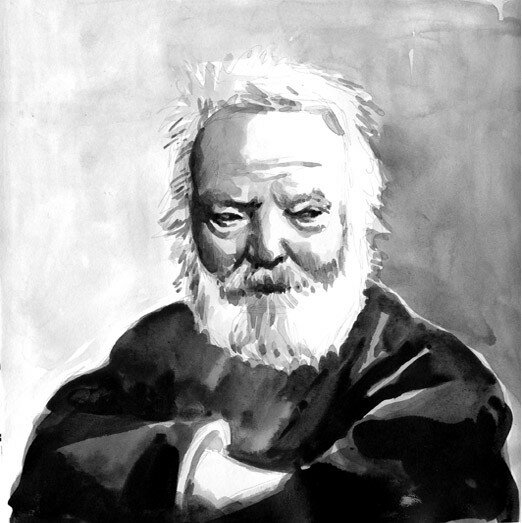 (I also think he has a gorgeous intriguing old man face - hence this portrait I did years ago)

He is better known abroad for such novels as Les Miserables or Notre-Dame-de-Paris, but it's almost sad cause his poetry is heartbreaking ; then very few people know he was also a talented illustrator. Maybe because Hugo kept his artwork out of the public eye, fearing it would overshadow his literary work.





Plus de poesie






*****

My trip is coming to an end, soon. Today I bathed in sweat and heat. I stepped on a pestilential mud made of thousands of dislocated fishes' corpses. We almost hit an owl crossing the road. The crescent moon was thin, a bright nail cut in the night.