Dice Hey whats up! It's been forever! Hit me up and fill me in!!!
I'm private
Last night Stuart and I went to the county fair. It was military appreciation weekend so we both got in free, because Stuart was is in the service. We drank beer, saw live music, and played with the live stalk. Baby goats are too sweet! One came up and started to nibble on my dress. I made Stu ride the mechanical bull, which he did not do so well on, probably because he is not a cowboy. There was a 20 minute firework show that was amazing. We had a blast together.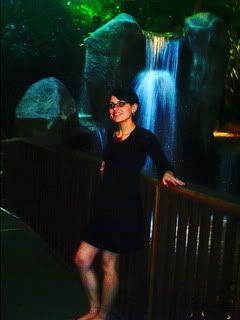 After the firework show we went to a surprise 21st birthday party for my friend Josh (who just recently became my general manager). It was his 21st birthday and he didn't even drink, because he is straight edge! A lot of my friends from work were there, drinking and eating Mexican food, having fun. Tomorrow I fly to Cabo San Lucas at 6 am! I am going to have so much fun, and most importantly RELAX, because that is what I need the most!
The birthday boy and his girl
I love the new pair of wedges I got yesterday at Ross! They are going to look so nice in casual and dress clothes. I also got a bunch of new pairs on cute undies. They were cheep too because I got them at Ross. But the sweetest part of my shopping was this awesome backpack that was only $15!! It is pink and black and has skulls on it, and was the only one that I saw there! So I felt I had to get it because it was such an original find and I would probably end up kicking myself if I didn't.
Death Guild was a lot of fun. Stuart bought a bottle of Jaeger for he claimed that it was the only way possible to get him to dance. I laid off of it though because I was driving and I wouldn't want to do anything to harm my precious new car. He drank so much of that bottle that by 1am he was passed out on the couch! It was fun for the most part though Stuy is always so confrontational when he's been drinking. I guess I have the Army to thank for that now don't I?
I got some more work done on my arm today. We shaded up to my elbow and left the rest for next time. I was bleeding all over the place, it looked like a butcher had tried to hack my arm off! Now I am all swollen and puffy. Ibuprofen is my best friend.
Tonight Stuart and I are going out Death Guild in the city. I think if I pour enough booze down his throat he might even want to dance with me. I will post the pics tomorrow.
Yesterday I had a shoot with Taye at her friend Elizabeth's house. She says I am a shew in, so I am looking forward to finally being aniciated into the SG community. Later Anika came to do some fashion modeling, and Taye asked I wanted to join. We went to Norstroms and tried on all of these hidious dresses that were rediculously exspensive. The shoot was alot of fun, and I am sure will turn out realy good.