I'm private
im really angry today.
just full of hate and anger.
makes me wanna drink shots and smoke cigarettes.
how that would help i dont know.

someone told lies about me and its stirred up all this stuff, broken friendships, left things dirty and grimy and delicate and full of fault.

i dont know if i want to be here anymore.
but i do,i work so hard on sets, and to be a worthwhile, interesting part of this website, but i dont know.

im so angry.
if it were a year ago id be cutting.
but its not.
so i wont.
fucking christmas drives me FUCKING CRAZY
all the guilt and worry make me sick its so fucking ridiculous
fuck fuck fuck and Rohans pres didnt arrive in time im so bummed about that
oh well....
cant wait till its over.
anyone got a job for me??
need a new job, need it soon, need it bad.
peace, love and a Merry Fucken Christmas to all.
last night this totally hot girl i know drunkenly ran up to me on the street and gave me a big ole pash.
my boyfriend just laughed.
hes so cool.
ok ok
i no more winge winge.......
the exhibition was a completley awesome night that resulted in a wild art street party, with us totally running out of booze and over two hundred peopl gracing our little gallery.
which was nice.

it made me very happy, so,
anyone have a shitload of cash to give me to start my own gallery?
im gonna apply for heaps of grants over the next to try and get it all happening.
imagine me, owning a gallery,
fucking rad.
oh no a new layout thingy again i CANT handle change ........
what the fuck is this testimonial bullshit and why always feel so bullshit and not as good as everyone else hERE
BULLSHIT BULLSHIT BULLSHIT
i started adding phone cam pics but i couldnt figure out how to make them go the right way up so i stopped.
dammit.
sux being such a dum dum.
having serious cash issues.
its so bad now that its making me giggle nervously.
alot.
and i miss her (on the left)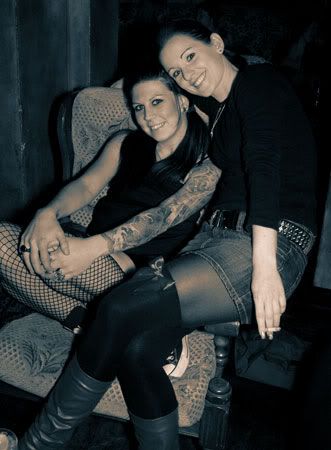 this is what i look like these days.
kisses kitties xxxxxxxxx
damn!!!
sbeen a long time since i updated....
i ve been so up and down for ages now, everything is very confusing.
i was gonna go to london in october, but im not. i am however, going to melbourne in october, and tokyo in feb next year, with this pretty lady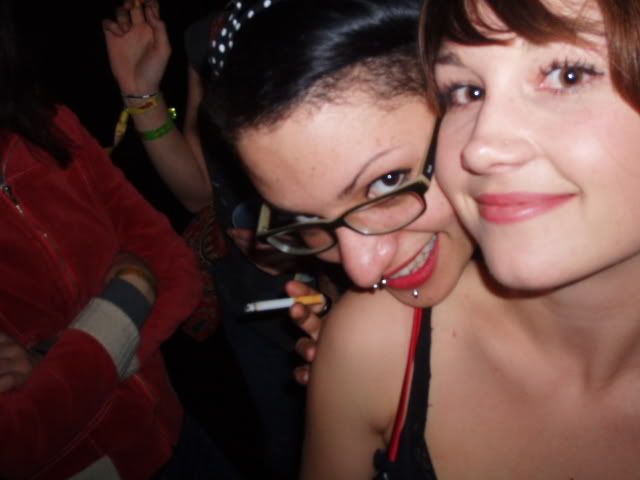 and yeah if it wasnt for her and this lala i would be fucked right now
she cant sit still for a photo ever
see?
hahah
so yeah boys suck,
i quit smoking, its working,
i quit drinking, it didnt work,
now that i dont have sex im addicted to porn again,
and im totally hooked on tattooing again, wont stop till im neck to toes now.
xxxxxxxxxxxxxxxxxxxxxxx