Charlie If this is getting old, I think I'll stay young...
I'm private
shaved women = collaborators
she says: don't hate me cause I'm beautiful....
Are there not enough people listening, darling...?
I was on a train, coming to manhattan from the bronx...the only person on the car, except for a home bum guy with a huge shopping cart, and a woman across from me who was singing to herself, and shouting things like, "OH MY GOD!! FRANK and GEORGE!!" ...at one point, she took a cigarette out of a pack next to her, lit it, and then lit a some balled up napkins on the seat on fire, and watched it burn while she smoked...
this city eats her kids...
And her kids, the people who are the real offspring of this city, who touch its dirt and live on its streets, who live the repercussions of all its failures, are about 10 times as interesting as about 70 percent of its population, who strive to be half as interesting as Sarah Jessica Parker.
Fucking human-chihuahwa hybrid with perrier for blood.
bah. Give me someone whose armpits smell.
I stepped on a rusty rusty nail today. I also finished completely obliterating the crotch of my pants while climbing over a high fence, which has made me think:
it must be an amazing
feeling
to sit in a museum lobby with the crotch cut out of your pants while you hold a loaded ak-47
. too bad someone's already thought of it.
Nostalgia is bad medicine, a nauseous opiate, an insult to your intelligence. Also a dangerous and unstable bargaining tool, because it's effects are shorter than spring fever.

If you turn your keks inside out, you get double the mileage.
Death isn't fucking romantic. Now i'm not an expert- ask a palestinian. ask an iraqi. ask a south african. But It doesn't come in deep burgundies and fucking lace, or chuck pahlaniuk books or vampire the masquerade. It is rotting pastel. It is the smell of methane in your common area. It is the corpse a floor above the bathroom where you wiped your face an this morning. No soundtrack but the awkward cops standing around and cracking jokes after an hour.

maybe this is a trite place to talk about something so utterly physical, but I can't erase the things that happened...

but since she was associated with the sex industry, and felt most at home in the company of cute girls, I say congratulations to a life with some fucking texture, and a little bit of elegant and visceral chaos, Miss S.B.
Ahhh....Lifestyles of the Poor and Inebriated.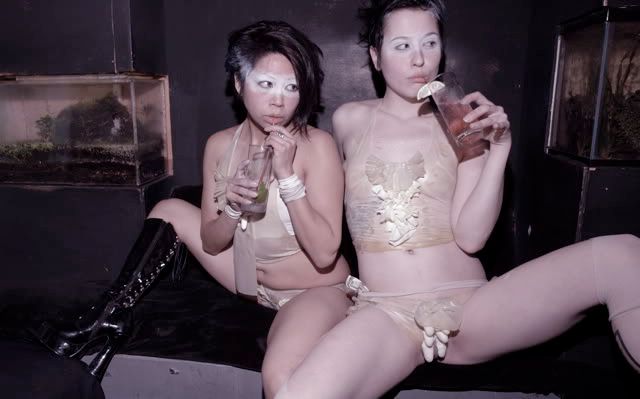 In the subway here, there are these new ads attempting to recruit police officers...They are photographs of cops, with a little quote, some personal testimony about why being a cop is so great, and there was one that featured a sargeant or something, saying how at his job, he gets to see all this CrrAzy stuff, that his job places him in the front seat of "the best show on earth"...
great, great, what a spectacle a rape scene is! And struggling with people maddened by their life-long systematic oppression...oh my, the things they say!
This kind of honesty in an advertisement, a pretty clear cut view into a cop's fucked up psychology, the psychology of someone who clearly can find no other way to experience life, or actual shit-smeared neon pink numinous reality, is surprising, but also so nauseatingly self-assured that it makes me worry about living in a city where that kind of thing is unnoticed or acceptable to the majority...
putting your life on the line, encountering fucked up shit within a well defined governmental/bullshit moral structure, is crass and fucking boring to me...I'd rather burn a bridge while i walk over it.