Ash Good .. bad ... I'm the guy with the gun
I'm private
Countdown to my son's birthday ... it lands on a weekday, thank fuck, so that leaves me with extra time to get everything planned out, since his actual PARTY is on the following sunday. I told him Id give him *some* of his gifts beforehand, but that he'd have to wait until his party for the rest. He was ok with it.
Im still fuckin nervous as HELL. The party cost us .. well ... I dont even want to say! I had some friends help me out with that and I couldnt be more grateful if I tried.
I checked the list this morning to see what's been taken care of because some of his friends wanted to know what to get him .. and I was so happy to see that his heroscape game is on the way!! He wanted that so fuckin bad .. and I didnt know if I could afford it. I wont know who sent it until the package arrives with the name on it, so whover you are ... thank you so much!!
To everyone else who has gotten him something or plans to ... jesus christ, thank you IMMENSELY. When my boss screwed us over, I thought my son's party/birthday would be pretty dull this year ... but just a *little bit* from everyone goes a VERY LONG way!!!
Ill return to my normal self once things calm down around here and we figure out what we're going to do abt our finances.
q's
~Tell me 5 things abt you
~when speaking abt being attracted to someone ... what qualities/traits REALLY get you going?
~Are u the kind of person who keep quiet abt something that bothers you in order to NOT create waves?
Now ... lets have some pictures!
I really appreciate the hell out of all of you that read my long journal rant yesterday, and not only that, but you all left really awesome comments. It made me feel great after what I went through with that bastard. Sometimes I just need to know other ppls opinions and suggestions.
To clarify a few things though, it wasnt like I stayed completely calm the whole time ... in fact, I think there were a couple moments in which I couldve stayed a LOT calmer. I had to excuse myself to the restroom for a good cry because the frustration was SO overpowering that I couldve screamed and flew across the table and massacred him, its a good thing I made the right decision cuz I NEED this job.
Also, when he kept repeating himself over and over again ... I got really frustrated .. and I clenched my teeth and forced the most ridiculous looking smile of all time, but u could probably still see the hatred in my eyes .. so I mustve looked constipated or something, haha. I just kept thinking abt how badly my son needed me .. and I dunno how I made it thru that mess. Anyone who knows me in real life knows that I have virtually NO restraint, and I act on impulse WAAY more often than I should, sadly. I try to control it, but Im just such a spaz. My man has never seen me hold back so much .. in fact, if he wasnt there, Id probably have lost it completely.
On a lighter note .. though I have my *rent* situation under control, my sons birthday is NOT. I know that he is a sweet boy and doesnt really care if he gets a lot of expensive things, but I received a lot of offers to help me out for his special day, and I made him another amazon wishlist. 90% of the toys on there are under $20, and probably half of them are around $10. The items marked "must have" are the ones he SPECIFICALLY asked for, and all the others are ones that I *know* he would love, but just didnt think of them on his own. His Bday is on the 25th, BUT! We're having his part on the FOLLOWING weekend, not just to allow more time for me, lol, but because my man wont be able to make it the week before due to training for the new job.
I love you all. I cant even express to you all how very much I appreciate all the kind words and encouragement Ive received. Some of the comments I got brought tears to my eyes to read, good tears though. Awww shucks, I didnt mean to let on that I actually have feelings n crap.
q's
~What was your favorite toy growing up?
~What new toys have u seen that you know u wouldve LOVED as a child? (or maybe u love them NOW!)
~How do you feel abt birthdays, either your own, or in general?
***warning*** very big rant ahead. For those of u who could care less abt the closed mindedness of this shitty society, please skip to the questions below.
For those of u who would like to hear a really fucked up, but entirely true story abt the bullshit I have to put up with on a daily basis, plz read on.
Yesterday I met with my district manager again. I toned down my look drastically, but kept my piercings in because it was an informal meeting. When I saw him, I smiled .. reached out my hand for a handshake. He didnt accept it. He stood there and stared at me for 30 seconds, not a word came out of his mouth. He said "u didnt look like that when I hired you". Making light of the insult, I said "well I certainly hope not, Im in my regular lounge clothes!" He didnt laugh.
He goes on to say that my manager thought I was a joke, and that he can only PRAY that the rest of my crew didnt see me that day I came in ... or that they will hopefully not remember me when I come to work there. My jaw dropped. I couldnt believe the rudeness. I told him I understood the policy on piercings and that I would be wearing my retainers, and that I would carefully review the employee handbook and gladly abide by the appearance codes while Im on duty.
He tells me my employees are not going to respect me as a manger if I 'look the way I do', I say that is their own problem and I will deal with any disrespect according to company policies and procedures. He says the way to deal with the disrespect is to NOT COME TO WORK LOOKING THE WAY I DO. I remind him yet again, that this is an informal meeting, and that I will not be wearing my piercings at work. I also tell him that I do not see the point in "lying" abt who I am ... because if I am going to be working with these ppl, they will eventually see me looking the way I normally do on down times or when I come in to pick up my checks. He THEN says that I cannot come anywhere NEAR the restaraunt looking like myself, even if Im not working. I tell him that what I do on my own time is my business. He's pissed.
This continues for abt an hour, and he brings it up 4 more times by the end of our meeting. I felt as though I was being discriminated against, and he tells me that discrimination only applies to religion, race, sexual orientation, or sex.
by the way ... dictionary.com says:
Discrimination, discriminatory:
Marked by or showing bias; discriminatory. categorizing. making distinctions not based on fact
Then he moves on to tell me that, because he couldnt get ahold of me, that my start date has been pushed back another 2 weeks. This SCREWS me from paying my RENT, and worst of all .. this RUINS MY SONS BIRTHDAY, which is in less than 2 weeks. I tell him that I called him 3 times a day, everyday for one week ... which is absolutely the truth. He shakes his head NO, then tells me thats not true. I couldnt believe he just called me a liar! I was being honest. After arguing abt it for 10 minutes back n forth, I tell him "LOOK, I certainly dont want to argue with you sir, but I also cannot just agree with you for the sake of agreeing because I know in my heart that what I am saying is the absolute truth. If you need me to contact my phone company to get proof, Ill see what I can do. But I cant lie in good conscience, and I will continue to stand by my word."
Come to find out, this guy is going to be getting in serious trouble for not having our start dates setup. He had THREE WEEKS to do this, and he had to have it done by last thursday ... he called me on WEDNESDAY, ONLY ONE DAY NOTICE. Now, he's trying to put the blame on ME, saying he "couldnt get ahold of me, and he tried and tried" when I only have 3 messages from him, whereas I called him at least 15 times. This is fucking unbelievable!!! And u know what?? Because his phone number isnt long distance, I dont think I can prove that I made the calls .. and its HIS word against MINE.
He ends the conversation by "reminding me that I am NOT officially hired yet", which was meant as a threat, but its not even true. I AM hired, what an idiot. He's tryin to scre me into NOT talking to his boss abt this.
Im freakin out. My sons bday will be ruined because of this, and whats worse, my rent wont be paid. I better start praying to win the lotto or running into a drug deal gone bad.
q's
~Below is a few photos of how I looked yesterday. PLEASE, for the love of GOD, be honest ... I want to know if what I looked like was excessive. I think that I might have a clouded view of what "acceptable" is, since I tend to wear excessive makeup all the time, so I might not know what 'NORMAL" really is.
(plz dont base your opinions on my profile picture, base them on what YOU believe excessive makeup is.)
~Would you quit your job if your boss tried to make u do something u didnt believe in?
~Do u feel u are ever discriminated against?
~What constitutes as discrimination for you?
Thanks to those of u who were patient enough to read this entire rant, I really appreciate it, immensely .. even if u dont agree with me. I know I can be very difficult at times, and I know I might be in the "wrong" here .. Im awfully stubborn
Winter is coming, its 40 degrees out today. I fuckin love it! My job starts next week and Ill be making good money. Things are starting to change. Im feeling very content. Im waiting for the next catastrophe to strike my world. Once you start noticing a pattern .. you come to expect these things. I am going to be prepared.
**Brace yourself**
I need warm clothes pretty badly. I dont have any that fit me because of my weight gain.
Maaaaan. Hopefully by December Ill have lost another 10 pounds and I can start to fit into a few things.
~~~~~~~~~~~~~~~~
Its funny how someone can be *so* perfect for you ... so very close to being EXACTLY who you are, yet so very different. The only significant difference between me and my "better half" is that I am a people person, and he HATES ppl. Im so extroverted/positive and he's so introverted/negative. Both of us have lived very difficult lives and have been shat on (yes, shat is an actual word, dont u just LOVE it?) more times than we can count ... but I always maintain faith while he does not.
I think it balances us out ... I am often too trusting and, not to toot my own horn, but Im extremely friendly to everyone I come in contact with as long as theyre respectful of me ... this can lead to problems later on. Ppl will walk on you. Take advantage. Use you. But at the same time, I dont think he gives ppl the chance to prove their worth .. so thats when I step in and point out the positives. It works well for us, but its kinda funny how things work.
I want to make a difference in the way ppl like me are viewed, and by "ppl like me", I mean ppl with tattoos, piercings, and things of that nature. I know that society usually views us as being "angry" or "rude" ppl (and probably a lot worse), but I just love it when ppl are shocked because Im actually a very normal person who enjoys life (for the most part anyways).
q's
~What's your favorite type of dog?
~Have u ever tried hungarian food? If so, was it at a restaraunt? If so, where the fuck is/was it (because I need to fuckin eat some soon before I FREAK out)!?
~Speaking of ethnic foods, what's your fave type of ethnic food?
~Do opposites attract? And why or why not?
~What the hell would u do if you could turn invisible?
Well I finally got a job offer ... an assistant manager position for a chain of fancy schmancy restaraunts (lol). I went to meet my manager (bossman) yesterday and I was soooo nervous. I just didnt want him to be an asshole. The hiring lady said wearing funky hair & piercings was basically up to our managers, and I just prayed for an awesome guy who wouldnt give a shit. Let me tell you .... he was JUST as dissapointed when he saw me as I was when I saw him. The look on his face was PRICELESS. I could tell what he was thinking immediately: "HOLY SHIT, *this* is my new assistant???" I even toned down my look, pffft. I almost didnt want to wear my piercings n crap, but I figured "why try to hide who I am? If we're going to be working together, he'll figure it out eventually".
I think he relaxed a bit once we settled down and started talking abt our ideas for the restaraunt & improving customer service ... because he found out that Im not nearly as stupid as I look. LOL, that sounded horrible, but its true. Most ppl look at people with piercings and tattoos like they are the lowest form of life on the planet. What a surprise, this ones actually intelligent!
Im going to get a double industrial. Actually, Im not going anywhere, Im getting one while I sit here, hehehe. It'll probably suck listening to my headphones for a while.
q's
~If you could change 3 things abt the way you look, what would they be?
~How abt changing 3 things abt you mentally?
~How abt you suck my wang?
~Tell me something I dont know
Fetish models will be the most affected by these new pornography laws. What I dont understand is ... how does showing a photo of someone being tied up have anything to do with cracking down on child pornography??! What a waste of time this will be. Use your resources more wisely, you fools!!
Man, Im fuckin irate.
~~~~~~~~~~~~~~~~~~~~
The other day on my way to the store, I was handed a brochure for veganism. Normally, Id just toss these things .. but I had forgotten my book that day and had nothing to read on the train ride home. HOLY FUCKING SHIT!!!
The photos and stories abt what they do to these animals in some cases was enough to make me quit eating meat products for an entire week!! And lemme tell you ... thats a goddamn miracle. I love eating meat ... aside from it being extremely tasty, I feel it's very symbolic. But now ... I suffer from a conflict of interests, and its very complicated for me.
On one hand, I cant fucking believe that the law doesnt PREVENT shit like this from going on!!! Some of the shit Ive seen/read is insanely disturbing. I feel awful abt not being able to give up meat entirely. Ugh.
***And to clear something up, some of you mentioned that you thought I was being insensitive abt the archived girls that left when I mentioned I wanted their "spots" on your faves list. I didnt say that to be insensitive, it was my way of making light of the situation with my joking manner. Im glad the majority of you saw the humor in it and knew that I would never be so "cold".***
q's
~Are the Jets going to beat the jaguars today? And tell me who "your team" is
~(for ink lovers) What's your next ink going to be? Do u ever get worried that you'll 'run out of space'?
~Tell me your thoughts abt one or more of the above topics
Im really sad abt these girls leaving, and Im sure a lot of you are, too. I am glad, however, that the ones who are reading this are still here.
Lets enjoy our time together, shall we?
Moving right along, NO MORE DEPRESSING SHIT!! I got enough of that in my life right now, I come here to feel good, not bad. The rest of you do, too, I imagine
I didnt get that one job, ah well. I dont like their business practices, so it wouldnt have worked out. My staffing company told me I could apply in a different way, some online profile shit .. but if these ppl are going to base their descisions on who they hire because of how many times they've seen someone in their building (yep, the reason I wasnt chosen was because the director said he'd seen me in the building before, and if I didnt get the job with the OTHER director, then he didnt want me either) then I dont even WANT to work for a company like that.
I have several other companies interested in hiring me, so its no loss. Same money, too .. more benfits. A LOT closer to home, but more work. Oh well.
Ive been so busy with interviews and shit, I havent had time to come here and respond. Hopefully soon Ill be on some sort of schedule. I have so many things I want to buy once I can finally afford them ... I cant fuckin wait. Once we have all our musical equipment back we'll be working on our music again, and my photography company will be back up and running.
Still have heard nothing back from Fear Factor. Damn.
q's
~(stolen from rockadiva) If you could have any special talent (not supernatural) what would it be? why?
~
What invention(s) would u invent if you could?
~Would u want to be killed if u were paralized from the neck down? How abt if u found out u had a horrible deadly disease? Flesh eating virus? What abt if u were bitten by a zombie and were abt to turn into one yourself? Would u kill a family member/lover/friend if THEY were in one of those positions and they asked u to?
~Do u think this hairstyle is unprofessional?
So many of my favorite ladies are leaving the site. I wish them the best. But as they say .. out with the old and in with the new. By the way ... if any of those girls are on your fave's list, Im taking over their spots. Thanks, have a great day.
Wait!! Sit down, Im not done yet ....
I fucked up my job interview pretty badly. Im not sure wtf happened, but I choked. I was doing so well .. then I just ... ugh, couldnt think for the life of me wtf to say in the end that I hadnt already said, and there was a LOOOONG uncomfortable pause. I felt so humiliated!!
Oh well, it probably wasnt meant to be. I still have other prospects, Ill focus on those. Tick tock tick tock, time is running out for @sh, what's the girl gonna do?
DUNNN DUN DUNNNNNNNNNNNNN!!!
Im gonna get me one of these superpenguins ...
they might look normal, but they're not. Theyre called employment penguins. They sqeak at high volumes when angry, and have lasers that beam out of their eyes. They have a remarkable ability to persuede employers to give me a job. Ill send them in the offices early in the morning when they least expect it, Ill slide 'em right underneath the door.
Those are the leaders. The one on the bottom left is Herb, the director of employment relations ... he had razors implanted in his flapper slappers. Bottom right is the senior chairman of assholery forces, his name's Pratchet. The other 2 are their slutty daughters that came along to watch the destruction.
Dont piss me off or Ill send em your way, too.
Does anyone have "Trickster" by the Kidney Thieves?? Im dying for that album, I cant find it anywhere!!!
q's
~I might have already asked this, but do you have to look conservative for your job, or are u one of the lucky ones?
~Tell me something that's from the 80's that I might have forgotten abt .. it could be an old saying, or an old fad.
~If u could rewind time .. where would u go back to and why?
My god, will I actually have a free day tomorrow to reply to my messages? I think I just might!

Ive been swamped with job interviews ... which is great, I guess .. but tiresome. I kinda hate having to be this ... completely seperate person, day in and day out. I almost forget which one is the real me and I start acting all cordial to my man or my son, lol! It really wears you out, pretending. I didnt want to go corporate, but I gotta do what I gotta do to pay the bills.

I still havent heard back from fear factor, those bastards! They dont know what theyre missing!!!!

But on a lighter note ... I got to meet a few fellow sg members the other day. I thought it was really sweet of apocalypse meow (She's even cuter in real life, even if u might think it isnt possible.)and vextrexx to swing by to visit me, even though they had so many other plans.

q's
~is there a song that you heard on the radio one day that's not a typical radio song, but it IS one of your all time favorites ... and it just put u in a fuckin AWESOME mood for the rest of the day, just for the simple fact that it came on? What song is it?
(mine was 'sex on wheels' by my life with the thrill kill kult)
~Do you wear a mask to work, or are you one of the lucky ones who doesnt have to? elaborate
~Do you compete with your best friend?
~Have you ever lived with any of your friends? If so, did it change your relationship?
The greatest thing abt hitting rock bottom is the fact that everything from there on out is an improvement from your current situation!
werd.
I got an interveiw (tomorrow) for a position that would earn me *three times* the highest amount Ive ever been paid in my whole life. I was so scared to call the dude back. I didnt want the dream to end. I still dont, really! Ha! But this morning I checked my email .. and I received 4 more offers for interveiws making around the same!! So now I can at least relax when I walk into the interveiw and not be overly nervous abt gettin the job. Im ten times more confident!
Job hunting is so fuckin hard, man. I never thought Id qualify for a position that makes that much ... but I guess when you wont settle for anything less, things CAN happen! Im acting like Im worth that much ... so therefor .. I guess Im worth that much!
My wallet was stolen/lost, couldnt have happened at a worse time! I had one employer flat out tell me that if I dont have my SS card and ID that he cant hire me. ARGH!!! It takes 2-3 weeks to get another SS card sent!
I saw the cutest ferret I have EVER seen at the pet store that I got kicked out of yesterday, lol! My ferret has turned into a little BITCH, man! She's pure evil, but I love her so goddamn much. The ferret I saw was cream colored and orange-ish, kinda like this one: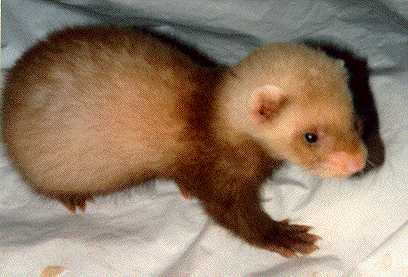 I let the staff know that the ferrets were out of food, and they got an attitude with me and told me "theyre fine ... they've eaten already today" then proceeded to tell me I needed to leave because I had a beverage. I said "but it's a closed bottle!" and they didnt care, I still had to fuckin leave!! There really was NO reason for me to have to leave ... its not like I had an open container that would spill or anything, they just wanted to be dickheads because I busted them not takin care of their animals, bastards. I was so pissed!!
q's
~How often have u had to drug test for a job?
~If you were making enough money at your current position, but it wasnt exactly what you were *passionate* abt ... would you take a lower pay rate or go back to school in order to obtain the job of your dreams?
~Would it make u mad if your spouse made more than you? How abt your best friend? How abt your pet? lol
~Have u ever flipped out in public before? explain
and remember kids ... drugs, not hugs!!